News
Stay informed about the latest enterprise technology news and product updates.
IT Channel News Briefs, May 2
Today's headlines: Sun stops shining; Microsoft unveils Office Labs; ooVoo launchs video chat for Macs.
News for the week of April 28-May 2, 2008 -- in brief, updated daily, on topics important to the information technology (IT) channel.
Friday, May 2
There goes the Sun (profits)
Sun Microsystems posted a $34 million loss in the first three months of 2008, surprising investors who had expected a sixth straight profitable quarter. The Associated Press reports the company will cut 1,500 to 2,500 jobs.

Download this free guide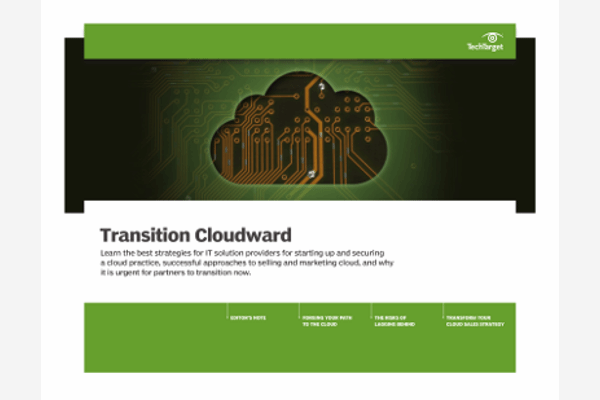 Could Securing Your Channel Business Be Easier? We Can Help.
Download our latest guide to the top strategies solution providers can leverage for starting up and securing a cloud practice, successful approaches to selling and marketing cloud, and why it is urgent for partners to transition now.
By submitting your personal information, you agree that TechTarget and its partners may contact you regarding relevant content, products and special offers.
You also agree that your personal information may be transferred and processed in the United States, and that you have read and agree to the Terms of Use and the Privacy Policy.
Sun CEO Jonathan Schwartz placed some of the blame for the quarter on small and medium-sized businesses (SMBs), which he said were tightening their IT budgets in anticipation of an economic downdraft. Sun is hoping that new sales schemes, such as its click-to-buy initiative aimed at SMBs, will help stop the bleeding.
Office Labs tests out new Office options, scenarios
Microsoft launched Office Labs this week. The goal is to test out potential new options for the company's venerable -- and profitable -- desktop productivity tools.
Current projects include Community Clips, a portal for viewing and discussing Office issues. Microsoft Office remains the king of the desktop but continues to see competition from open source suites as well as new-age offerings like Zoho and Google Apps.
Perhaps most concerning to Microsoft is that in its March quarter, the Microsoft Business Division, home of Office, saw revenue fall to $4.75 billion from $4.8 billion year over year.
Computerworld recently reported that Microsoft would soon offer a "streaming" version of Office to compete with the aforementioned Google apps. Then it reported that Microsoft found the option too expensive. Microsoft itself has been mum on the topic.
Microsoft releases new operations framework
Microsoft this week posted its new Microsoft Operations Framework 4.0 just after the technology was previewed at the Microsoft Management Summit.
The new framework adds business planning and project organization to the things it encompasses whereas its predecessor was pretty much limited to operations, Microsoft said. The vendor also launched a community site in support of the updated framework.
ooVoo launches video chat for Mac OSX
Capitalizing on the rising popularity of Macintosh computers in the workplace, ooVoo has released a new Mac version of its free video chat software. The software is intended for budget-minded home users and SMBs, as it lacks some of the more robust features of commercial-grade unified communications products from Nortel and Cisco.
Thursday, May 1
WSJ: Microsoft meets on Yahoo bid
Microsoft's board met yesterday to discuss the company's next step in its bid to acquire Yahoo, but members could not reach a decision, according to The Wall Street Journal. The newspaper said price continues to be the main sticking point: Microsoft's unsolicited Jan. 31 bid was originally valued at $31 per share and has since fallen to $29, and some executives are willing to bump it up to $33. But Yahoo is seeking an offer in the upper $30s while also pursuing other options, such as a merger with AOL or an advertising partnership with Google.
Report: IBM channel chief retires
Ravindra Marwaha is retiring as IBM channel chief this week after two years in that job and 40 years overall with the computing giant, according to a ChannelWeb report. Marwaha, known as "Ravi," has been general manager of IBM's global business partners. Richard Hume, another IBM veteran, is replacing him, the report said.
Good earnings news from Symantec
Symantec Corp.'s latest quarterly profits jumped to $186 million, or 22 cents a share -- an increase from $60.9 million, or 7 cents per share, from the same quarter last year. Revenue was $1.54 billion, up from $1.36 billion.
Symantec's fiscal year profits were $464 million, up from $404 million. Symantec execs attributed the good news both to strong sales of security and storage software and to a management shuffle that made Enrique Salem chief operating officer.
Dell taps VARs for SaaS support
Dell is using service providers to provide a third tier of complete service and support for its growing Software as a Service (SaaS) universe. According to SearchStorage.com, Dell will bundle three paid support options with its SaaS offerings: automated rules written by Dell, technical support directly from Dell and fully hands-on support provided by Dell or one of its service providers. Surely Dell's forthcoming channel blog will be buzzing with more discussion.
Meanwhile, Dell is also rolling out its new OEM CR100 Server and allowing appliance vendors to bundle it with security, search, video streaming, storage and networking applications. This customization is at the heart of the Dell OEM's End-to-End Appliance Program. As part of the program, Dell gives customers like McAfee and Connectbeam the ability to create custom products for niche markets, therefore simplifying IT for end users.
Wednesday, April 30
SAP sales swoon, Business ByDesign rollout slowed
SAP's first-quarter earnings reflected weak U.S. sales. The company saw an overall 15% uptick in sales of software and related services, but that fell short of the company's expected 24% growth.
Profit fell 22% to $377 million, from $528.8 million from the year-ago quarter. The most recent results include charges from SAP's acquisition of Business Objects. The company also acknowledged that its Business ByDesign hosted enterprise resource planning (ERP) service will take some 12 to 18 months longer than expected to roll out to 10,000 customers and hit the $1 billion revenue target. The original date had been 2010.
Windows XP SP3 saga continues
The release of Windows XP Service Pack 3 (SP3) was on for this week, but it's now off again because of a compatibility glitch with other Microsoft software. Microsoft found the issue between XP SP3, Windows Vista Service Pack 1 and Microsoft Dynamics Retail Management System, according to sister site SearchWinIT.com. The company plans to put in filtering to prevent Windows Update from offering both service packs to systems running Dynamics RMS. Once that happens, Microsoft said it will release XP SP3 to Windows Update and the Microsoft Download Center. The company did not provide a time frame for the fix.
Gartner: CRM market is A-OK through 2012
Recession fears be darned, the global customer relationship management (CRM) software market is poised for double-digit growth in 2008, according to a new report from Gartner Inc. Spending on CRM will pass $7.8 billion this year -- a 14.2% rise over 2007, the firm said.
Gartner expects the good times to roll for the CRM industry until at least 2012, when organic revenue growth will swell the CRM software market to $13.3 billion. These increases don't take into account professional services, but it's a safe bet that service providers will ride the wave through partnerships with Salesforce.com, Microsoft, Oracle/Siebel, SugarCRM and other key CRM players.
Microsoft won't beat VMware on cost alone
Low prices alone won't help Microsoft cut into VMware's server virtualization market lead, according to SearchServerVirtualization.com. Microsoft plans to sell its new hypervisor, Hyper-V, for just $28 per physical host. But end users and analysts say Hyper-V will also have to perform better than VMware's products if it is to gain widespread adoption. Microsoft partners have been looking forward to selling Hyper-V and see it as one of the biggest selling points of Windows Server 2008.
Sun backs storage on a shoestring
Sun Microsystems wants to make it easier for companies to create and deploy lower-cost open source storage products. According to SearchStorage.com, the company is publishing documentation on its website to help customers use its OpenSolaris operating system software and Zettabyte File System, along with its Thumper hardware, to create OpenSolaris storage servers, network-attached storage (NAS) appliances and other inexpensive storage devices.
Sun's sales pitch is that its approach will help clients "escape proprietary lock-in" while at the same providing more storage bang for the buck. However, some experts interviewed by SearchStorage.com assert that Sun's approach will only appeal to companies with a high level of in-house technical skill and a do-it-yourself mentality. At the same time, Sun's move could open doors to service providers that are willing and able to offer clients another storage option, especially given indications that Thumper may soon be able to work within Fibre Channel networks.
Tuesday, April 29
Foundry to partner with Microsoft, Sun on UC
Foundry Networks said yesterday it will integrate technologies from Microsoft, Mitel and Sun Microsystems for a unified communications (UC) program. Foundry, a hardware company, will combine an Internet protocol infrastructure and enterprise communications system to create common interfaces for employees and customers. Further details have not yet been announced.
SAP launches printer program
SAP's newly launched printer vendor program aims to make sure customers have no printer output problems when they use its financial software.
The enterprise resource planning (ERP) giant will make sure Hewlett-Packard, Konica Minolta Business Technologies, Kyocera Mita, Seiko Epson, Sharp and other printer makers have access to SAP development environments, so they can optimize support for printer devices and write appropriate printer drivers for the SAP world. In ERP, printing reports and financial documents can be a mission-critical task.
Trend Micro income rises 10%
Trend Micro reported a net income of $43 million in the first quarter of 2008, an increase of 10% over the same period last year. The company also reported sales revenue increases ranging from 2% in Latin America to 15% in Japan. Trend Micro cited its acquisition of Identum and alliances with Linksys, Crossbeam and other companies as major reasons for the rising revenues.
IBM rolls out iDataPlex server
IBM Corp. has announced the iDataPlex server, which is based on the Intel x86 processor. According to SearchDataCenter.com, Big Blue is positioning the iDataPlex as halfway between rack and blade servers. In total, 84 of the servers can fit in IBM's 42U racks to achieve power dense computing. IBM plans to sell the servers in $150,000 packs comprised of 84 servers and one 42U rack. One analyst cited by SearchDataCenter.com noted that IBM's new iDataPlex server and rack combination is as much as 40% more efficient than standard racks.
170 Systems gives accounting one SAP room with a view
170 Systems has beefed up its 170 MarkView Financial Suite for SAP with tighter integration into SAP ERP systems. The new MarkView Console ties directly into the SAP workspace, so accounts payable and purchasing users have a single access point and view into both financial modules where they can work. The workspace gives these users direct access to real-time SAP data for all their transactions, according to Bedford, Mass.-based 170 Systems, a specialist in finance process automation.
eTelemetry upgrades networking monitoring appliance
eTelemetry launched an upgraded version of Metron, its network appliance that monitors bandwidth usage and network activity. Metron 2.0, announced at Interop in Las Vegas, adds bandwidth rate limiting, website blocking and filtering. The appliance is meant to ensure that online enterprise applications get bandwidth before non-work-related sites. It offers the option of throttling down bandwidth available for websites that are non-mission-critical and can block websites per person or department.
Monday, April 28
Windows XP may live on beyond Microsoft expiration date
Microsoft may or may not stop selling Windows XP on June 30, but PC makers will make sure the operating system lives on. Dell, Hewlett-Packard and Lenovo plan to make creative use of Windows Vista downgrade rights to keep offering XP preloads beyond the June cut-off date, according to CNET and other reports.
Dell, on its website, says customers can keep getting Windows XP Professional by "exercising Downgrade Rights that come with Windows Vista Business or Windows Vista Ultimate licenses." Dell, and presumably any hardware maker, can exercise those downgrade rights for the customer at the factory if the customer relies on Windows XP or prefers to have Windows XP Professional preinstalled.
Google Apps: Ready for prime time?
Google Apps has helped prove that Software as a Service (SaaS) is not a fad, but that doesn't mean it's ready for widespread adoption among businesses and organizations, according to the Burton Group. Vice president and research director Guy Creese spoke with our sister site, SearchSOA.com, and said Google Apps does not yet have the features to meet regulatory compliance and e-discovery regulations. But Google Apps can be a good, low-cost Microsoft Office alternative in colleges and universities, as well as small businesses that aren't as regulated.
Salesforce.com and Google recently expanded their partnership, integrating Google Apps into the Salesforce.com customer relationship management (CRM) platform -- a move designed to attract Salesforce.com subscribers using Office. Microsoft has countered with Dynamics CRM Online, which integrates with Office and Outlook. It's all part of the growing battle between Microsoft and Google in the Web-based applications market.
Servers: No thanks for the memory
Server memory -- or lack thereof -- is dragging down the performance of servers boasting the latest dual-core and quad-core processors from AMD and Intel. According to SearchDataCenter.com, adding more memory to these servers will help boost their performance, but there remains the problem of architecting memory modules so that cutting-edge server CPUs aren't left whistling and tapping their feet when they make a memory request. Experts say that memory manufacturers have not made the R&D investment in more efficient memory because of economic and regulatory hurdles.
Dig Deeper on Technology Vendors-OEMs