News
Stay informed about the latest enterprise technology news and product updates.
IT Channel News Briefs, April 25
Headlines for April 25: Microsoft may give up on Yahoo. SQL injection attack could hit Oracle. DLP coming to telecom industry.
News for the week of April 21-25, 2008 -- in brief, updated daily, on topics important to the information technology (IT) channel.
Friday, April 25
Microsoft client sales fall, company may pass on Yahoo
Microsoft revenue was $14.45 billion for the quarter ending March 31 -- up slightly from $14.4 billion for the year-ago quarter, but missing consensus estimates of $14.5 billion. Profit was down to $4.409 billion, from $6.589 billion for the same period last year.

Download this free guide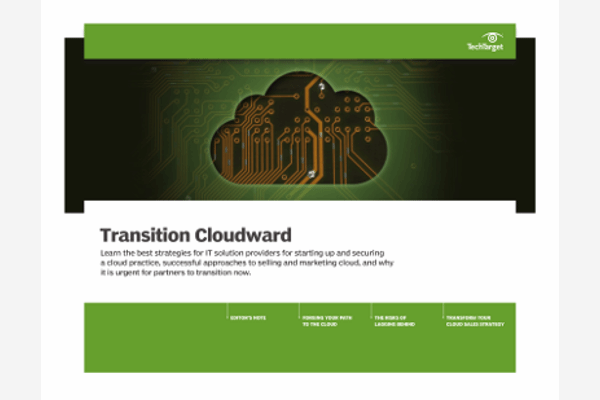 Could Securing Your Channel Business Be Easier? We Can Help.
Download our latest guide to the top strategies solution providers can leverage for starting up and securing a cloud practice, successful approaches to selling and marketing cloud, and why it is urgent for partners to transition now.
By submitting your personal information, you agree that TechTarget and its partners may contact you regarding relevant content, products and special offers.
You also agree that your personal information may be transferred and processed in the United States, and that you have read and agree to the Terms of Use and the Privacy Policy.
A charge of $1.42 billion, or $0.15 per share, for a European Commission fine was factored into sales and earnings per share results. The company's client division, which fields the various Windows desktop versions, saw sales fall 24% to $4.03 billion, partly due to deferred Vista sales. The server and tools business earned nearly $3.3 billion, up from $2.7 billion from the same quarter last year.
For the current quarter, Microsoft execs said they expect the company to earn 45 cents to 48 cents per share, or $15.5 billion to $15.8 billion in revenue. For the full fiscal year, the company projected earnings between $2.13 and $2.19 a share ($66.9 to $68 billion), surpassing analyst expectations of $2.10 earnings per share ($66.5 billion) in revenue.
CFO Chris Liddell said the company may walk away from its unsolicited Yahoo buyout bid if progress is not made this weekend. Earlier this week CEO Steve Ballmer said the company was prepared to forge ahead in Internet ad and search services with or without Yahoo.
Oracle databases vulnerable to new SQL injection attack
Oracle databases can be compromised through a new form of SQL injection attack. The attack on Oracle databases is outlined in a new paper by a British security researcher, who was inspired to test the counterintuitive method after watching an episode of the TV show "Bones."
As reported by SearchSecurity.com, his exploit is a lateral injection attack that targets common data types not normally requiring user input. Researchers are unclear whether the attack could occur in the wild, or how much damage it would cause, but security experts are urging programmers working with Oracle databases to adapt their code to prevent exploits that use SYSTDATE.
Telco service providers must face up to data loss prevention
IT service providers could see competition -- or help -- from telecom service providers in data loss prevention (DLP). Steve Duffy, Symantec's global director for the communications industry, told SearchTelecom.com this week that telecom service providers must pay more attention to DLP, as converged networks have them handling all sorts of customer data.
"Google, Web 2.0 and a hypercompetitive landscape are driving companies across the traditional communication industry toward a radical transformation of their core business," Duffy said. "Telco and media companies are embracing the Internet model and migrating their proprietary operations toward open, commercial, off-the-shelf systems that until now were only leveraged within IT datacenters."
Unified communications will also drive telcos into DLP, forcing these companies to secure email, text messages, presence location and video.
Thursday, April 24
Motorola losses widen and handset sales shrink
Motorola Inc. executives hoped the move to split the company into two divisions and isolate the struggling handset business would help market performance, but that didn't fly. The company posted a wider first-quarter loss than expected, and it projected worse losses in the second quarter than first predicted. Motorola's share of the global handset market fell to 9.5%, a sharp decline from the 17.5% it held a year ago, according to reports.
The company shipped 27.4 million handset units in the quarter, down 40%, and revenue in the mobile devices unit plunged 39%. The cell phone manufacturer reported a net loss of $194 million, or nine cents a share, compared with prior-year net loss of $181 million, or eight cents a share. Revenue fell 21%, to $7.45 billion, and gross margin rose to 28.8%, from 26%.
PCI Council lays down the law on Web app security
Do organizations with public-facing Web applications need to do a code review or deploy a firewall in order to meet PCI 6.6 compliance requirements? A new Payment Card Industry Security Standards Council document says either tactic would be sufficient for compliance, but doing both would be even better. As reported on SearchSecurity.com, the document emphasizes that the PCI 6.6 guidelines -- which will become a requirement on May 30 -- are intended to help organizations fend off the most common attacks from hackers. Just hours after the PCI document was published, some security vendors were trumpeting the fact that they offer Web application security services that surpass PCI standards.
Exec talks up new MySQL
The new MySQL 5.1 database is on its way, and Sun's MySQL products vice president Zach Urlocker is talking it up. Urlocker says the new release will flaunt 15% overall performance improvement. Sun Microsystems bought MySQL, a darling among the LAMP crowd, early this year. Due later this year: the Workbench database modeling tool and Falcon Storage Engine, a load balancer and query analyzer.
EMC's Tucci: Thin provisioning won't hurt sales
EMC CEO Joe Tucci said during an earnings call yesterday morning that EMC plans to have thin provisioning shipping in all its disk arrays by summer, but the effect of the technology on IT storage spending has been "way overplayed," SearchStorage.com reports. Because thin provisioning improves storage utilization rates, financial analysts on the call were concerned that it could result in EMC selling less storage. Tucci tried to convince them that won't be the case.
"Let's say your utilization today is 50%," he said. "Thin provisioning might bring it to 85%, but after that, more data growth means you need to add more storage … it doesn't compound forever."
Tucci said the thin provisioning feature has become "mandatory in the storage landscape" but will not affect storage demand or revenue.
Security software now a reality even for the staff challenged
Security Software as a Service (SaaS) is making important tools a reality for Windows shops without full-time security pros, according toSearchWinIT.com. Until now, Windows shops without security experts farmed out tasks like spam filtering or remote vulnerability to third-party service providers. Now, using security SaaS, these same companies can choose from sophisticated tools that provide application security, security event management and data leak prevention, to cite a few examples.
Gartner estimates that the total market for security software revenue will grow from just over $8 billion in 2006 to about $12 billion in 2010. The market for managed security services will grow from just over $3 billion in 2006 to nearly $6 billion in 2012. The compound annual growth rate for security SaaS from 2007 to 2012 is estimated at 30%.
Wednesday, April 23
Microsoft bides its time on Yahoo
Yahoo reported earnings and revenue for the first quarter of 2008 that beat street expectations, but Microsoft isn't expected to either increase or abandon its bid for the online icon. Some analysts interviewed by the Associated Press believe that even a strong fiscal showing for Yahoo in the second quarter won't be enough for Microsoft to abandon its takeover bid. Microsoft has threatened to try to oust Yahoo's 10-member board if it doesn't approve Microsoft's $31-per-share offer, but defiant Yahoo board members think the company is poised for a rebirth and consider Microsoft's $43 billion bid an insult. Meanwhile, Google stands to gain the most from a protracted battle between its closest two rivals in search advertising.
VMware revenue jumps 69%
VMware raked in $438 million in the first quarter of this year -- a 69% increase over the same period last year, according to company earnings released yesterday. The two main drivers were software license sales, which grew by 73%, and international revenue, which increased by 74%. VMware also reported "triple-digit business growth" in Australia, Brazil, India, China and Russia.
IBM goes 'Phantom' on virtual security
If virtualization was the big story of 2007, virtual security might be the big story of 2008, and IBM wants a piece of the action. As IBM's principal security strategist Joshua Corman explained to SearchSecurity.com, IBM's X-Force security research team and IBM Research are now on the case. Project Phantom -- yes, Project Phantom -- is the code name for IBM's attempts to develop strategies, and eventually marketable products, designed to keep the good guys one step ahead of the bad guys in this high-stakes arms race.
IBM launches super servers
IBM is launching a new line of multi-server computers, dubbed iDataPlex, for supersized data centers. The product doubles the number of systems that can run on a single rack. It is aimed at companies that use Web 2.0-style computing and therefore typically use massive amounts of power and space for servers that handle data, video, gaming, social networking and other traditional data.
iDataPlex is said to reduce the amount of power used by 40%. The technology will be based on open source software to keep it more nimble and reduce costs. The line will begin shipping next month.
Wanted: New Samsung leader
Samsung Group chairman Lee Kun-hee resigned after criminal indictments on tax evasion and breach of trust, but he will remain the company's largest shareholder. Samsung Group is a collection of 59 companies -- including Samsung Electronics Co., the giant maker of television sets, cell phones and memory chips.
Lee and his closest deputies will resign from the boards of the 15 publicly traded Samsung companies, according to reports. A successor to Lee has not yet been named. Samsung executives say Lee's departure is the start of an overall restructuring that will result in more accountability throughout the companies.
Tuesday, April 22
Windows XP SP3 released
Microsoft yesterday released Windows XP Service Pack 3 (SP3) to manufacturing and said it will be available online April 29 via Windows Update and the Microsoft Download Center. SP3 will be the final service pack for XP as Microsoft continues to focus on its successor, Windows Vista. Microsoft partners are not seeing much business in Vista migrations, and recent problems with Vista Service Pack 1 (SP1) have not helped.
SAP to hold customer and partner conference
SAP AG will hold its international customer and partner conference, Sapphire 2008, in Orlando from May 4-7 and in Berlin from May 19-21. Simultaneously, the SAP Users' Group will be holding its annual conference May 4-7 in Orlando, giving business executives and technology professionals a chance to discuss business strategies.
Sapphire 2008's theme will be "Business Beyond Boundaries," and the conference will focus on how open technologies and integrated business networks can result in profitability. Hasso Plattner, co-founder and chairman of SAP's supervisory board, Henning Kagermann, co-CEO and chairman of the executive board, and Leo Apotheker, co-CEO and president of Global Customer Solutions, will keynote among others.
Novell launches SUSE Appliance Program
First Red Hat announced Linux software appliances, and now Novell Inc. is introducing its own SUSE Appliance Program. The goal is to help independent software vendors (ISVs) create and deploy Linux software stacks.
As reported by SearchEnterpriseLinux.com, Novell's goal is to help ISVs develop modularized Linux applications using SUSE Linux Enterprise JeOS (a compressed version of its SUSE Enterprise Linux 10 operating system) and other components. Analysts interviewed for the story said the adoption of virtualization in the enterprise is driving the push for Linux appliances.
Virtual servers need real administrators
While virtualization technology is touted as a way to reduce IT staff and costs, IT front-liners are seeing a reshuffling of employees more than an actual reduction, SearchServerVirtualization.com reported this week. Rather than axing the employee count, IT managers are finding it necessary to move staffers into the administration of the virtual environment.
Moreover, while there are fewer physical servers to set up and maintain, the number of virtual servers balloons when IT managers see how easy they are to launch and run. And that proliferation requires manpower to maintain. The good news? Virtualization should keep the IT staff requirement at the same number -- not forcing it to continually grow the way physical servers might.
IBM researchers find memory-corruption attack
Mark Dowd, a researcher on IBM ISS's X-Force team, has shown that hackers can launch memory-corruption attacks on applications programmed in high-level languages once thought immune to such attacks. Dowd showed that Flash, which is based on a derivative of JavaScript called ActionScript, can have NULL pointer references exploited to change where in the PC's memory the application writes to. Security experts interviewed by SearchSecurity.com said Dowd's work is a major advance, and the hope is that knowing such attacks are possible will be the first step in preventing them from occurring in the wild.
Monday, April 21
Send in the Apple clones
Apple says its EULA forbids anyone to install the OS X operating system on non-Apple hardware, but a Florida-based IT equipment manufacturer, Psystar, is apparently doing just that.
If the information on the Psystar site can be trusted, Psystar's Open Computer ships with OS X on run-of-the-mill hardware for under $600 (excluding keyboard, mouse and monitor). When Apple switched from Motorola PowerPC to Intel processors several years ago, it was all but daring commodity PC hardware makers to do something like this, but Psystar may be the first to have taken the plunge. We now await Apple's inevitable cease-and-desist order and the also inevitable legal battle.
AT&T and Cisco offer high-end telepresence to multinationals
AT&T and Cisco Systems said they will jointly sell a high-end telepresence system for multinational corporations. The technology will support communications both within a company and between companies.
Telepresence can be sold either as a telecommunications service or through a vendor channel as an IT technology solution, so some wonder if it will spur competition between major carriers and solution providers. Cisco and AT&T's joint services will be marketed as a corporate telecommunications service, and will include remote help and on-site maintenance.
Pricing is not available. Cisco's TelePresence 3000 was originally sold at $299,000 per conference room unit, which includes three screens. A less expensive one-screen alternative is expected to become available.
The partnership will start selling joint services in the second half of 2008 in 23 countries and will expand into more countries in 2009.
Microsoft tries out subscription Works
Microsoft is offering an ad-funded version of its low-end Microsoft Works package in a few markets, according to a News.com report.. Users see on-screen ads as they work with Works SE (SE stands for Sponsored Edition). Last summer, Microsoft had said it would try out an ad-supported productivity pack.
The trial, available via select PC makers, is taking place in the U.S., France, Canada, Poland and the U.K.
This is just one of many anti-Google battles Microsoft is waging principally through its Windows Live and Office Live initiatives, which the company describes as "software plus services." The idea is to offer various features and functions both on premise and as "cloud-based" services for Web-connected users.
Microsoft also confirmed recently that it will combine a consumer edition of its popular full-featured Office productivity suite with its subscription-based OneCare security services. That pay-as-you-go Office is code-named Albany.
IBM gets Diligent about deduplication
IBM acquired data deduplication technology company Diligent Technologies as part of its New Enterprise Data Center model. Diligent's software is integrated with servers and storage platforms to help reduce the amount of storage by eliminating redundant data. Diligent's technology also provides archiving and data retention applications.
The acquisition is only one move in IBM's overall data center conservation and consolidation strategy, which includes virtualization, green IT initiatives, service management and cloud computing.
Diligent employees will become part of the IBM System Storage business unit of the IBM Systems and Technology Group.
Dig Deeper on Technology Vendors-OEMs