News
Stay informed about the latest enterprise technology news and product updates.
IT Channel News Briefs, March 14
News headlines for the week of March 14:
New PC boss at HP.
EMC upgrades OS.
SMBs get their Fibre.
News for the week of March 10-14, 2008 -- in brief, updated daily, on topics important to the information technology (IT) channel.
Friday, March 14
HP brings in new PC leader
Hewlett-Packard named Stephen DeWitt, formerly of Azul Systems, to lead its American PC business. He takes over for Michael Larson, who is retiring. Dewitt is senior vice president of the Personal Systems Group for the Americas. Before Azul, he held executive posts at Sun Microsystems, Cisco Systems and Symantec. Larson leaves after 12 years at HP and Compaq.

Download this free guide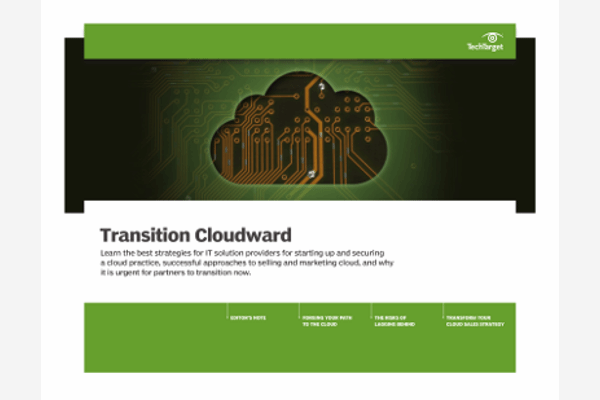 Could Securing Your Channel Business Be Easier? We Can Help.
Download our latest guide to the top strategies solution providers can leverage for starting up and securing a cloud practice, successful approaches to selling and marketing cloud, and why it is urgent for partners to transition now.
By submitting your personal information, you agree that TechTarget and its partners may contact you regarding relevant content, products and special offers.
You also agree that your personal information may be transferred and processed in the United States, and that you have read and agree to the Terms of Use and the Privacy Policy.
EMC upgrades archiving OS
EMC yesterday released CentraStar 4.0, an upgrade to its archiving operating system. SearchStorage.com reports that the new version focuses on handling more pieces of data, rather than just the sheer amount of data stored. That's because, according to EMC, the number of files needed to be stored is increasing 50% faster than the number of gigabytes that need to be stored.
Xiotech helps SMBs get their Fibre
Few small and medium-sized businesses (SMBs) doubt the performance boost they would get from Fibre Channel (FC) SANs, but there have always been the small matters of cost and complexity. Now, SearchStorage.com reports that Xiotech's new Magnitude 3D 4000 family of FC arrays adds virtualization to cut costs and a Microsoft Management Console plug-in to reduce administrative complexity. The end result is an FC SAN that's more appealing to SMBs. Xiotech hopes its new entry will again make it a player in the storage market, a sentiment sure to be seconded by Xiotech's longsuffering channel partners.
ROI for BI not an M:I
A Gartner analyst has come to the defense of business intelligence (BI) projects, which have long elicited skepticism from IT managers wary of attempts to calculate BI's value and return on investment (ROI). Interviewed by SearchDataManagement.com, Gartner analyst Bill Hostmann says determining the ROI for BI projects is difficult, but he insists that it's not a mission: impossible. One of his suggestions is to use a simple user satisfaction survey after a BI project launches, and another is to quantify what a client loses by not using BI. In the end, Hostmann argues, enterprises that don't use BI will be at a competitive disadvantage.
Thursday, March 13
Microsoft adds Kidaro to virtualization stable
The scramble to gain virtualization mind- and marketshare continued this week when Microsoft announced plans to buy Kidaro, a desktop virtualization player. Kidaro Managed Workspace, built on Microsoft's Virtual PC, allows enterprise data and applications to run within a "transparent virtual machine wrapper."
Microsoft will, at some point, use Kidaro's technology to bolster the Microsoft Desktop Optimization Pack for Software Assurance customers, according to the Windows Virtualization Team Blog.
Microsoft bought Softricity and its Softgrid application virtualization nearly two years ago and plans to ship its Windows Server 2008 Hyper-V server virtualization later this year.
VMware comes out of its PowerShell
VMware said it is supporting Microsoft's Windows PowerShell scripting language. The support will come in VMware's VI PowerShell Toolkit, to be released later this month.
Microsoft is shipping PowerShell as part of Exchange Server 2007 and Windows Server 2008 and plans to make the language available in all of its future desktop and server operating system releases. Many in the VMware community are hailing VMware's move because they believe PowerShell is a considerable improvement over VMware's standard Perl-based toolkit.
Cognos and SPSS join forces on predictive analytics
IBM-owned Cognos has announced a "deeper technology alliance" with SPSS Inc. to give enterprise predictive analytics (PA) a shot in the arm. As SPSS's Clementine predictive analytics tool can work together with Cognos 8 now, the two companies will create and market customized PA for vertical markets. Specific target areas include risk management for financial services and insurance and campaign effectiveness and product placement in retail and manufacturing. Analytics consultants can help Cognos-SPSS clients in those verticals refine their modeling efforts to take advantage of the targeted analysis.
Business Objects wants to pretty up your data
SAP-owned Business Objects recently released a new data dashboard and presentation tool. Xcelsius Engage 2008 -- ike similar offerings from Oracle, IBM and Microsoft -- helps present stacks of data from Excel spreadsheets in graphical form. Business Objects claims the product is no more difficult to master than the spreadsheet itself. SAP partners can ensure that those claims hold true.
Wednesday, March 12
Iomega rebuffs EMC bid
Iomega, a leader in low-end consumer storage, said Monday it rejected an unsolicited $178.1 million bid from EMC. Iomega said its board did not find the offer "compelling." An EMC spokesman indicated that negotiations continue, according to sister site SearchStorage.com.
The always-acquisitive EMC did, however, manage to close a deal to purchase Infra Corp. Pty Ltd.
Infra's ITIL-based, cross-domain portal for IT resource management complements EMC's IT Operations Centre. Infra will report into EMC's Resource Management Software business unit.
Massachusetts to reject tainted Cognos deal
The state of Massachusetts will nix a software contract with IBM's Cognos group, after inspectors found it was improperly awarded.
Governor Deval Patrick announced the news Tuesday after a state inspector general found that the $13 million contract was improperly rewarded. Gregory Sullivan, the inspector general, said the bid violated state bidding rules.
The Boston Globe reported last week that Massachusetts House Speaker Salvatore DiMasi had pushed acceptance of the contract. Cognos is based in Ottawa, with offices in Burlington, Mass.
SAP fills in BI roadmap
With its buyout of Business Objects done, SAP has filled in the details of its business intelligence (BI) product roadmap.
SAP Business Planning and Consolidation, formerly Outlooksoft, is now SAP's go-to financial and operational planning tool, replacing SAP BI-IP, SAP SEM-BPS, Business Objects Planning XI R2 and Business Objects Planning Ext, according to SearchSAP.com.
For financial consolidation, SAP replaced its SEM-BCS tool with Business Objects Cartesis, now known as Financial Consolidation, and SAP Strategy Management, formerly called Pilot, is the new tool for managing enterprise-wide business strategy. SAP's BEx product line, including BEx Report Designer, BEx Web Analyzer and BEx Excel Analyzer, will be phased out completely by 2016.
Novell keeps Microsoft lawsuit alive
Novell, which now claims a cordial relationship with Microsoft over standards and whatnot, is nonetheless trying to keep a four-year-old lawsuit against the software giant alive, according to its latest filing with the Securities and Exchange Commission.
In 2004, Novell claimed in U.S. District Court in Utah that Microsoft eliminated competition in productivity software by withholding key technical data about Windows from Novell. At that time Novell owned WordPerfect and Quattro Pro, two products which competed with Microsoft Word and Excel. The implication was that Microsoft unfairly benefited from its knowledge of Windows to make its applications run better. Novell sought treble damages as well as other redress under the Clayton Act.
Last October, the U.S. Fourth Circuit Court of Appeals ruled that Novell could proceed with remaining claims of the 2004 suit, even though it no longer owns either product. If Microsoft's appeal of that decision fails, the case could go to the Supreme Court.
Tuesday, March 11
Microsoft gets busy with Active Directory enhancements
Microsoft has shown off a prototype of its next version of Active Directory (AD), which the company says will make IT administrators more productive. As reported by SearchWinIT.com, the biggest change is a switch from AD's old object-based interface to a task-based interface that makes resource management less cumbersome. The new version of AD will also integrate with Office 2007 and Windows Server 2008 to make identity profiles, security and inter-office collaboration more manageable. Microsoft has not announced a ship date for the new version of AD.
PivotStor debuts 'channel-only' email appliance
Startup PivotStor has released its EP Series of email management appliances, which combine features such as email archiving, email encryption, antispam and antivirus. PivotStor says the appliances focus on scalability, security and regulatory compliance. The appliances, which are aimed at SMBs, will be sold exclusively through PivotStor's channel partners.
Microsoft updates Windows Server 2008 activation guidance
Microsoft posted activation guidance for Windows 2008 volume licensees on its Windows Server Division blog and on the Microsoft Download Center. The server operating system uses the same volume activation method as Vista. The vendor has also updated the Key Management Service (KMS) used with the current Windows Server 2003 so VARs who have not checked out those changes should do so. A single KMS host supports Vista RTM and SP1 and Windows Server 2008 and the updated KMS version 1.1 for Windows Server 2003 will run in a Windows Server 2003 virtual machine. "If you plan to keep your KMS on WS2003, you'll need this update right away," according to the post.
Monday, March 10
VMware combines Partner Day, TSX
VMware has announced a new partner conference. VMware Partner Xchange 2008 is a three-day event that will replace Partner Day, traditionally held before VMworld, and the annual TSX partner training event. The new event will give partners more time to learn about selling and supporting VMware products and services, the company said. This year's conference is scheduled for May 5-8 in San Diego.
Microsoft: No hurry for Yahoo deal
Microsoft is in no rush to finish up its $40 billion-plus buyout bid for Yahoo, chief software architect Ray Ozzie told the Financial Times. Ozzie characterized tech companies that "dive in and just smash things together" as reckless. One issue for a potential Microsoft-Yahoo combination is overlap of competing search-and-ad technologies. Some observers saw Microsoft's bid as a last-ditch effort to gain relevance in these markets and a tacit admission that the billions Microsoft has so far invested in search and ad are wasted. Others said Microsoft has to make itself relevant on Google's turf or else, and Yahoo is a shortcut -- albeit an expensive one -- to get there.
Meanwhile, we're learning that Yahoo boosted the bonuses of two key execs last year as its stock slumped, according to documents filed with the U.S. Securities and Exchange Commission. Yahoo president Susan Decker got a $1.1 million bonus last year, a 29% increase from the $850,000 bonus of the previous year. General counsel Michael Callan received a $225,000 payout, up from $200,000 in 2006. The filings did not offer an explanation for the Yahoo bonuses, according to the Associated Press. Decker was promoted to president in June 2007, when Jerry Yang took over CEO duties from Terry Semel. Decker's salary for the current year is $815,000.
Juniper asks enterprises to switch
Juniper Networks is rolling out its first-ever line of LAN switches as part of an ambitious networking strategy the company hopes will let it elbow in on a market currently dominated by Cisco Systems. Juniper executives told eWeek that changes in the networking industry -- especially the need for faster and more reliable networks -- are making room for more competition.
Analysts are split over whether Juniper can make much of a dent in Cisco's business, but they said Nortel Networks and other smaller vendors should be worried about Juniper's ambitions in the networking space. No matter what happens between Juniper and Cisco, service providers will benefit by having a wider variety of switching products to fit specific customer needs.
Dig Deeper on Technology Vendors-OEMs