News
Stay informed about the latest enterprise technology news and product updates.
IT Channel News Briefs, March 7
News headlines for the week of March 7:
Dell, NetApp storm storage market.
Enterprise iPhone?
SharePoint: Plan first.
News for the week of March 3-7, 2008 -- in brief, updated daily, on topics important to the information technology (IT) channel.
Friday, March 7
EMC, IBM still top storage
EMC and IBM continue to be the market leaders in enterprise disk storage, according to a new report from IDC, but Dell and Network Appliance are gaining steam and Hewlett-Packard is losing ground to its rivals, eWeek reports. IDC also notes that iSCSI products remain the major mover in enterprise disk storage, a market segment that continues to be the hottest in all of IT. The IDC report should send a strong signal to storage resellers that considerable service opportunities persist in and around disk storage.

Download this free guide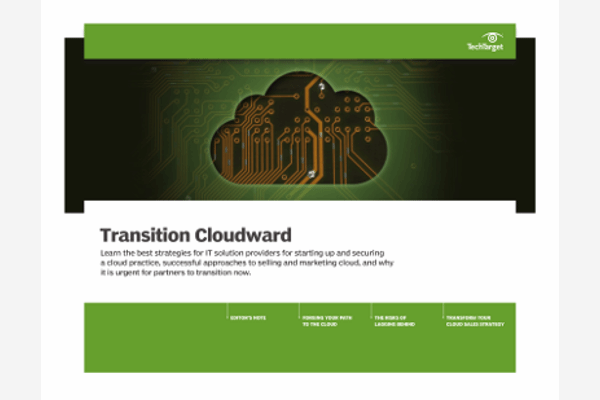 Could Securing Your Channel Business Be Easier? We Can Help.
Download our latest guide to the top strategies solution providers can leverage for starting up and securing a cloud practice, successful approaches to selling and marketing cloud, and why it is urgent for partners to transition now.
Apple opens up iPhone (a little)
Under intense pressure from third-party developers, as well as stiff competition from BlackBerry and other mobile devices, Apple has made it easier to create iPhone applications. Apple has also opened the iPhone to Microsoft Exchange Server integration -- part of its effort to make the iPhone a must-have business tool.
Apple is hoping to make a preemptive strike against the coming onslaught of commoditized smartphones powered by Google's open source Android platform. But the company will still approve every third-party application before it's allowed on the iPhone -- a stark contrast to the open and community-driven approach taken by Google and other members of the Open Handset Alliance.
SharePoint: Plan first, then deploy
Selling SharePoint isn't a problem, but getting customers to use it could be. That's because some IT managers are delaying deployments until they can implement corporate controls on SharePoint sites, Microsoft chairman Bill Gates said at this week's SharePoint Conference. According to our sister site, SearchWinIT.com, proper planning is crucial to make sure that SharePoint sites don't grow out of control and slow down the SQL Server databases they run on. Microsoft solution providers should be part of this planning process to ensure customer satisfaction.
Microsoft mixes it up
It was beta galore at MIX08 this week in Las Vegas, with Microsoft strewing the aisles with code (figuratively, of course). Aside from the anticipated Internet Explorer 8 and Silverlight 2 betas, the company also opened beta to Expression Studio 2. Expression Web gets PHP support. Expression Blend, Media Encoder and Design get Silverlight 1 support. And if you need a roadmap to figure out which SKU does what, Wikipedia can help.
Thursday, March 6
SQL Server 2008 admin features highlighted
SQL Server 2008's business intelligence (BI) features have drawn the most attention, but its new database administration capabilities could end up being most beneficial to customers, according to SearchWinIT.com. SQL Server 2008, for the first time, lets administrators set one policy across all servers. It also features a data-mining tool that integrates with SharePoint. SQL Server 2008 was part of Microsoft's launch event in Los Angeles last week, but it won't be released to marketing until the third quarter of this year.
Three itches for security consultants to scratch
Security solution providers looking for new business opportunities might want to pay close attention to the results of Forrester Research Inc.'s 2007 survey of IT security professionals. Three areas in particular stood out as priorities for those who responded to the survey: network access control (NAC), disk encryption and application security technologies and services. These channel opportunities are set against the backdrop of shrinking IT budgets and greater demands placed on IT security, two everyday facts of business life also cited by respondents.
How not to secure your network
Many corporate networks are the modern-day equivalents of Rube Goldberg machines, at least according to IT consultants interviewed by SearchSecurity.com. Most companies are concerned about network security -- and rightly so -- but many fail to realize that their misconfigured networks are making things far too easy for the bad guys. According to the SearchSecurity.com story, some examples of misconfigured networks include poorly maintained security systems, unencrypted wireless access points and even mismatched applications and hardware. Solution providers can address these problems through regular security audits.
Symantec boosts VBR 6.5
Symantec has added disk-based backup support and additional reporting features to Veritas Backup Reporter 6.5. Other features include tape drive utilization and improved integration with IBM's Tivoli Storage Manager, according to our sister site, SearchStorage.com. The reporting capabilities and enhanced integration should provide new opportunities for Symantec partners in the storage market.
AccuRev, Electric Cloud team up
Electric Cloud's software configuration management product tool will now work with AccuRev's multi-stage continuous integration best practices. This multi-stage continuous integration automates the building and testing of changes to software as it goes through development stages from creation, integration, quality assurance and code review. That process can be long and onerous, and Accurev's technology will catch code-breaking changes early and flow those alerts into Electric Cloud's ElectricCommander. ElectricCommander itself automates and manages the entire build-test-deploy process, regardless of the underlying languages and tools used.
Wednesday, March 5
Yahoo looks to AOL for survival
Yahoo has accelerated talks with AOL as part of its struggle to fend off Microsoft's buyout offer, according to several published reports, all citing unnamed sources. The online portal giant is stepping up merger and/or joint venture discussions with Time Warner's AOL unit, according to the reports. Microsoft made its bid Feb. 1, and the offer's value has fallen from $44.6 billion to $41.2 billion in that time. The company has threatened a proxy fight next week if no progress is made, but a delayed annual meeting could defer that showdown.
SAP, Intel team on ERP
SAP is offering its midmarket All-in-One enterprise resource planning (ERP) suite in an Intel Xeon-based appliance. The resulting boxes will run All-in-One on Novell's SUSE Linux Enterprise and SAP's MaxDB database, according to SearchSAP.com. The appliance is available in five countries, executives said, with plans to expand to 20 this year, including the United States in the second quarter. It will be sold through value-added resellers (VARs) and original equipment manufacturers (OEMs).
Microsoft customers bit by the ASP
While Microsoft and Google are tripping over each another to claim credit for the most business-ready suite of hosted services, many Microsoft customers interviewed by SearchWinIT.com remain wary of the application service provider (ASP) model. For regulatory, security and even psychological reasons, many IT managers quoted in the story said they prefer to keep their data within their own data centers. Even so, Google, Microsoft and others are pushing forward in the belief that the ASP model still has a lot of business bite left.
SMBs may delay Hyper-V buys
Microsoft and its partners have touted new server virtualization technology as one of Windows Server 2008's key features and selling points, and they're expecting quick adoption. But that may not be the case among midmarket customers. Experts recommended to our sister site, SearchCIO-Midmarket.com, that those users should wait to make sure there are no hidden problems with the hypervisor, known as Hyper-V, before deployment. With Hyper-V's release not due for another six months, it could mean that a midmarket customer base won't surface until a year from now.
SAP inks more Business ByDesign partners
Brushing aside the concerns of some midmarket chief information officers (CIOs) that enterprise resource planning (ERP) is too complex for a Software as a Service (SaaS) model, SAP announced yesterday that it signed 21 more service providers in Europe and Asia to offer SAP's Business ByDesign platform to midmarket customers. Ever since introducing Business ByDesign last year, SAP has insisted that its channel partners have a huge role to play in selling SaaS to their clients -- perhaps in more ways than one. For now, service providers will only be allowed to resell Business ByDesign, but SAP says it will allow resellers to provide hosting at some future date.
Tuesday, March 4
IT managers not wild about online collaborative services
Bill Gates clearly doesn't have much use for Google's online collaborative services. But many IT managers aren't too keen on online collaborative services in general -- even collaborative services from Microsoft, according to SearchWinIT.com, reporting from the Microsoft SharePoint Conference in Seattle this week. To many IT pros, hosted services remain anathema to a mainstream corporate computing philosophy.
Sybase iAnywhere takes security on the road
Sybase's new iAnywhere Mobile Office brings secure wireless email to Windows Mobile and Symbian devices. By restricting HTML content it can reduce user costs. The offering, due in the second quarter, uses the company's Afaria security technology to protect data using on-device password protection, data encryption and device lock-down, the company said.
Trusted Computer Solutions locks down Linux
Even while the debate rages over whether Linux or Windows is more secure, Trusted Computer Systems (TCS) has released an upgrade of its unique Security Blanket software. Security Blanket 1.2 makes it far easier for Linux admins to identify lingering security gaps in Red Hat Enterprise Linux (RHEL) and RHEL clone CentOS. Among other benefits, the product helps RHEL and CentOS shops become fully compliant with Department of Defense IT security standards. TCS is testing a version of Security Blanket for Oracle Enterprise Linux and might consider a SUSE Linux version. Many analysts consider Security Blanket's $299 per sever cost to be a small price to pay for peace of mind.
Monday, March 3
Microsoft launches online Exchange, SharePoint
Microsoft's much-ballyhooed online services strategy is starting to become a reality. The company today will announce the availability of Microsoft Online Services (MOS) for business customers of all sizes. The services -- first available in a beta trial -- are based on Exchange Server 2007 and Office SharePoint Server 2008. In addition, Microsoft already offers Dynamics CRM 4.0, its customer relationship management (CRM) software, as a hosted service.
Microsoft's online services push is a clear counter-attack aimed at Google, which has targeted Microsoft with its Google Docs, Google Apps and new Google Sites offerings. Microsoft released a press release touting the "huge opportunities" for the channel in online services, but partners told SearchITChannel.com last week that the shift will force them to make adjustments to their own businesses.
The proposed Microsoft acquisition of Yahoo is another facet of Redmond's online strategy, but partners said the jury is still out on how that potential deal could affect the channel. Another part of the effort is Microsoft Office Live Workspace, hosted collaboration software that went live today as a public beta.
Right now the idea is to get people to try the hosted service, although partner opportunities will follow, Kirk Gregersen, director of product management for Office consumer and small business, told SearchITChannel.com.Microsoft continues to position this offering, which will let users save and share more than 1,000 Office documents online, as an extension to the traditional Office desktop applications. The service has been in limited beta.
New to this beta release is an activity panel that shows all a workspace's tasks in one place. Also new are email notifications of changes made to documents. Microsoft expects to launch the service in other languages than English later this year.
Siemens simplifies while Cisco climbs
Siemens believes that simplicity, scalability and cost are the keys to increase enterprise adoption of unified communications -- and lots of business for the channel -- in 2008.That's why the company says it released OpenScape Unified Communications Server. It's a software-only server for unified communications that plays nicely with switches from all vendors, can be deployed in a modular way and offers what Siemens believes is a reasonably priced licensing scheme.
Some analysts note, however, that solid technology is only as good as the developer community surrounding it, and they say this is an area where Siemens lags behind rivals. Siemens has high expectations for OpenScape, and the need to score a big product win is only heightened by a recent report from Infonetics Research indicating that Cisco has leapfrogged Alcatel-Lucent, Avaya, Nortel and Siemens to become the second-largest enterprise telephony vendor in the world, according to eWeek.
Microsoft: Users won't hold out for Hyper-V
Microsoft maintains that customers will deploy Windows Server 2008 now and Hyper-V later, disputing third-party claims that the lag in delivering the company's virtualization technology will stall overall server implementations. Bill Laing, general manager in Microsoft's Windows Server division, said the new operating system will let businesses install the roles they need as they need them. According to a SearchWinIT.com user poll, virtualization was by far the biggest attraction of the new operating system.
Symantec presses GuardianEdge into service
Symantec is using two GuardianEdge endpoint security products in its desktop encryption product and will integrate that capability into its own desktop security offering in the future. Symantec Endpoint Encryption 6.0 Suite, available today, comes in two versions: one that encrypts all disk sectors on Windows XP or 2000 computers, and one that will encrypt files to any external storage device, according to NetworkWorld magazine. There is no Vista version yet.
Dig Deeper on Channel partner program news