News
Stay informed about the latest enterprise technology news and product updates.
IT Channel News Briefs, Feb. 22
News headlines for the week of Feb. 22:
New Vista SP1 problems.
VMware gets VMsafe.
Enterprise marketing's best.
News for the week of Feb. 18-22, 2008 -- in brief, updated daily, on topics important to the information technology (IT) channel.
Friday, Feb. 22
New Vista compatibility problems with SP1
Microsoft partners have been looking forward to Windows Vista Service Pack 1 to ease their customers' concerns about Vista software compatibility. Instead, the new release created its own compatibility problems. Microsoft has published a list of programs that don't work correctly -- or sometimes at all -- with Vista SP1. It includes security programs by Trend Micro, BitDefender and Zone Alarm, as well as other applications including The New York Times Reader. Microsoft notes that the list "should not be considered comprehensive" and affected users "may have to contact the software vendor for more information."

Download this free guide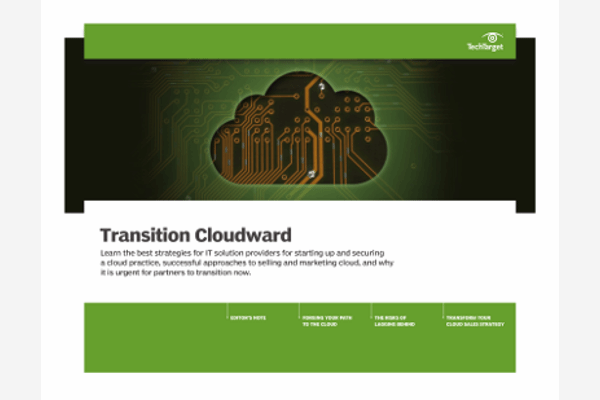 Could Securing Your Channel Business Be Easier? We Can Help.
Download our latest guide to the top strategies solution providers can leverage for starting up and securing a cloud practice, successful approaches to selling and marketing cloud, and why it is urgent for partners to transition now.
By submitting your personal information, you agree that TechTarget and its partners may contact you regarding relevant content, products and special offers.
You also agree that your personal information may be transferred and processed in the United States, and that you have read and agree to the Terms of Use and the Privacy Policy.
VMware at work on VMsafe security
Word has it that VMware is readying a response to security concerns specific to virtualization. The long-rumored VMsafe effort will involve partners Symantec, McAfee, IBM's Internet Security Systems, EMC's RSA division and Check Point Software Technologies, according to sister site SearchSecurity.com.
Enterprise marketing platforms try to keep it simple
Simple is the way that marketing professionals like their enterprise marketing platforms (EMPs), and a new report from Forrester Research indicates that vendors like SAP and Oracle, maker of Siebel, are slowly getting the message. "The vendors seem to recognize that marketers want simpler user interfaces. They spent a lot of time focusing on that," said Suresh Vittal, senior analyst with Forrester and author of the report. Still, no one vendor scored well across all EMP categories surveyed for the report. Service providers continue to have a challenging sales job with clients seeking EMP functionality, though the task should be a little easier than it was a few years ago.
Veghte talks up new role atop Windows, online services
Microsoft senior vice president Bill Veghte talked about his new role heading the Online Services and Windows group at Microsoft. Veghte was promoted earlier this month in a round of personnel changes. He had previously overseen just the Windows business.
Thursday, Feb. 21
Gates: Yahoo deal is about the people, stupid
Yahoo is worth $40-plus-billion big ones to Microsoft because of its engineering savoir faire and tech people, including co-founder Jerry Yang, Microsoft chairman Bill Gates told CNET in an interview yesterday. Gates said both Yahoo and Microsoft are similar in their competitive zeal to beat Google, and that means a combined company should work. What would not work is if Microsoft spends all that dough and the talent flees in droves.
Oracle talks turkey in Turkey
Oracle partners from across Europe will meet April 17 in Turkey for the first Oracle PartnerNetwork event of 2008. The company says it expects more than 1,000 partners to attend. As with other partner events across the industry, the Oracle partners will be briefed on industry trends, have a chance to quiz management (especially about recent turbulence in Oracle's channel program) and also do some ever-important peer networking.
Tech Data opens its VAR network to MSP services
IT distributor Tech Data has partnered with Zenith Infotech to make Zenith's managed services provider (MSP) offerings available to Tech Data's network of 90,000 value-added reseller (VAR) partners. In a call with SearchITChannel.com yesterday, Tech Data pointed to its ever-evolving stable of brokered services and noted that rival Ingram Micro doesn't have such an MSP offering at the moment. Tech Data also said more partnerships are in the offing.
Intuit launches partner program for self-starters
Intuit wants more tech newbies to build businesses around QuickBase, the company's application development and collaboration software. Intuit seeks to make the product, which often replaces emailed spreadsheets or Word documents in team situations, a platform for building easy-to-use-and-maintain Software as a Service (SaaS) offerings.
QuickBase Business Consultant Program benefits include leads, marketing materials, discounted software and potentially commissions of 20% to 35% of recurring customer revenue for the first three years, based on program level. The goal is to attract consultants with business and process expertise who are not programmers or techies into the QuickBase fold, according to Intuit.
Oracle bolsters ID management
An update to Oracle Identity Manager hits today. Enhancements include a new rules engine for the attestation definition process that lets users create very granular subsets of applications. The release also adds new reporting capabilities. SearchOracle.com talked to Amit Jasuja, Oracle vice president of development for security and identity management, about what's new and important in the release.
Wednesday, Feb. 20
HP exceeds, raises expectations
Hewlett-Packard's profits and revenue exceeded expectations last quarter with increases of 38% and 13%, respectively. The results, announced yesterday, led HP to raise its forecast for the year. CEO Mark Hurd said he now expects the company's annual revenue to come in at $114 billion, up from a previous target of $111.5 billion, The New York Times said. HP said its worldwide computer sales last quarter were up 24% compared to the year prior and its software profits nearly tripled.
Tech Data to distribute VMware
Tech Data has inked a distribution pact with VMware. The distributor's Advanced Infrastructure Solutions Division will now directly support VMware value-added resellers (VARs) that build and support virtualization.
Tech Data already supported VMware VARs through existing partnerships with Hewlett-Packard and IBM, which both sell servers configured with the virtualization software. Now it will distribute VMware's entire line, including the VMware Infrastructure suite. Avnet, Arrow Electronics, Ingram Micro and Lifeboat Distribution already distribute VMware in the United States.
Hardware prices expected to soften up
Lower hardware prices might be the silver lining in the dark cloud that is the expected IT spending slump. Analysts expect hardware manufacturers like IBM and Dell to be more amenable to cutting prices as overall IT spending slows in 2008, according to our sister site SearchCIO-Midmarket.com. Service providers able to negotiate lower prices from vendors, and then pass those savings on to their clients, will be best positioned to grow their businesses despite the economic turbulence ahead.
Oracle goes single-tenant with CRM SaaS
Oracle yesterday released a new version of its customer relationship management (CRM) Software as a Service (SaaS) that can store customers' data separately from each other. The Siebel CRM On Demand Single Tenant Enterprise Edition is aimed at large customers in highly regulated industries that want the extra security that comes with a single-tenant architecture, Oracle said.
On the flip side, Microsoft Dynamics CRM 3.0 featured a single-tenant architecture, but the new version, 4.0, has multi-tenancy. Microsoft CRM hosting partners say they like that better, because they don't have to buy a separate server for every customer, so they can become more profitable.
Baby steps toward greener data centers
Talk of green data centers, green security and green networking has been in the air for several years now, but there's evidence that companies are beginning to take the idea of green IT seriously. A new report from Forrester Research Inc. indicates that, as of October 2007, 38% of IT professionals took environmental data into account when choosing new equipment for their data centers. That's up from 25% in just six months.
As expected, altruism and saving money are driving the adoption of green IT in the data center, and the trend is likely to continue. Some service providers report that they're getting more requests for green products, and these providers say they're positioning themselves for the time when early adopters spark a broader green IT trend.
Tuesday, Feb. 19
Gates: Microsoft to challenge Google regardless
Microsoft will compete against Google in the online search market "with or without Yahoo," Bill Gates told Reuters yesterday. The outgoing Microsoft chairman said Google is the only company with critical mass in the market, but Microsoft can afford the necessary investments to reach that level. And although Microsoft is prepared to go it alone if its Yahoo takeover bid falls through, Gates added that "we'd get there faster if the great engineering work that Yahoo has done and the great engineers there were part of the common effort."
VMware, LeftHand team through partners
For the first time under VMware, an iSCSI SAN has become a virtual machine. It comes as the result of an agreement that placed LeftHand Networks Inc.'s Virtual SAN Appliance (VSA) -- a software-only device -- on VMware's hardware compatibility list. Now a virtual iSCSI SAN can live on the same physical server as virtualized applications.
Sold through the two companies' mutual channel partners, the VSA is bundled with VMware's Infrastructure Acceleration Kits to create Virtualization Solution Kits. There are four pricing tiers for these kits, based on the number of VMware and VSA licenses included. Service providers will be waiting to see how VMware's competitors, including Microsoft and its Hyper-V technology, will respond.
Vista SP1 installation problems surface
Users are reporting installation problems with Windows Vista Service Pack 1, with some beefing about "endless feedback loops" on Microsoft tech forums. Microsoft's response to these gripes thus far is pretty much nothing about potential fixes -- or a lack thereof -- according to the All About Microsoft blog.
Hosted ERP payoff coming
Just last week we reported that enterprise resource planning (ERP) Software as a Service (SaaS) was not gaining much mindshare among midmarket CIOs. But that depends on your point of view, according to a new column about ERP SaaS at SearchCIO-Midmarket.com.
Writer James M. Connolly argues that recent surveys of midmarket CIOs indicate that the market for ERP SaaS still needs time to mature -- which he's confident will happen, though he concedes that "it will probably be a year or two before the technology and related benefits are in place for most midmarket firms." Connolly believes the benefits of ERP SaaS -- including rapid deployment, stronger security and reduced capital costs -- will win over midmarket IT managers in time. The implication is that service providers should begin to stake out their positions now by educating their clients about the benefits of ERP SaaS.
Server virtualization may help disaster recovery
Disaster recovery (DR) planning for mission-critical applications typically requires replicating the data and having servers standing by at a DR site ready to roll in the event of a problem. Now many organizations can save money by virtualizing those standby servers, according to SearchStorage.com.
Monday, Feb. 18
Study: Top Yahoo investors own more of Microsoft
Most of Yahoo's top shareholders have even more money invested in Microsoft, creating a conflict as Microsoft continues pursuing a Yahoo acquisition. That's according to RiskMetrics Group, a financial risk management analysis firm that studied both companies' institutional shareholder bases. Reuters reports that, according to RiskMetrics, 90% of Yahoo's top shareholders also own Microsoft stock, and most have invested "significantly more" in Microsoft. Those investors may be more focused on making sure that Microsoft does not overpay for Yahoo than on protecting Yahoo's interests, the study said.
Red Hat opens up on enterprise SOA
As more evidence of Red Hat's push into the enterprise, the Linux vendor has announced an open source service-oriented architecture (SOA) offering called the JBoss Enterprise SOA platform. The platform combines a number of open source JBoss projects to handle workflow, rule management and other tasks. Red Hat is touting its ability to allow developers to steer clear of XML or WSDL while providing a rich, Java-based SOA platform. The company says the platform will be ready by the end of the month. With Red Hat's recent spate of product announcements, Red Hat partners now have several new options -- including middleware and SOA -- to ponder as they work with clients.
Acronis launches SMB partner push
Acronis is launching a new partner program to help penetrate small and medium-sized businesses (SMBs). The Burlington, Mass., company makes True Image Echo data protection software and Acronis Recovery for Microsoft SQL Server for disaster recovery. Starting March 1, qualifying partners in the Acronis SMB Connect Program will get promotional pricing and discounts on software, WebEx sales training, pre-sales support, priority technical support and access to the company's partner portal. Membership will be free to partners hitting a minimum sales volume. Acronis would not specify that volume requirement, but said it is lower than the threshold required by the company's Authorized Solution Provider Program, which targets larger companies.
Seneca Data offers 'business in a box' server
Seneca Data launched a new server Feb. 11 based on Intel's Multi-Flex Technology for small and medium-sized businesses (SMBs). The target for the Nexlink Modular Server are companies with 10 to 100 employees. Intel sells the Multi-Flex server box only through partners who add their own value. Seneca Data provides pre- and post-sales support, training, integration services and installation help. The box supports up to six server modules and 14 drives per chassis so it can grow with customer needs.
Dig Deeper on IT Distributors-Wholesale Providers