News
Stay informed about the latest enterprise technology news and product updates.
IT Channel News Briefs, Feb. 8
News headlines for the week of Feb. 8:
Dell shop snubs EqualLogic.
New Microsoft pick-up.
BPM power to the people.
News for the week of Feb. 4-8, 2008 -- in brief, updated daily, on topics important to the information technology (IT) channel.
Friday, Feb. 8
Dell shop picks EqualLogic rival
Enterasys uses Dell servers and was looking for an iSCSI SAN to replace a Fibre Channel system. Dell acquired EqualLogic, so it would have made sense for Enterasys to go for an EqualLogic storage solution, right? Maybe, but instead Enterasys selected a SAN from EqualLogic rival LeftHand Networks.

Download this free guide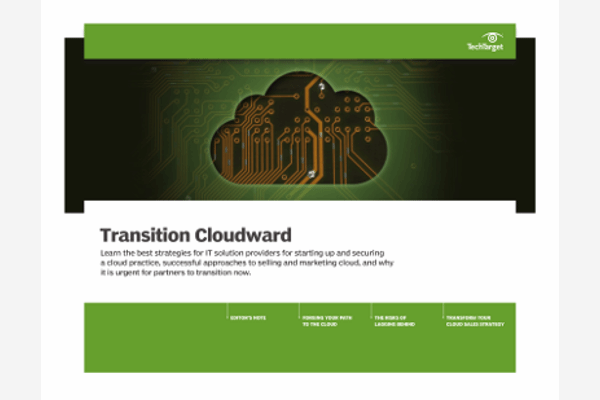 Could Securing Your Channel Business Be Easier? We Can Help.
Download our latest guide to the top strategies solution providers can leverage for starting up and securing a cloud practice, successful approaches to selling and marketing cloud, and why it is urgent for partners to transition now.
By submitting your personal information, you agree that TechTarget and its partners may contact you regarding relevant content, products and special offers.
You also agree that your personal information may be transferred and processed in the United States, and that you have read and agree to the Terms of Use and the Privacy Policy.
The company evaluated iSCSI SANs from both companies but went with LeftHand because it ran easily on its existing Dell 2950 servers without need for an additional support contract, an official told sister site SearchStorage.com. Selling Dell shops on EqualLogic storage products is just one of several challenges former EqualLogic partners face as they adjust to their new lives in the Dell channel.
Microsoft acquires Caligari
Its takeover bid for Yahoo is still getting all the attention, but Microsoft managed to sneak in an under-the-radar acquisition this week. The company announced on its Virtual Earth blog that it has purchased Caligari, a Mountain View, Calif.-based vendor of 3-D modeling software. Financial terms were not disclosed, and Todd Bishop's Microsoft Blog reports that Microsoft plans to integrate Caligari technology into Virtual Earth.
BPM gives power to the people
People matter in business process management (BPM) now more than ever. That was the message delivered this week at the Gartner Business Process Management Summit in Las Vegas. The reason, according to Gartner analysts: The United States and many Western nations have developed knowledge-based economies in which creative human actors make the difference between innovative companies that outperform their rivals and those that wallow in mediocrity.
Gartner analysts also see the trend in BPM that modern business processes, which often cut across departmental silos, are driving change in employee roles and responsibilities. Service providers can help facilitate this evolution by judiciously using BPM tools that put a premium on flexibility.
Antivirus pioneer says corporate security efforts are wasted
Norton AntiVirus inventor Dan Tippett says a lot of corporate security efforts are wasted energy. Speaking at the inaugural Computer Forensic Show in Washington, D.C., Tippett said a third of current security practices are outdated and inapplicable to today's needs, according to Dark Reading. Tippett is now vice president of risk intelligence for Verizon Business and chief scientist for ICSA Labs.
IBM SOA evangelists target mainframes
An independent user group called SHARE, which focuses on organizations using IBM mainframes, is launching a campaign to educate its members about service-oriented architecture (SOA). The group says the move is due to survey results showing a widespread interest in SOA among SHARE members. Some areas where SHARE and its members think SOA would be useful include legacy DB2 databases and some COBOL applications. This may represent an underserved market for IBM service providers.
Microsoft preps for Patch Tuesday
Microsoft has touted Windows Vista Service Pack 1 as more secure than its predecessor, but there's still work to do. Tuesday, the company will release seven critical updates that address flaws in Vista and other products, according to SearchSecurity.com. Other identified vulnerabilities targeted by the updates affect Windows 2000, Windows XP, Internet Explorer, Office, Active Directory, Windows Server and Visual Basic 6.0.
Thursday, Feb. 7
Vista SP1 fails to excite
Microsoft partners have been looking forward to the release of Windows Vista Service Pack 1 to spur customer adoption of the operating system. But now that it's here, they may have to keep waiting. SearchSecurity.com reports that IT administrators are shying away from Vista SP1 because some of the installation and compatibility problems of the original release remain. Microsoft released Vista SP1 to marketing Monday, and the product will be publicly available next month.
Citrix bulks up virtualization lineup
Citrix Systems Inc. next week will unveil new tools as well as a new XenServer Platinum bundle, which combines XenServer 4.1 Enterprise's server virtualization with the Citrix Provisioning Server for Data Center. The combo will let IT managers provision images to virtual machines or physical desktops, according to SearchWinIT.com.
Storage vendors, partners offer compliance help
The threat of litigation, coupled with the slow pace of IT strategies to address Federal Rules of Civil Procedure changes, is making for some strange bedfellows in the storage market. This week, data archiving vendors AXS-One Inc. and Mimosa Systems Inc. teamed up with services provider RenewData Corp. to offer clients tape-ingestion solutions that will assist with federal storage regulations. Hewlett-Packard also recently announced it will bundle its Integrated Archive Platform data archive with e-discovery review and analysis software from Clearwell Systems Inc. Meanwhile, Kazeon Systems Inc. and other risk assessment vendors are selling enhanced versions of their products through the channel. As with Sarbanes-Oxley Act (SOX) compliance, there are ongoing opportunities for service providers to bring their clients in line with ever-changing federal data regulations.
Microsoft explains Open Value Subscription
Sorting through the various Microsoft volume licenses and discounts can be like reading tea leaves. A new post to the Microsoft Small Business Community Blog tries to parse it out. Eric Ligman, Microsoft's U.S. senior manager of small business community engagement, explains that the cost per desktop for Office Professional Plus, for example, is less through Open Value than through any other program over the course of nine to 12 years. And that calculation does not necessarily incorporate some discounts or rebates, so Open Value might be an even better deal, Ligman writes.
SOA, BPM, EA: What's in a name?
Several prominent service-oriented architecture (SOA) bloggers have concluded that SOA and business process management (BPM) are really a part of enterprise architecture (EA) because they use the same methodology. IT consultants tend to agree, according to SearchSOA. As consultant Joe McKendrick argues, "Business leaders don't care if a project is called SOA, or EA, or DOA. They want an initiative that achieves faster time to market, streamlines an outmoded process, or improves front office productivity. Period." This is a useful reminder that clients are far less concerned with terminology than many service providers are.
Wednesday, Feb. 6
Microsoft revamps certifications
Microsoft is changing some of its professional certifications with the release of Windows Server 2008. It's a move that some experts say will cause confusion, according to SearchWinIT.com. Microsoft is discontinuing the Microsoft Certified Systems Engineer and Microsoft Certified Systems Administrator designations in favor of the Microsoft Certified IT Professional, which lets IT managers tailor the certification test to their specific job roles. Some value-added resellers (VARs) and independent software vendors (ISVs) have experienced problems earning their appropriate Windows Server 2008 certifications as well.
What a recession means to IT
Talk of recession is in the air, and a story on our sister site SearchCIO.com says that CIOs must work as partners with CFOs to make wise IT decisions in tough economic times. What's useful for the channel is the advice to CIOs that they must continue to advocate for new and existing projects -- including storage virtualization, desktop virtualization and server virtualization -- that will reduce overall IT costs. On the negative side, the story says new equipment purchases and the use of consulting services are "obvious candidates for cuts." As always, those service providers that add value in the face of budget cuts will come out on top in a lean economy.
Google enters security market
Google has introduced the first products stemming from its acquisition of Postini, a security and compliance vendor. Google Message Filtering and Google Message Discovery, at $3 and $25 per user respectively, have low prices that could do to email security what Wal-Mart did to retail, according to analysts who spoke with SearchSecurity.com. Message Filtering offers antispam and antimalware, and Message Security includes archiving, retention and e-discovery.
MySQL seeks hosting partners
MySQL AB launched a new partner program targeting top-tier hosting providers. Qualifying participants get the company's premium commercial software and services -- at costs ranging from $599 per year plus $49 per server per month for authorized partners, up to $4,999 per year plus $599 per server per month for high-end platinum partners. Sun Microsystems' $1 billion buyout of MySQL should be done by the third quarter.
VARs in the cloud
Jamcracker is now making its Software as a Service (SaaS) infrastructure available to value-added resellers (VARs) and solution providers. Originally the Jamcracker Software Delivery Network (JSDN) foundation was available to carriers, but now VARs can use the system's network, billing and provisioning tools to brand and run their own software services, the company said Wednesday.
Tuesday, Feb. 5
Dell unveils joint EqualLogic product
Those speculating about Dell's plans following its acquisition of EqualLogic now have some answers. Dell yesterday announced a 3U, 16-bay storage array, dubbed the Dell EqualLogic PS5000 series. The PS5000 series supports 1 TB drives for up to 16 TB of raw capacity in a single enclosure, and it marks an evolution from EqualLogic's previous 14-drive form factor.
Pricing for the PS5000 series with 2 TB of storage is less than the PS3000 series with 1.75 TB of storage. Dell also touched on the channel implications of the EqualLogic acquisition.
Microsoft lists Open Value Subscription prices
Details on Microsoft's new Open Value Subscription Program for small and medium-sized businesses (SMBs) are now available. Microsoft has released the price list to its distributors, but as U.S. senior manager Eric Ligman explained in a blog post yesterday, that list does not include discounted SKUs for partners. Company officials are working to get those prices to distributors "in the near future," he wrote. The Open Value Subscription Program, which Microsoft claims will make it easier for value-added resellers (VARs) to sell into smaller companies, officially launches in the U.S. and Canada on March 3.
Oracle expands Fusion middleware
Oracle's latest Data Integration Suite is available now. Part of the company's ever-growing Fusion middleware lineup, the software will tie together data residing in MySQL, DB2, SQL Server and Teradata repositories as well as Oracle's own databases and applications, the company said. Options include an in-memory data grid, Oracle Data Profiling and the Oracle Data Quality for Oracle Data Integrator. The latter two options were developed with Harte-Hanks Trillium Software.
The big Microsoft-Yahoo picture
Microsoft's potential Yahoo acquisition could be up in the air for quite a while, so SearchWinDevelopment.com is taking a step back and looking at the big picture. Site editor Brian Eastwood gives a rundown of the major questions surrounding the possible deal: Does it make sense for Microsoft? When could it become reality? What does Google think? Microsoft bid $44.6 billion for Yahoo last week, but Yahoo is reviewing the proposal and considering other options -- including a partnership with Google.
Symantec launches virtual messaging security
Symantec yesterday released its messaging security appliance as a virtual appliance. The Symantec Mail Security 8300 Series Virtual Edition allows users to adjust capacity for spam and virus filtering without reconfiguring their physical infrastructure. The virtual appliance also features synchronized configuration and reporting across multiple systems, which Symantec partners can use to help customers address their regulatory compliance requirements.
Information security remains a team effort
Nowhere does being disorganized do more damage than in the area of information security. As Joel Dubin writes at SearchCIO-Midmarket.com, information security requires close coordination among these five distinct functions: audit management, access management, infrastructure and hardware security, software and application security, and incident response. Dubin is writing primarily for CIOs in midmarket companies, and he's clear that even if CIOs outsource information to a service provider, they still need internal resources to coordinate information security efforts.
"Even if you outsource to an MSSP, you'll still need a single point of contact to oversee whatever form your IT security operation takes," he writes. "Whomever that person is, whether from IT or not, he or she will ultimately be the one held accountable for security." That's a useful reminder that no service provider ever operates within an organizational vacuum.
Monday, Feb. 4
Yahoo mulls Google alliance, Microsoft bid
Yahoo is considering a partnership with Google as an alternative to Microsoft's $44.6 billion takeover bid. Reuters reports that Yahoo and Google executives talked about an alliance months ago and may revisit those discussions now, as Yahoo's board of directors mulls the offer Microsoft made last week. Google CEO Eric Schmidt also called his Yahoo counterpart Jerry Yang, offering his support to thwart Microsoft's bid, according to the Wall Street Journal.
Google's chief legal officer David Drummond also came out against Microsoft's bid for Yahoo. "Microsoft has frequently sought to establish proprietary monopolies -- and then leverage its dominance into new, adjacent markets," he said over the weekend. "Could the acquisition of Yahoo allow Microsoft -- despite its legacy of serious legal and regulatory offenses -- to extend unfair practices from browsers and operating systems to the Internet?"
Microsoft, it should be noted, used the antitrust card itself in trying to thwart Google's acquisition of DoubleClick. Microsoft called that deal anti-competitive, then turned around and spent billions on DoubleClick competitor aQuantive.
Intel's new quad-core Itanium -- a chip off the old block
Over the weekend Intel announced a new member of its Itanium chip family. Code-named Tukwila, it is a quad-core chip sporting 2 billion transistors and a 2GHz clock speed. Tukwila uses the same 65-nanometer architecture as Intel's current Itanium chips, but Intel says it managed to squeeze out twice the performance for roughly the same price. The company also touts the improved ability of the Tukwila chip to support server scalability.
Even so, when it hits the market next year, the Tukwila chip will face stiff competition in the high-end server space from a soon-to-be-announced upgrade of Sun's UltraSPARC chip. Service providers planning server upgrades for enterprise clients will want to take a close look at the features and benefits of both chipsets.
Businesses to stop ignoring Web 2.0
Enterprises that ignore such Web 2.0 phenomena as wikis and social networks do so at their own peril, according to a Forrester Research survey. Of 119 companies surveyed in the third quarter of 2007, 42% said they have no plans to do Web 2.0 in house, with many calling it frivolous. Those companies will "take their heads out of the sand" this year, Forrester said.
Web 2.0, a term that covers mashups, social networking and other emerging technologies and often employs AJAX, is a "high-impact, low-cost method" for IT managers to show leadership, according to Forrester.
Dig Deeper on IT Distributors-Wholesale Providers