News
Stay informed about the latest enterprise technology news and product updates.
Microsoft partners face Windows Server 2008 certification problems
With the Windows Server 2008 RTM days away, Microsoft partners are focusing on getting certified. But some VARs and ISVs are encountering problems.
Windows Server 2008 certifications are key for value-added resellers (VARs) and independent software vendors (ISVs) that want to work with the new product, but earning those certifications has caused problems for some Microsoft partners.

Download this free guide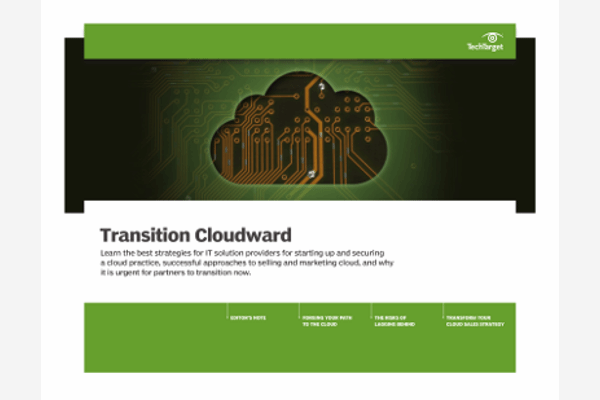 Could Securing Your Channel Business Be Easier? We Can Help.
Download our latest guide to the top strategies solution providers can leverage for starting up and securing a cloud practice, successful approaches to selling and marketing cloud, and why it is urgent for partners to transition now.
By submitting your personal information, you agree that TechTarget and its partners may contact you regarding relevant content, products and special offers.
You also agree that your personal information may be transferred and processed in the United States, and that you have read and agree to the Terms of Use and the Privacy Policy.
Microsoft will release Windows Server 2008 to manufacturing Feb. 6 and officially launch the product Feb. 27 in Los Angeles. Evolve Technologies, a Microsoft partner in Fairfax, Va., began training staff for Small Business Server 2008 and Windows Server 2008 certifications at the beginning of January, but CEO Dave Sobel said he doesn't expect everyone to be certified until July or August. It's impossible to train everyone over a short period of time without hurting business, Sobel said.
Solution providers hate pulling technical people out of billable hours for training and education but at some point have no choice.
"It's a logistical nightmare," he added. "It's not like I can just pull them all out of the field for a week for training."
Most of the Windows Server 2008 certification problems aren't Microsoft's fault but are the cost of doing business when it comes to large software releases, Sobel said. Microsoft let Evolve know about the available training far in advance, and the company has been able to take advantage of some economies of scale because it's such a big project, he said.
Digipede Technologies LLC, an ISV in Oakland, Calif., received Windows Server 2008 certification for its software in late January. Figuring out the requirements and how to meet them all was arduous, according to chief technical officer Robert Anderson.
"It isn't something that you can just read -- the 10 steps to follow," he said. "It's more like there are 500 steps."
Every requirement for Windows Server 2008 certification is one to three pages long, but not every requirement applies to every type of software. It was hard to determine which criteria applied to Digipede, and sometimes it was even difficult to figure out if Digipede had met those objectives, Anderson said.
"It really wasn't clear from the start what the overall process was," he said. "There wasn't any one thing to get us marshaled through the process. … The hardest thing is interpreting the actual requirements."
Getting help from Microsoft also caused problems. The responses from Microsoft were "spotty" and sometimes contradicted information in the Windows Server 2008 certification requirements, Anderson said. Microsoft employees told Anderson they hadn't expected so many questions.
Despite the trouble that Digipede faced, Anderson said it's worth it to earn the Windows Server 2008 certification logo, because it raises the company's profile with customers.
"There's value in getting logo certification," he said.
Dig Deeper on Technology Vendors-OEMs