News
Stay informed about the latest enterprise technology news and product updates.
IT Channel News Briefs, Feb. 1
News headlines for the week of Feb. 1:
Microsoft bids on Yahoo!
Oracle customer con-Fusion.
VMware's connection broker.
News for the week of Jan. 28-Feb. 1, 2008 -- in brief, updated daily, on topics important to the information technology (IT) channel.
Friday, Feb. 1
Microsoft bids $44.6 billion for Yahoo!
Microsoft's $1.2 billion acquisition of Fast Search and Transfer was a drop in the search engine bucket compared to today's news. The company has bid $44.6 billion to purchase online search pioneer Yahoo!

Download this free guide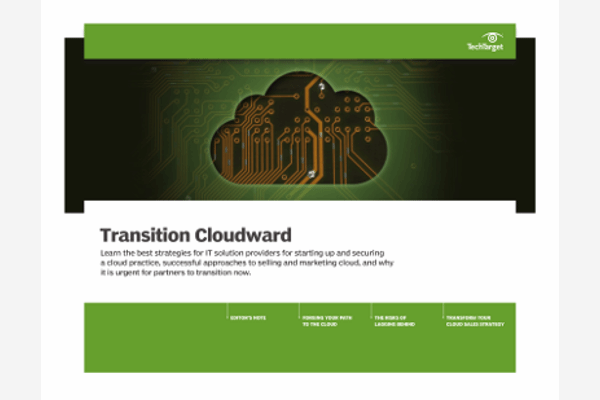 Could Securing Your Channel Business Be Easier? We Can Help.
Download our latest guide to the top strategies solution providers can leverage for starting up and securing a cloud practice, successful approaches to selling and marketing cloud, and why it is urgent for partners to transition now.

The move is clearly aimed at online search leader Google, which has recently taken on Microsoft in the desktop applications and online collaboration markets. Microsoft did not mention Google by name in its announcement today but did say, "The online advertising market … is increasingly dominated by one player. Together, Microsoft and Yahoo! can offer a competitive choice while better fulfilling the needs of customers and partners."

Microsoft said it already has a process in place to integrate Yahoo! into its business and plans to offer "significant retention packages" to key Yahoo! employees. If Yahoo! accepts the offer, Microsoft expects the deal to close in the second half of this year.

Oracle customers suffering from con-Fusion

Oracle still has work to do to convince its PeopleSoft and Siebel Systems customers that they won't be forced to migrate to Fusion, Oracle's new application suite. According to SearchOracle.com, 61% of PeopleSoft and Siebel Systems customers believe that a forced migration to Fusion is inevitable, despite Oracle's numerous public statements to the contrary. Making matters worse, nearly half of Oracle's customers question the clarity of Oracle's product roadmap. Oracle will no doubt be working closely with its channel partners to clear the air as it gets Fusion ready for release.

Is new VMware connection broker enough?

VMware Inc. made Virtual Desktop Manager (VDM) connection broker available this week, removing it from beta and adding important features to the baseline functionality included in the 1.x release. While VDM 2 tries to chip away at the success of existing connection brokers like those from Citrix Systems Inc. and Provision Networks Inc., it's unclear whether the technology is truly competitive with offerings like Citrix XenDesktop, reports sister site SearchServerVirtualization.com.

IBM launches OS for Power6

IBM's new System i operating system will be available March 21, the company said Thursday. Version 6, Release 1 of the venerable OS will be the first available for IBM's Power6 blade, according to sister site Search400.com.
Thursday, Jan. 31
Global Dynamics CRM 4.0 launch begins
Microsoft yesterday made Dynamics CRM 4.0 available in eight languages, including English, Spanish, French and simplified Chinese. Dynamics CRM 4.0, formerly codenamed Titan, will help Microsoft compete with Salesforce.com, Oracle's Siebel, SAP and NetSuite in the growing hosted customer relationship management (CRM) software market. Microsoft partners can either host it themselves, sell a Microsoft-hosted version or sell and deploy a traditional on-premise solution. Dynamics CRM 4.0 will be available in 17 additional languages within 90 days, according to Microsoft.
IBM fires shot over VMware's bow
VMware is the industry leader in virtualization, but the field is getting crowded. Microsoft is joining the party with Hyper-V, and now IBM is introducing a new line of System p Power6 Unix servers that enable x86 consolidation at what IBM says is a lower per-processor core cost than VMware.
The Unix boxes are powered by IBM's Power6 processor. That allows x86 Linux applications to run on them without being recompiled, according to IBM. The servers handle virtualization through IBM's PowerVM Express software, which uses the Advanced Power Virtualization technology in the Power6 processor. IBM hopes that cost and their claim of better server scalability will entice service providers to consolidate their clients' existing x86 servers on System p rather than opting for VMware or Hyper-V.
Symantec reports on IT risk myths
Symantec yesterday released the results of its second annual IT Risk Management Report. In the report, Symantec identifies these four myths about IT risk management: it is focused only on IT security, it is project-driven, it can be managed by technology alone and it has already become a formal discipline. The report also examines how different industries view IT risk management, finding that IT incidents are most expected in the healthcare field and telecommunications is the best when it comes to controlling risk.
Juniper makes the switch to the enterprise
Juniper Networks is coming out with a new line of EX switches that the company claims will deliver data transmission speed advantages over rival products. The target customer is the enterprise that values high-performance networking, but analysts contacted by SearchNetworking.com are skeptical that the market is as large and robust as Juniper claims.
According to these analysts, many clients don't think that marginal speed increases justify the cost of replacing their existing switches. Consultant Jim Metzler goes so far as to say that Juniper has found a solution for a problem people do not currently have. He thinks Juniper and its channel partners would be better served by stressing the switches' pricing, security and ability to drive network simplification.
@stake founders look back, ahead
The founding members of @stake, the security consulting pioneer acquired by Symantec three years ago, talk to sister site SearchSecurity.com about that company's continuing legacy. @stakers helped found the security teams at Microsoft and other major vendors, and the company helped launch Matasano Security and iSec Partners.
Wednesday, Jan. 30
EMC CEO bullish on multiprotocol storage
EMC has shipped a limited number of its new Web 2.0 clustered storage products, codenamed Hulk. CEO Joe Tucci made the announcement yesterday during the company's fourth quarter earnings call, where he also said that half of the company's new CX-3 shipments have been for Fibre Channel/iSCSI dual-protocol systems, according to SearchStorage.com. In addition, EMC has sold out of the new Celerra NS-20 and NS-40 units -- which support NAS, FC and iSCSI and feature new management software wizards -- in each of the past two quarters.
Barracuda Networks opens up
The free and open source software (FOSS) community is coming to the defense of Barracuda Networks in Trend Micro's patent infringement lawsuit against Barracuda. Trend insists that Barracuda violates its so-called 600 patent, which "protects a process that scans and removes viruses as they move through a SMTP or FTP proxy server," according to SearchSecurity.com. Barracuda, meanwhile, says the lawsuit is really about its ability to use the open source ClamAV security software. (Trend says ClamAV contains code that violates the 600 patent.)
Open source heavyweights Richard Stallman, creator of GNU Linux, and Eben Moglen, head of the Software Freedom Law Center, have lined up behind Barracuda to support its use of ClamAV without paying Trend any licensing fees, and Barracuda is asking the open source community for examples of "prior art" that would invalidate the 600 patent. The case is a reminder that systems integrators (SIs), consultants and anyone doing custom software development for clients should be aware of code licensing issues and consider running code through scanning products from companies such as Black Duck Software.
Study: CRM users disappointed
Solution providers have a lot of work to do to meet their clients' customer relationship management (CRM) software needs, according to a new Forrester Research report. Our colleagues at SearchCRM.com report on the study, in which about half of respondents gave poor or below average marks to their CRM software -- specifically in the areas of marketing methodologies, customer interaction management and analytics. William Band, the Forrester vice president and principal analyst who wrote the report, said: "CRM solutions have been the least mature, the last ones to be built out by solution providers."
Visual Studio 2008 available to the masses
The Microsoft Visual Studio 2008 toolset is now available to any and all partners who want to sell it via Open, Select or Enterprise Agreements or Full Packaged Product versions, the company announced yesterday. The toolset had been available since November, but only for Microsoft Developer Network members.
Oracle Accelerate program grows
Oracle announced yesterday that partners have developed 49 new Oracle Accelerate solutions over the past five months, more than doubling the size of the program. Accelerate lets partners build and deliver vertical industry-specific applications for medium-size businesses and public sector customers. Other participating partners can then take advantage of those enterprise resource planning (ERP) applications for their own clients as well.
VMware buys into I/O virtualization
Yesterday we reported on Cisco Systems' evolution toward Data Center 3.0, of which virtualization is a big part. Now VMware is getting into the next-generation data center act with its integration of virtual host bus adapters into ESX Server. VMware is partnering with Xsigo Systems to use that company's I/O virtualization technology and, as reported by SearchStorage.com, "the integration will allow VMware users to consolidate connectivity between virtual servers and networked storage, and could even be an alternative to Fibre Channel over Ethernet (FCoE) in some environments."
Analysts expect other players to enter the market in the coming months, and given the abiding interest in all things virtual in the data center, service providers will be busy deploying increasingly sophisticated virtualized environments for the foreseeable future.
Tuesday, Jan. 29
VMware profits rise, stocks plunge

VMware's profits skyrocketed in the fourth quarter, but overall sales announced yesterday missed analysts' targets, sending the company's stock plummeting by 27%. The server virtualization market leader reported $78.2 million in earnings, a 152% increase over the previous year's fourth quarter. But its $412 million in revenue fell short of a $417 million estimate. Meanwhile, VMware's parent company, EMC, reported a 35% increase in profits and a 19% increase in revenue.

VMware and its partners will face new competition this year from Microsoft and its Hyper-V hypervisor, and VMware is reportedly trying to create a rift between Microsoft and Citrix, longtime strategic partners in virtualization.

Dinged migration: Getting from XP to Vista

It's no secret that many IT professionals have been less than satisfied with Windows Vista. One of the big reasons is application incompatibility, but there are some ways to slay that particular beast. Our sister site, SearchWinIT.com, has published a tip showing how service providers can help clients migrate to Vista by addressing challenges with Vista's User Account Control, Windows Resource Protection, firewall and Credential Manager. If the move from XP to Vista is simply a matter of time for most enterprises, then getting ahead of possible migration problems is always a good idea.

Automatic Office 2003 SP3 update coming

Feb. 27 may be a red letter day for solution providers supporting Office 2003 users. Microsoft plans to start pushing out Office 2003 Service Pack 3 via automatic Microsoft Update as early as that date, according to a blog posting this week. The company raised a ruckus earlier this year when users found that new security settings in the downloadable service pack blocked access to older file formats. Microsoft issued workarounds. SP3 features more than a dozen security updates, stability improvements and other changes.

Cisco flips new switches

Cisco has unveiled a new class of switches for the data center, which the company says will bring its so-called Data Center 3.0 vision a step closer to reality.

The Nexus Series unified fabric switches are designed to allow the reliable transmission of storage traffic through lossless Ethernet, all while facilitating the conversation between Ethernet and Fibre Channel. The new switching platform also works with Cisco's Data Center Network Manager and Trusted Security architecture. Cisco and its channel partners expect sales to come mainly from infrastructure upgrades. Still, the architecture of the next-generation data center remains fluid, and vendors such as HP and IBM will no doubt have a considerable say in the final design.
Monday, Jan. 28
Report: Vista SP1 due soon
Microsoft partners have been waiting on Windows Vista Service Pack 1 to boost sagging Vista sales. They may not have to wait much longer. Vista SP1 is due by mid-February, according to Computerworld, citing Microsoft partners and observers. Microsoft boasts 100 million sales of Vista since its launch in late 2006, but most of that business has been in the consumer market. Partners report that Vista's software compatibility problems have made their enterprise customers hesitant to migrate.
Cisco launches faster network switch
Cisco Systems today announced the Nexus 7000, a new network switch to ease massive data transfers to and from remote data storage. The high-end switch targets data centers, and a typical configuration will cost $250,000, a Cisco executive told Bloomberg News. The switch gives Cisco partners an offering to help compete with IBM and Hewlett-Packard.
Oracle to continue TomorrowNow, SAP suit
Oracle will forge ahead with its lawsuit against SAP and TomorrowNow even if SAP sells off the subsidiary, according to eWeek. SAP bought TomorrowNow, which supports JD Edwards and PeopleSoft applications, three years ago. Last March, Oracle filed a suit claiming SAP and the TomorrowNow subsidiary illegally accessed Oracle information from its Web site using customer access. Earlier this month, SAP said it would sell TomorrowNow.
SaaS gets political
Last week we noted that Software as a Service (SaaS) has been a slow sell in the public sector, but it seems to be good enough for the presidential campaigns of Republicans Mitt Romney and Ron Paul. eWeek reports that their use of SaaS has been music to the ears of Salesforce.com, which has been doing its own brand of campaigning for CampaignForce, an on-demand tool designed to manage all the moving parts of a political campaign. Most presidential campaigns, however, vetoed project management outsourcing over concerns that hackers or other campaigns could gain access to sensitive data, and it remains unclear if this political exposure for CampaignForce will help Salesforce.com partners expand their customer base.
Microsoft tweaks IBM on Open XML
Microsoft supports the proprietary Open XML document format used in Office 2007. IBM supports the OpenDocument Format (ODF) that is the default format for OpenOffice and Google Documents. Now the two vendors are continuing to trade barbs after it was revealed that IBM supports Open XML in some of its products, according to Computerworld. Platform and document interoperability is a key requirement of many businesses today, which is why Linux vendor Novell and Microsoft called a truce in the Microsoft-Linux wars and collaborated on Open XML-ODF translators for use in Office 2003, Office 2007 and OpenOffice.
What's at stake for Microsoft in the format wars? Getting Open XML adopted as an ISO standard for use by national governments, which it has so far failed to do. ODF, on the other hand, is already an ISO standard, which reduces the need for many governments to buy licenses for Office. Microsoft partners in the United States, where Office dominates, won't feel much impact from these wranglings, at least for the foreseeable future.
Dig Deeper on IT Distributors-Wholesale Providers