News
Stay informed about the latest enterprise technology news and product updates.
IT Channel News Briefs, Jan. 18
News headlines for the week of Jan. 14:
Database price wars?
Symantec dumps APM.
Salesforce.com's cloud platform.
News for the week of Jan. 14-18, 2008 -- in brief, updated daily, on topics important to the information technology (IT) channel.
Friday, Jan. 18
Sun/MySQL could spark database price war
Sun Microsystems' surprise $1 billion purchase of MySQL could lead to more price pressure on databases. MySQL's open source database may lack the bells and whistles of Oracle's flagship product, but its low cost makes up for that at some sites, Forrester Research analyst Noel Yuhanna told SearchOracle.com. Sun's data center savvy could make MySQL more of an option in large accounts, something that should worry Oracle, IBM and Microsoft and their database partners.

Download this free guide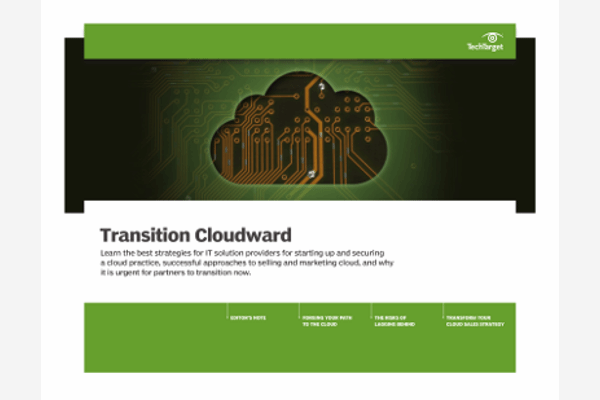 Could Securing Your Channel Business Be Easier? We Can Help.
Download our latest guide to the top strategies solution providers can leverage for starting up and securing a cloud practice, successful approaches to selling and marketing cloud, and why it is urgent for partners to transition now.
By submitting your personal information, you agree that TechTarget and its partners may contact you regarding relevant content, products and special offers.
You also agree that your personal information may be transferred and processed in the United States, and that you have read and agree to the Terms of Use and the Privacy Policy.
Symantec dumps APM business
Symantec is getting out of the application performance management (APM) market. The company yesterday announced the sale of its APM division to Vector Capital, a private equity firm that will run the business as a new company called Precise Software Solutions. Symantec said the sale will give its APM customers "a more dedicated focus and investment" while freeing up its own storage and server management teams. The company will continue to support the APM business through a services agreement and will also continue to sell APM products and support to customers. Terms of the deal were not disclosed.
Salesforce.com takes cloud platform plunge
Salesforce.com on Thursday took the wraps off what it calls platform-as-a-service. In theory, solution providers and developers can use the new Force.com infrastructure to create any type of business application to ride on Salesforce.com's Software as a Service (SaaS) platform for customer relationship management (CRM).
AMD shows signs of life
Right on the heels of disappointing earnings results from rival Intel, chipmaker Advanced Micro Devices reported a smaller quarterly loss than analysts expected yesterday. The news gave AMD's sagging stock a much-needed boost and renewed hopes of increased innovation in the microprocessor space, according to the Associated Press. Both AMD and Intel have baked virtualization support into their chips to improve hypervisor performance, and this embedded support will only become more important as companies look to streamline their data centers and reduce spiraling energy costs by consolidating hardware.
Security consultants get an upgrade
Security consultants will be in high demand in 2008, not just security resellers, according to a new report from Forrester Research. The main reason: Companies are thinking more strategically and proactively about security, going on the offensive against malware and other threats instead of adopting the old-fashioned siege mentality. In practical terms, that means that there will be more opportunities for security consultants in the areas of IT risk management, application security, classifying data on a need-to-access basis, and even forensics and e-discovery. And yes, there will still be compliance work as government security regulations keep coming.
Thursday, Jan. 17
What Oracle's BEA deal means
Now that BEA Systems has accepted Oracle's $8.5 billion takeover bid, analysts are busy pondering the repercussions for the IT industry, including the channel. For existing BEA customers, Oracle's business intelligence (BI) component will fill a much-noted gap in BEA's service-oriented architecture (SOA) stack. Whether Oracle lets BEA's SOA stack live on is an open question, however, because it is now selling two separate SOA stacks.
That means new customers considering a middleware purchase are likely to be somewhat confused, at least initially. One analyst told SearchOracle.com that companies considering investing in either Oracle or BEA middleware may have to sort through overlapping products and integration efforts-in-progress. Even as you read this, Oracle's marketing team is no doubt at work devising ways to help its customers -- as well as its partners -- sort out the differences. Meanwhile, as the dust settles on the BEA deal, Oracle partners must continue to make the case that either one of these two SOA stacks can deliver real business benefits. 1/17
First fruits of SAP/Business Objects merger hit
SAP and Business Objects launched their first "joint" products Wednesday. The nine packages include financial performance monitoring, government risk and compliance, visualization and reporting and will be available this month. The companies will sell the products both directly and through partners. Of particular interest to value-added resellers (VARs) may be Business All-in-One With BusinessObjects Edge Standard and Crystal Reports Server, two business intelligence and reporting products tailored for small and medium-sized businesses (SMBs). SAP announced its $6.7 billion bid for Business Objects last October.
SAP awards SME partners
SAP announced its 2007 small and medium-sized enterprise (SME) Business Partner Awards winners yesterday in Las Vegas, during the 2008 Field Kick Off Meeting. The winners included IDS Scheer (U.S. SAP Business All-in-One Partner of the Year), Le Groupe Createch (Canadian SAP Business All-in-One Partner of the Year), Apollo Consulting and Vision 33 (U.S. SAP Business One Reselling Partners of the Year) and Coastal Range Systems (Canadian SAP Business One Partner of the Year).
Infortrend ships small SAS disk array
This week Infortrend Inc. shipped a new disk array comprising 2.5-inch SAS disks -- the first networked version of a subsystem using the smaller SAS form factor to hit the market. Channel partners can expect to see the small form factor devices show up in enterprise SAN arrays by early next year.
The data center's extreme makeover
Disaster recovery, server virtualization and business intelligence/data warehousing will be the top data center priorities of 2008, according to a comprehensive survey of corporate IT leaders on our sister site SearchDataCenter.com. Nearly half the respondents are building or renovating their data centers, and 95% of those new data centers will contain new technology. Mark Schlack, TechTarget's vice president of editorial, said these breathtaking upgrades to corporate data centers stem from the combination of government regulations, strained data center capacity, thin IT staffs and concerns about protecting data from human or natural disasters. Barring a recession that might ice these plans, they could translate into some of the best business opportunities for solution providers in recent years.
CIOs prefer physical server consolidation
Most server consolidation hype focuses on virtualization, but physical consolidation is still more popular among CIOs. That's according to our SearchCIO-Midmarket.com colleagues, who report that servers outside the data center make it hard for CIOs to manage their businesses. Physically consolidating servers can ease those challenges and then make it easier to virtualize the remaining servers. The news is another piece of information for solution providers to consider when deciding to recommend server virtualization to their customers.
Wednesday, Jan. 16
Oracle gets BEA at last
Oracle has finally wrangled a deal to buy BEA Systems for about $8.5 billion, according to SearchOracle.com. Oracle said it will purchase outstanding shares of BEA for $19.38 each -- a significant increase over its initial $17-per-share offer last October. At the time, Oracle president Charles Phillips called that offer "generous," but BEA's board of directors rejected it outright.
Microsoft issues Vista compatibility survey
Microsoft is looking to partners for help uncovering applications with Windows Vista compatibility problems. On the Microsoft Small Business Community Blog, the company has posted a survey asking partners to name the applications that have caused issues on their or their clients' Vista machines. Compatibility problems are still the main reason that customers aren't migrating to Vista, although many of Microsoft partners say the slow migration doesn't bother them.
SOX costs lower than feared
First-year costs of complying with the 2002 Sarbanes-Oxley Act (SOX) aren't as unfair and disproportionate for small and medium-sized businesses (SMBs) as expected, according to a new study. The report, issued by Lord & Benoit LLC, indicates that SMBs' first-year SOX compliance costs were 14% less than predicted. In the story from our sister site SearchCIO-Midmarket.com, other analysts argue those costs are still too high. The Securities and Exchange Commission has extended the auditing deadline for SOX compliance until 2009, and a further extension is being debated. Meanwhile, value-added resellers (VARs) and consultants continue working to get their clients SOX-compliant, even as those clients are paying close attention to the bill.
Slow Vista deployments lead to patch apathy
Microsoft's monthly security patches are affecting Windows Vista, prompting some experts to warn against moving quickly to deploy the new operating system, according to SearchSecurity.com. Shavlik Technologies' chief technology officer Eric Schultze urged companies in December to take Vista deployments slowly given the increased rate of flaws.
Intel misses financial targets
Intel's profits and revenue last quarter were lower than expected -- news that sent its stock downward and led to speculation that the poor U.S. economy was to blame, according to the Associated Press. The company announced yesterday a $2.27 billion quarterly profit and $10.71 billion in sales. The good news for channel partners is that both figures marked double-digit increases over the same quarter last year, but the AP said analysts had been expecting even more growth. Intel stock price dropped 14% after the announcement.
Oracle issues code fixes
Oracle has posted a critical update advisory that covers 26 fixes in all across its database and applications products. The January update includes six patches for vulnerabilities in Oracle Application Server that could be exploited: one fix for Oracle Collaboration Suite and seven security fixes for E-Business Suite, according to the advisory. An Oracle Jinitiator flaw is one of the most critical vulnerabilities, according to SearchSecurity.com.
TSA leak highlights IT ethics
Last week came word that the Transportation Security Administration (TSA) had bungled a site for those who wanted to remove their names from the government's airline travel watch list. It turns out that the site work was awarded to a vendor through an essentially no-bid contract, and then the work was supervised by a former employee of the vendor. Poor oversight led to the leak of Social Security numbers and other personal information on the non-secure, non-government site the vendor built. A congressional report pointed the finger of blame squarely at the TSA for not minding the store. This incident highlights the need for companies and value-added resellers to hold themselves to the highest ethical standards, because lapses not only take a toll on professional reputations, but they can also lead to costly lawsuits.
Tuesday, Jan. 15
New antitrust probe targets Microsoft
Just four months after the European Union's six-year antitrust investigation into Microsoft ended, another probe is beginning. The European Commission said yesterday it will look into claims that Microsoft used illegal tactics to squash competitors of Internet Explorer, Outlook and Office. Opera, a Norwegian Web browser company, has complained that other browsers are not compatible with Internet Explorer because Microsoft doesn't follow Internet standards. And a coalition of vendors, including IBM, wants Office, Outlook and Exchange Server to have better interoperability with competing software, according to Reuters.
Oracle and SAP to go modular (eventually)
Enterprises look to trim costs whenever possible, and effective communication between smaller, more targeted business processes is rising to the top of the list of cost savers. This approach poses a challenge to Oracle, SAP and other entrenched software vendors, who may struggle to adjust to a new service-oriented architecture (SOA) world that doesn't presuppose purchases of entire software suites. In a story on our sister site, SearchOracle.com, analysts note that SOA and corporate IT cutbacks will force major enterprise software players to make their offerings more modular. That means corporations can buy only the pieces they need, and vendors will price those pieces accordingly. Meanwhile, smaller competitors that target specific business functions have a head start. Oracle and SAP partners will live in hope that increased software modularity will make SOA more attractive -- meaning cheaper -- for small and medium-sized businesses (SMBs), a market segment that Oracle and SAP have been wooing with varying degrees of success.
SAP skills you need to have
Like a catch phrase spoken by a sitcom character, IT skills get old fast. SAP skills are a prime example: At our sister site SearchSAP.com, expert Jon Reed identifies four SAP tools that value-added resellers (VARs) and consultants will need to continue adding value to SAP shops. These tools are Solution Manager, BI/BW MDX (Multi-Dimensional Expression Language), NetWeaver Composition Environment (CE) and Visual Composer. Meanwhile, even as they beef up their knowledge, SAP partners are hoping to break into the SMB space and make the case that SAP's new functionality is more useful than the alternatives from SAP's enterprise resource planning (ERP) competitors.
SOA's silver lining as recession looms
With predictions of an impending recession in the United States growing more numerous by the week, VARs and consultants will no doubt be looking for a soft landing. Service-oriented architecture (SOA) may turn out be a good parachute. Our sister site SearchSOA.com asked three experts how a recession would affect SOA, and the news is both good and bad for channel pros involved with SOA. A recession could be good for SOA projects that already are showing cost savings, because savvy CIOs and other decision makers in a company will push SOA harder to trim even more costs. The bad news for SOA is that seeing often is believing, so proposed SOA projects might get shelved as corporate IT belts get tightened during a recession.
VMware acquires solution provider
VMware has bought out one of its channel partners. The server virtualization market leader announced its acquisition of Foedus, a Portsmouth, N.H.-based solution provider that designs and installs virtualization-based computer systems, according to Reuters. About 30 Foedus employees will join VMware, where they will help train other partners. The companies did not disclose terms of the deal.
Monday, Jan. 14
EMC launches solid-state flash drives
EMC today announced a new line of faster, more energy-efficient solid-state drives (SSDs) that rely on flash memory. The drives will be available in 73 GB and 146 GB models for the Symmetrix DMX-4 storage platform, and EMC plans to release them later this quarter. The company said the flash drives can perform up to 10 times faster than traditional 15,000 RPM Fibre Channel disk drives and reduce power consumption by 38% when storing a terabyte of data. Pricing for the flash SSDs is not yet available, but those figures will be crucial to the drives' success as spending on data storage hardware declined this year and EMC storage resellers are facing tough competition from Network Appliance.
Microsoft updates Vista SP1 release candidate
Microsoft partners who are waiting on Windows Vista Service Pack 1 to boost slow Vista sales got some good news over the weekend when Microsoft issued the latest release candidate to the public. The update, Windows Vista SP 1 RC Refresh, was originally available only on a password-protected site, but Microsoft then released it on its public download site Friday. The company plans to release SP1 in the first quarter of this year, a move that value-added resellers (VARs) hope will make more of their customers migrate to Vista.
Survey: Young IT employees pose management challenges
Young IT workers are hard to retain and manage, according to a staffing firm's recent study. The survey by Atlantic Associates polled 100 executives, and more than half said their employees between the ages of 18 and 31 are the "toughest generation to manage," Network World reported. The major problem is many of those employees want immediate perks like high pay and their own office instead of working their way up, the survey respondents said. Retaining and managing staff is also a key issue for IT solution providers.
Microsoft drifts toward Web 2.0
With the departure of Bill Gates from day-to-day operations at Microsoft, some observers are detecting a subtle shift in the company's direction. While once desktop apps like Office were seen as king, Microsoft has been making slow and steady moves to shore up its dominance of enterprise search -- the Fast Search and Transfer takeover being the latest example -- and compete more effectively in collaborative Web services. With Google deemphasizing the desktop, Microsoft clearly is looking to diversify its revenue streams. It will be an interesting year for Microsoft partners as they look to see how the strategic tug-of-war between the old guard and the new guard at Microsoft plays out for their bottom line.
Is Intel the new Microsoft?
Just days after it parted company with the One Laptop per Child Project, chipmaker Intel finds itself in hot water with antitrust regulators in New York, according to Reuters. Following in the footsteps of his predecessor Eliot Spitzer, who sued Samsung and other computer chip manufacturers for price fixing, current state Attorney General Andrew Cuomo is investigating whether Intel broke the law in its competition with rival Advanced Micro Devices by pressuring vendors to put Intel inside. Intel's shares tumbled on news of the lawsuit, which is just one of many the company faces around the world. Intel's channel program has won several industry awards, but its channel partners are left to wonder whether the time and cost of numerous lawsuits will distract the company from intense competition with AMD and other rivals.
Waiting for Apple's Next Big Thing
In 2007 Cisco CEO John Chambers predicted that consumer electronics will drive IT adoption in the enterprise, and with industry attention squarely focused on what new products Apple will announce at this week's Macworld Conference and Expo, that trend shows no signs of abating. Apple's iPhone has given the enterprise a new productivity tool, and if Apple CEO Steve Jobs does make the expected announcement of faster Internet capability for the iPhone this year, it could spark even wider enterprise adoption of the iPhone -- thus creating more leads for opportunistic value-added resellers and consultants.
Dig Deeper on IT Distributors-Wholesale Providers