News
Stay informed about the latest enterprise technology news and product updates.
Tech trends for 2008: More demands, more opportunities for the channel
Tech trends for 2008:
Prevention will drive networking.
Buzzwords we hate.
Hot software jobs 2008; trends in software development for 2008.
SearchITChannel.com is fortunate in being part of a network of sites that delve deeply into each of the technologies that make up the bulk of most channel companies' business.

Download this free guide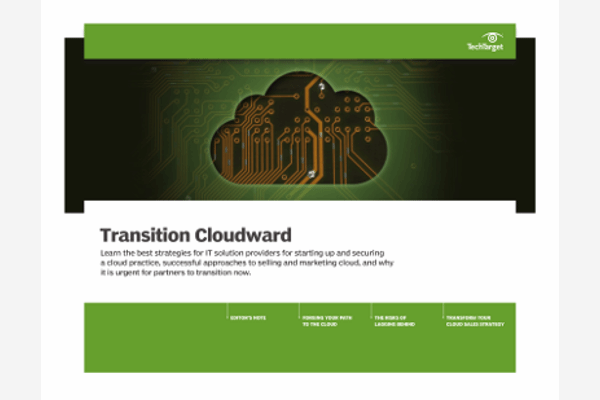 Could Securing Your Channel Business Be Easier? We Can Help.
Download our latest guide to the top strategies solution providers can leverage for starting up and securing a cloud practice, successful approaches to selling and marketing cloud, and why it is urgent for partners to transition now.
By submitting your personal information, you agree that TechTarget and its partners may contact you regarding relevant content, products and special offers.
You also agree that your personal information may be transferred and processed in the United States, and that you have read and agree to the Terms of Use and the Privacy Policy.
So how did 2007 go and what are the major trends for 2008? Read on.
Buzzwords we hate, 2008
OK, these are buzzwords we hated during 2007, according to a story on SearchWinIT.com, but that wouldn't rhyme, and some of us intend to continue hating them well into the new year.
The Cloud: Intended as a say-nothing way to refer to untold network complexity, it became a say-nothing way to say, "We'll build that bridge when we come to it."
ITIL: A set of best practices for IT, or a way to sell certificates and training?
Clustering: Once a specific data center technique, now there are so many enhancements and premium versions that it's hard to know what you get in any cluster that doesn't involve chocolate and peanuts.
Prevention: Intrusion prevention is clear, but why would anyone have to describe data being stolen by insiders as "extrusion prevention"? Why not "data leak," "outbound content" or any of a range of others that are just as ill, but not quite as annoying.
NAC: Network access control used to mean verifying every client as it tried to sign onto the net; like clustering, there are now so many variations you have to check carefully to know what you or anyone else is talking about.

Prevention will drive networking market

In 2008, disaster recovery, security and the deployment of voice-enabled applications and networks will be the driving forces behind the networking market, according to a story on SearchNetworking.com. The story, based on a survey of 1,200 readers, showed that 10% said backup and disaster recovery were driving their network spending; 9% said data center construction was a major factor; and 18% said voice/data convergence will drive their routing and switching buys during 2008.

Fears from external threats (14%), protecting critical data (28%) and integrating security into the rest of the networking infrastructure (14%) will be top of mind for customers concerned about security.

Three-quarters of respondents said they'd see an increase in bandwidth demand during the coming year, though most plan to deal with it with bandwidth optimization, rather than just expanding their pipes.

2007: The year data breaches became inevitable

During 2007 the focus of security specialists shifted most obviously from how to prevent a data security breach to how to teach customers to survive one, according to a story from SearchSecurity.com. The massive theft of credit card data from TJ Maxx, which was first disclosed in January 2007, is the poster child for the new insecurity. As a popular retail store hit for hundreds of thousands of records going back four years by thieves who had occasional access for at least two, it also served as a flashing emergency light for consumers and businesses alike. Channel companies are at least as vulnerable as the companies they serve -- not because they're more likely to be attacked, but because customers expect them to provide both good security technology and good tactics to make sure security isn't just in the IT.

The best advice from SearchSecurity.com's sources? Store as little data as possible, define the risk involved in the data customers do store, and put a response plan in place.

Business intelligence outlook 2008

Operational BI projects will continue to grow, but customers will increasingly buy from the biggest vendors rather than best-of-breed players, according to a story on SearchDataManagement.com. Mergers will force an increase in standardization, analysis, especially of complex events, and real-time data, which will increasingly dominate the market; and customers will look for enterprise licensing rather than per-user lists as more end users begin to use BI dashboards to do real-time analysis of business data. The channel will need to adjust to the increasing number of BI tools bundled with data warehouse appliances and the change of BI from a standalone function to an integrated tool that is often a driver of services oriented architecture projects.

Hot software jobs 2008

The hot areas for developers in 2008 will be anything having to do with business analysis, business intelligence, quality assurance, green computing, Google and virtualization, according to a story from SearchSoftwareQuality.com. Experts quoted there said Microsoft, SAP and enterprise resource planning would all cool off as development markets, while Macintoshes would increase in the enterprise, data center consolidation would continue and outsourcing would reduce the number of jobs for coders in the U.S.

Software development trends 2008

Outsourcing will continue to have a huge impact, according to a story on SearchSoftwareQuality.com. As lower costs lure more development work offshore, channel companies and their IT customers should hang tight to their role as the analysts and definers of how that software should function and how to work with the business units that need it, according to SearchSoftwareQuality.com's experts.

Several methods of agile software development will also expand, as customers build closer ties to customers and collaborate more on the development of both commercial and in-house applications. Software testing might decline, however, due to the low priority vendors put on it and the relatively low level of expertise most organizations can afford to develop.

Meanwhile, project management will get more complex, as the number of people involved in projects goes up and the scope becomes more international, more interdepartmental and more collaborative. In each case the role of the channel remains, but changes depending on how aggressively customers adopt any particular trend.
Dig Deeper on IT Distributors-Wholesale Providers