News
Stay informed about the latest enterprise technology news and product updates.
Big servers on everyone's wish list
News headlines for the week of Dec. 17:
Wanted for xMas: Peace; understanding; a big server.
Sun to shine on storage in '08.
NetSuite IPO leaves SaaS questions unanswered.
News for the week of Dec. 17-121, 2007 -- in brief, updated daily, on topics important to the information technology (IT) channel.
All I want for Christmas a little understanding; and a big server
What do you give the data center manager who has everything? If it's Roxanne Reynolds-Lair, the CIO of LA's Fashion Institute of Design & Merchandising, you give her an IBM System i5 570 Power6 machine. Others, such as Butch Adkins of the University of Kentucky, have less expensive wishes: "What would probably help us the most right now would be a pill that we could give folks in the physical plant and IT that would give them an understanding of what the data center is and what it takes to operate one under best practices." Read the wish lists of these and other data center managers at SearchDataCenter.com. 12/21

Download this free guide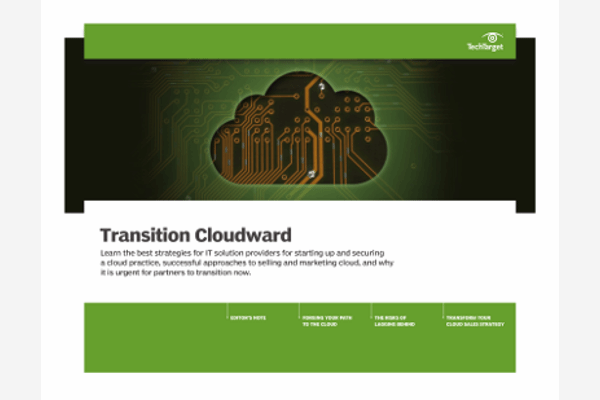 Could Securing Your Channel Business Be Easier? We Can Help.
Download our latest guide to the top strategies solution providers can leverage for starting up and securing a cloud practice, successful approaches to selling and marketing cloud, and why it is urgent for partners to transition now.
Storage 2008: Here comes the Sun
I n a wide-ranging interview with SearchStorage.com, Sun Microsystems Executive Vice President John Fowler discusses how his company's storage business changed in 2007 and what lies ahead for 2008. Some highlights of the discussion include Sun's Thumper direct-attached disk array, Fibre Channel over Ethernet, NAS and whether Sun plans to go after the SMB market. Sun's channel partners will want to pay close attention to Fowler's comments as they fill out their line cards for the new year. 12/21
NetSuite's IPO doesn't answer concerns about SaaS
NetSuite Inc.'s anticipated initial public offering has investors giddy over potential profits, but the success of one Software as a Service (SaaS) provider won't answer analysts's questions about whether NetSuite and other SaaS providers may have limited appeal. NetSuite's business software is designed for and aimed at SMBs, and does well, especially in the smaller end of that market. Some analysts wonder whether NetSuite – and SaaS applications in general – can succeed as core applications in larger businesses that already use licensed software that might cause integration problems with a new SaaS product. The answer to that isn't clear, but the role of the channel is: the larger the shop, the more integration help the IT department will need, and the bigger the role for the VAR. 12/21
The botnets are coming, the botnets are coming
Malware is getting ever more sophisticated, with botnets such as Nugache and the Storm Trojan evolving to evade security defenses. As reported by SearchSecurity.com, "This is the future of malware and it's not a pretty picture. What it is, is a nightmare: a new breed of malicious software developed, tested and sold by professionals and engineered to change on the fly, adapt to its environment and evade traditional defenses." As made-to-order botnets and other malware are coded to exacting specifications, it has kept security professionals on the defensive, with few clues as to how stop it or even slow it down. With the cyber arms race escalating, security professionals working in the channel will have a perversely creative challenge ahead for years to come. 12/20
Give servers the holidays off to save customer's cash
Server rooms don't get a day off around the holidays, which means most customer shops are missing out on power savings, according to a recent story at SearchDataCenter.com. A report by the U.S. Environmental Protection Agency maintains that data center power consumption could be reduced by 20% within five years if customers were willing to shut down servers. Service providers trying to help customers reduce power consumption may want to recommend virtualization or management techniques that will allow some servers to be eased offline over the holidays. Disk crashes tend to come during power up and power down, though, so lowering the power rather than cutting it off might be a safter bet. 12/19
IT managers slow to discover e-discovery
According to a recent survey, a sizeable percentage of IT managers continue to be hazy about what the e-discovery amendments to the Federal Rules of Civil Procedures (FRCP) mean for the way they manage their data. While half of the managers reported getting e-discovery requests in the past year, only one-fifth said they had an adequate understanding of the FRCP amendments, and four-fifths said their companies had yet to give them any legal guidance. Reached for comment by SearchStorage.com, Paul D'Arcy, VP of marketing for a managed service storage provider, identified one reason for the hesitance on the part of enterprises to set data retention policies: "No one wants to put a stake in the ground." On the other hand, legal experts quoted in the story said that failing to come to grips with the ramifications of e-discovery legislation can end up costing companies thousands of dollars -- or more -- in court costs and legal fees down the road. Consultants working with IT departments can play an important role in ensuring that the relevant documents are at hand if, or when, they're requested as part of a legal proceeding. 12/20
Business intelligence trends of 2008
According to experts, the business intelligence (BI) market is going to continue to grow in 2008, and there are some BI trends that service providers may want to focus on if they want to stay on the leading edge of the market. According to a story in SearchDataManagement.com, operational BI will continue to grow as facilitating information flow to decision makers will continue to be important. The BI mergers and acquisitions that took place in 2007 will further standardization. Service providers need to keep an eye on these discussions to ensure they are offering the BI services that strategic technology platforms will employ. Finally, BI collaboration and knowledge management will come together. Web 2.0 technologies like blogs, wikis and social networking will most likely get rolled into BI offerings changing it. Service providers who actively look to BI trends will be well-positioned to continue offering the latest BI services that will keep customers on top of the game and happy with their service. 12/19
PC sales growth doubles last year's
Market research firm IDC predicts PC sales will increase 16.7% during the fourth quarter of this year, despite widespread concerns abut the robustness of the economy and IT spending in particular. That's slightly more than twice the 7.9% growth in the market during the fourth quarter of last year. Laptops will continue to lead other form factors; 45% of all PCs sold during the third quarter were laptops -- a figure that will hit 50% by the end of next year, the report predicts. 12/19
Microsoft releases, downplays Windows XP SP3 beta
A release candidate of Windows XP Service Pack 3 is now publicly available. Microsoft posted the update on its Web site yesterday but did so without much fanfare -- an apparent attempt to encourage users to focus on XP's successor, Windows Vista. New features in SP3 include the Network Access Protection policy enforcement platform, an improved interface for changing security settings and operating system installation that does not require a product activation key, according to Microsoft.
On the download site, Microsoft said the release candidate of SP3 "includes a small number of new functionalities, which do not significantly change customers' experience with the operating system." Microsoft also issued a statement that "Windows XP SP3 does not bring significant portions of Windows Vista functionality to Windows XP." A recent Forrester Research report predicted an increase in Vista migrations next year, but some Microsoft partners have said software compatibility is still a major deterrent for customers. 12/19
Warning: NSA could exploit Vista SP1
A security expert is warning that Microsoft's Windows Vista Service Pack 1 will include a random-number generator that the federal government could use to crack encrypted data online. Researchers in August showed that the random-number generator, called Dual EC-DRBG, is based on a set of fixed numbers, which in turn are based on a secret set of fixed numbers. Author and blogger Bruce Schneier said if someone knows that secret set of numbers, he or she would be able to predict the random-number generator's outcomes and break any code encrypted by the generator. The National Security Agency pushed for Dual EC-DRBG to be included in the government's random-number generator standards, and someone from the NSA or an associated agency could know its secret numbers, according to Schneier. 12/19
Intel code to let Fibre run on Ethernet
Intel Corp. has released Linux source code and is setting up a developer community to allow Fibre Channel frames to be embedded in Ethernet packets. That should allow Fibre Channel vendors to connect their comparatively expensive hardware to less expensive, more widely supported Ethernet networks. The current implementation doesn't work smoothly, but Intel is recruiting open source and commercial developers to help build an effective implementation. 12/19
VMware pricing has customers looking to VARs, competitors
At least one enterprise customer is saying that VMware Inc.'s enterprise license agreements (ELAs) and pricing are predatory, according to a story on SearchServerVirtualization.com. Issues with sales representatives, licenses and pricing have some customers looking to VARs who can offer better prices and services. Some customers are even beginning to consider VMware competitors based on issues that have nothing to do with technology. 12/19
Gartner predicts your storage future
High-value services, self-service storage, storage industry consolidation, eroding warranties and self-service pricing are the five trends that will impact the storage market the most in 2008, according to a story about Gartner research on SearchCIO-Midmarket.com. Those in the channel who sell, integrate and consult on storage will want to review this list and the top five storage tips from the experts on SearchStorageChannel.com. 12/19
Gifts for geeks
In a no particular order, SearchStorage.com lists the top geek gifts for 2007. Except for HD-DVD players and Nintendo Wii, you probably won't recognize the other products on the list. But that's the way it should be, since any self-respecting geek is an early adopter anyway. 12/19
Managed storage services popular with customers
Managed storage service provider Nirvanix released its Simple Storage Service (S3) in September in an attempt to compete with Amazon's S3 service, according to a story in SearchStorage.com. Nirvanix's offering was based around a service-level agreement (SLA) designed to use co-location facilities which speeds up Web content delivery and increases processing power across its nodes. Customers have found that going through a service provider comes with better customer service. One customer found bottlenecks in beta testing. Nirvanix worked with the customer to eliminate the bottleneck. In addition, the SLA is attractive to customers looking for customization and better performance. Value-added resellers (VARs) who offer managed storage services should look to Nirvanix as a way to compete with large vendors -- while service providers may come at a small price premium, customers are finding the attention they receive worth the cost. 12/19
Java flaws make Mac OS X vulnerable
Java-based flaws in Mac OS X may be allowing hackers to avoid some security programs and launch assaults on Mac machines, according to a story at SearchSecurity.com. Danish IT vulnerability clearing house Secunia released its SA28155 advisory that said errors in Java can allow hackers to remove items from user keychains without prompting the user. Service providers who work with customers using Mac OS X should make their customers aware that the flaw exists and offer services that can lock down the Mac OS and keep customers' machines secure. 12/17
Symantec wins $21 million piracy suit
A U.S. District Court has ordered members of a China-based software piracy network to pay Symantec $21 million. Symantec filed suit against the counterfeit distributors in November 2006 and helped investigators from the FBI and Chinese authorities track down and arrest one of the ringleaders this July. Symantec legal director Scott Minden called the judgment "a crippling blow" against software pirates that will make it "more difficult for them to sell directly to unsuspecting users." 12/18
CSC sweetens remaining workers with mince pies
Outsourcer and IT services firm CSC is adding a little extra cheer to help salve the morale of its shrinking U.K. workforce by sending each employee a mince pie, according to British tabloid TheReg. A spokesperson said the pies were not a replacement for Christmas bonuses, at least partly because the company doesn't hand out Christmas bonuses. It's just a little treat. 12/18
Cisco to open IOS to developers
Cisco Systems Inc. announced last week that it will let third-party companies develop software for the Internetwork Operating System (IOS) router software. It will release application program interfaces but has not announced a schedule. The move is designed to encourage application developers to add sophisticated networking functions into their applications. 12/18
Cisco sees enterprise-consumer convergence
Charles Giancarlo, Cisco Systems Inc.'s chief development officer, told analysts this week that he believes consumer behavior is driving enterprise network development, according to a story in SearchNetworking.com. "Today's market is about the merging of private and public networks, not about the use of data, voice and video in different market segments. It's about information and information sharing, collaboration and communications across environments, and entertainment," Giancarlo said. Reached for comment by SearchTelecom.com, Forrester analyst Robert Whiteley said that while Cisco isn't leaving its enterprise customers and partners behind, the company no longer sees the enterprise as the primary locus of networking innovation. 12/18
Microsoft lets Windows Mobile cat out of bag
Microsoft has given a sneak peek of Windows Mobile's future to a select few, and details are slowly trickling out. Engadget first reported that "an update, not an upgrade" to Windows Mobile 6.0 is due in the first quarter of 2008. Gizmodo then reported Microsoft's plans for Windows Mobile 7 and 8: WM7 will feature improved applications, more music and photo integration and an Internet Explorer version that is on par with the iPhone's Safari browser, while WM8 will feature a full redesign "that will be started completely from scratch." The blog All About Microsoft adds that WM7 could also take advantage of rumored Live services that would work with Xbox 360, Zune and Microsoft TV. 12/18
CDW, 8e6 team up in education
CDW has a new partner in the K-12 education market. Orange, Calif.-based 8e6 Technologies this week announced its Internet filtering, reporting and proxy-blocking appliances will be part of CDW Government's K-12 security offerings. Education clients will be able to choose from a professional edition, standard edition and the standalone ProxyBlocker, which works with existing Internet filters. 12/18
U.K. businesses: Government needs cybercrime focus
British businesses want their government to form a centralized cybercrime division. David Roberts, the head of the Corporate IT Forum, which represents business computer users, told the Financial Times that more and more members feel the government doesn't take their cybercrime concerns seriously. The National High Tech Crime Unit became part of the Serious Organized Crime Agency almost two years ago, and that move "seems to have reduced the focus on 'everyday' computer crime that is relevant to U.K. business and the general public," Roberts told the Times. 12/18
Microsoft releases "Titan," CRM as product and service
Microsoft today released Dynamics CRM 4.0 and Dynamics CRM Live, the new versions of its customer relationship management (CRM) product formerly code-named Titan.
Microsoft partners can sell and deploy Dynamics CRM 4.0 on premise or host it themselves. Microsoft itself will host a version called Dynamics CRM Live. Features in the new release include a multitenant architecture that allows for more than one copy of Dynamics CRM to run on the same server. That will make life easier for service providers who have had to dedicate an entire server to each new customer. Earlier this fall, Microsoft reduced the cost of hosted CRM 40%, which partners said would help them sell more licenses and raise the total number of customers their servers had to support.
Dynamics CRM 4.0 will be available in English to Microsoft partners and customers within one week, Microsoft said. It will eventually come in 25 languages through a gradual roll-out beginning in January. More than 600 Microsoft partners and 100 customers have already worked with Dynamics CRM 4.0 through an early access program.
Microsoft's release of Dynamics CRM 4.0 is the second major CRM announcement this month. At the SAP Influencer Summit in Boston two weeks ago, SAP unveiled its CRM 2007, which includes a Web 2.0 interface and can also be hosted or deployed on premise. 12/17
CompUSA announces closing policies
CompUSA has launched a Web site to answer customers' questions as the retail chain closes all of its stores. CompUSA will hold a closing sale for about eight weeks, and all gift cards, rebates and previously issued rain checks will be honored during the sale. All extended warranties will also be honored, through a third-party service provider, but the store will no longer accept returns of merchandise purchased after Dec. 12. Earlier this month, CompUSA was sold to a private equity firm, which announced it was closing all of its stores. 12/17
Nortel sues Vonage
Canadian telecom equipment maker Nortel Networks Corp. has sued Vonage Holdings Corp., claiming the online IP phone service provider had violated nine patents on Internet phone services and emergency phone services. The suit countered claims by Vonage that Nortel had violated three of its patents, according to a Nortel spokesman. Vonage settled the last of the lawsuits it had pending with U.S.-based telecom companies in October. 12/17
British shoppers admit online fears
One in five holiday shoppers in the United Kingdom is afraid to shop online, according to a new report. A survey of more than 2,000 British adults found that 20% said they avoid online shopping because of fears about their personal security, scam Web sites and online fraud, according to The Guardian. The survey was sponsored by GetSafeOnline.org, a national Internet safety initiative in the United Kingdom. 12/17
IDC: Archiving drives storage software market
The third quarter of 2007 was the 16th in a row in which the worldwide market for storage software grew, according to a report from IDC. EMC continues to lead the market, followed by Symantec, IBM and Network Appliance. 12/17
Dig Deeper on IT Distributors-Wholesale Providers