News
Stay informed about the latest enterprise technology news and product updates.
Endpoint Protection shows early sales, services opportunities, partners say
Symantec partners say the early returns on Symantec Endpoint Protection 11.0 are promising, but it will take time to see how successful the product becomes.
Symantec Endpoint Protection 11.0 is creating a buzz among customers, but it's still too early to tell how successful its sales will be, according to Symantec partners.

Download this free guide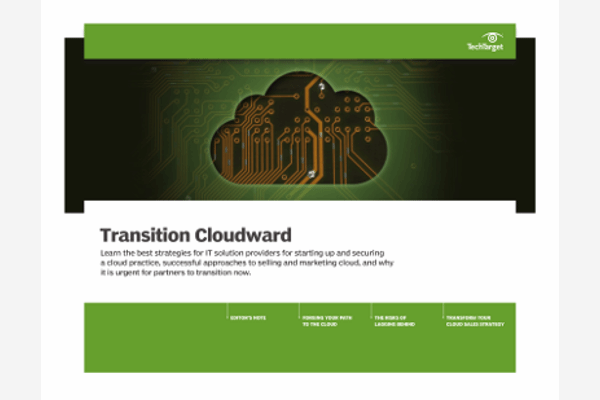 Could Securing Your Channel Business Be Easier? We Can Help.
Download our latest guide to the top strategies solution providers can leverage for starting up and securing a cloud practice, successful approaches to selling and marketing cloud, and why it is urgent for partners to transition now.
By submitting your personal information, you agree that TechTarget and its partners may contact you regarding relevant content, products and special offers.
You also agree that your personal information may be transferred and processed in the United States, and that you have read and agree to the Terms of Use and the Privacy Policy.
Symantec shipped Endpoint Protection in September, following months of hype under the code name "Hamlet." The product is the latest version of what was called Symantec AntiVirus, but it now integrates several security technologies -- including firewall, antispyware, network intrusion prevention and optional network access control (NAC) -- in one console running on a single agent. Symantec's marketing push for the product is working, because more customers are now specifically requesting endpoint protection technology, according to Patrick Vaughan, a sales director at DLT Solutions Inc. in Herndon, Va.
"It's interesting that there was that change," he said. "Prior to September, I didn't really get a lot of calls from people saying they wanted endpoint protection."
Another driver is an increasing demand for integrated security products, Vaughan said. Most of the businesses and organizations that are asking him about Symantec Endpoint Protection already do business with Symantec, but many only use one or two of the companies' point products currently.
The simplicity of having a single security console is "a compelling argument" for customers, said Jonathan Dambrot, managing director for Prevalent Networks LLC, a Symantec partner in Warren, N.J. "People are willing to take a look at it."
The biggest issue Prevalent Networks has faced in deploying Symantec Endpoint Protection is which features to activate, Dambrot said. At the start, some customers only want to use the functions that they already use, like antivirus and firewall. But customers also want to be able to turn on more advanced features later, and rely on partners to help them manage those features.
"I wouldn't call that a technical hurdle," Dambrot said. "The product is solid."
Advanced Internet Security, a Symantec partner in Colorado Springs, Colo., is also having some success with Symantec Endpoint Protection. Existing Symantec AntiVirus customers all plan on upgrading, and stronger firewall, antispyware and intrusion detection technologies are also attracting new customers, according to president Gary Cannon.
"The newer stuff is based on Sygate [which Symantec acquired in 2005], so it's much stronger," Cannon said. "It's making it an easier sell against Trend (Micro) and McAfee, particularly."
Helping customers with the advanced features of Symantec Endpoint Protection is one of the biggest post-sale opportunities that the product presents for Symantec partners.
"Customers are looking for assistance and help with the migration, making sure that their environment is stable and that the deployment is successful," Dambrot said.
Many of Advanced Internet Security's existing Symantec AntiVirus customers have deployed Symantec Endpoint Protection themselves, but Cannon said his company has made additional money by training customers to do that work and providing phone and email support.
"We never really rely on services revenue from upgrades to existing products anyway," he said.
Symantec partners have the opportunity to up-sell customers to NAC as well, Dambrot said.
"Symantec's trying to make it easier to deploy network access control because it's already integrated in the client," he said. "We're seeing a lot of interest in that."
Cannon predicts that more customers will purchase the NAC upgrade in the new year, when they are able to budget for it and incorporate it into their regular purchasing cycles.
"That has a lot of potential," he said.
Symantec has said it's too early to judge the success of Symantec Endpoint Protection. During the company's third quarter earnings call in late October, CEO John Thompson said the product was performing slightly above expectations and "has done well in its initial launch."
In an interview last week, North American channel vice president Randy Cochran said that "the early signs are very positive." He noted that 1,000 Symantec partners have signed up for the Aspire Rebate Program, which rewards value-added resellers (VARs) and systems integrators (SIs) for meeting specific sales goals with Symantec Endpoint Protection and other products, since its announcement in October.
Dig Deeper on Technology Vendors-OEMs