News
Stay informed about the latest enterprise technology news and product updates.
Unified communications lead by Cisco
News headlines for the week of Nov. 19:
Unified communications to explode in '08.
Leopard revives old Apple Mail flaw.
Red Hat offers JBoss partner program.
News for the week of Nov. 19 - Nov. 23, 2007 -- in brief, updated daily, on topics important to the information technology (IT) channel.
Unified communications to explode in 2008
Adoption of unified communications (UC) grew steadily during 2007, led by products and marketing from Cisco Systems Inc. According to a recent report by Siemens Communications, UC -- the merger of voice over IP (VoIP), email, instant messaging and other forms of corporate communications onto the same network and an integrated user interface -- will take off during 2008. The report predicts 10 growing UC trends for the coming year, including a continuing increase in the number of managed service providers (MSPs) offering UC, UC as a hosted service, and an increase in the number of enterprises using systems integrators to integrate UC with their existing applications. All of these trends bode well for those VARs, systems integrators, MSPs and consultants working in the networking channel. For many SMBs who have been uncertain about UC, steps to lower the administrative and technological barriers to UC adoption should open up more sales opportunities. 11/21

Download this free guide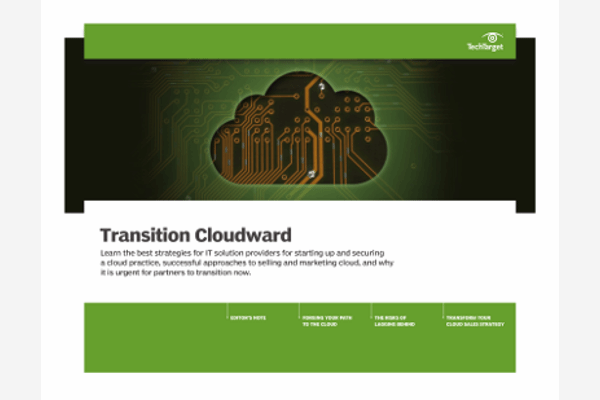 Could Securing Your Channel Business Be Easier? We Can Help.
Download our latest guide to the top strategies solution providers can leverage for starting up and securing a cloud practice, successful approaches to selling and marketing cloud, and why it is urgent for partners to transition now.
Old Apple Mail vulnerability reappears in Leopard
A security vulnerability patched in previous versions of Apple's Mac OS X has re-emerged in Leopard, according to a British research firm. Heise Security warns on its Web site that Apple Mail users in Leopard are able to open a malicious attachment disguised as a .jpg file. The earlier patch correctly identified the attachment as an executable file, but "Apple apparently either did not incorporate this update into Leopard, or did not do it correctly," according to Heise. 11/21
Novell enhances partner program
Novell has announced improvements to its PartnerNet program aimed at increasing partners' revenue and profits. New features include enhanced training, joint marketing opportunities and free technical support for qualifying partners. Novell has also formed a new executive sales team for partners. 11/22
Red Hat offers advanced JBoss channel program
Open source vendor Red Hat this week launched a new channel program for its JBoss Enterprise Middleware. The JBoss Advanced Partner Program will give value-added resellers (VARs) and systems integrators (SIs) additional resources and support to grow their JBoss business, Red Hat said. The company also announced that Red Hat has signed up 20 North American partners since it started a JBoss channel program last year, and another 50 overseas. 11/22
HP finds profits overseas
Hewlett-Packard Co. (HP) posted stronger than expected fourth-quarter net profit with revenue of $28.3 billion, up 15% from a year earlier and up 11% when adjusted for currency. The company's sales were largely due to its strong overseas revenue, which proved to be significantly stronger than its U.S. sales. Excluding currency effects, year-over-year growth in North America was 10% to $11.9 billion; in Europe, the Middle East and Africa sales grew 19% to $11.6 billion; and in Asia-Pacific sales grew to $4.8 billion or 20%. 11/20
HP PC, software sales on fire
HP saw its revenue grow across its business units in its fourth fiscal quarter ended Oct. 31. In the Personal Systems Group (PSG), revenue grew 30% year over year to $10.1 billion. Notebook revenue grew 49% over the same period last year, while desktop revenue grew 15%. The PSG group had outstanding growth in China with more than 100% growth. HP's Imaging and Printing Group (IPG) grew 4% year over year to $7.6 billion, while its Enterprise Storage and Servers (ESS) business reported revenue of $5.2 billion, a 10% increase year over year. Industry standard server revenue increased 14%, with x86 blade revenue up 78%. Storage revenue grew 7%, with revenue growth of 6% in external disk storage. The company's midrange EVA storage line grew 17%. Continuing the trend, HP Services (HPS) revenue increased 7% year over year to $4.4 billion, while HP software revenue doubled year over year to $698 million. 11/20
IBM targets UC market with SOA, Web 2.0
IBM today boosted its unified communications (UC) offering by announcing new and enhanced versions of its WebSphere, Rational and Tivoli products. The products use service-oriented architecture (SOA) and Web 2.0 technology to create video, voice and data platforms for telecommunications carriers and service providers. IBM also announced that AT&T is using IBM's WebSphere Application Server and BladeCenter systems to help run its IP network. 11/20
Microsoft hires new sales and marketing president
Microsoft has hired Robert Youngjohns, a former executive at Sun Microsystems and IBM, as its new president of North American sales and marketing. Youngjohns, 56, was also named corporate vice president and will oversee Microsoft's 8,500-person sales force. He most recently worked at Callidus Software in San Jose, Calif., serving as president and CEO. 11/20
MSP keeps virtual options open
Managed service provider (MSP) Mosso hosts more than 30,000 Web sites and runs its entire environment on VMware, while taking the burden of technical intricacies entirely away from customers. Launched in early 2006, Mosso used physical hardware but by December 2006 the MSP had moved entirely onto a virtual setup, moving 200 physical servers onto 40 organized clusters. As they continue to grow, Mosso realizes that VMware's VirtualCenter, which can only handle 1,200 VMs, may not provide the management they need of their virtual environment. As such, Mosso is keeping its options open and looking to explore the possibilities offered by Xen and Oracle VM. 11/20
Surging HPC market creates new partner opportunities
The high-performance computing (HPC) market continues to grow, and several vendors, including HP, Intel, Microsoft and Sun, are jostling each other to get a piece of the market. According to IDC, the HPC market is forecasted to grow by 9.1% each year until 2011, when the market will be worth $15.5 billion. As such, new products are being released to make sure each vendor can get a slice of the pie. Value-added resellers and systems integrators who work in this market will soon find that their partner choices are expanding as companies like Cisco, Mellanox Technologies Ltd. and Voltaire Ltd. offer InfiniBand choices. VARs and systems integrators who offer this service need to do their homework, find out which partner offers the best program and go to customers with the best technology available. 11/20
SAP, Oracle demand drives 'tremendous' Capgemini business
Despite the slow U.S. economy, Capgemini had a "truly tremendous" October, according to CEO Paul Hermelin. Hermelin credited heavy demand for SAP, Oracle and other software products as the main driver for his company's success. He also predicted good business for the fourth quarter and denied that Capgemini has plans for major mergers or acquisitions in Europe. 11/19
Dig Deeper on Channel partner program news