News
Stay informed about the latest enterprise technology news and product updates.
SOA implementations must show benefits to business, not just IT
Customers won't buy full service-oriented architecture (SOA) implementations without demonstrations of its benefits to business decision makers -- not just IT.
Service-oriented architecture (SOA) implementations aren't catching on as quickly as many SOA vendors might have hoped, according to two recent studies. The holdup isn't due to technical issues, however.

The main thing missing -- from an integrator's perspective -- is the ability to sell customers on the business process benefits of SOA, not just its technical capabilities, vendors and solution providers said.

Download this free guide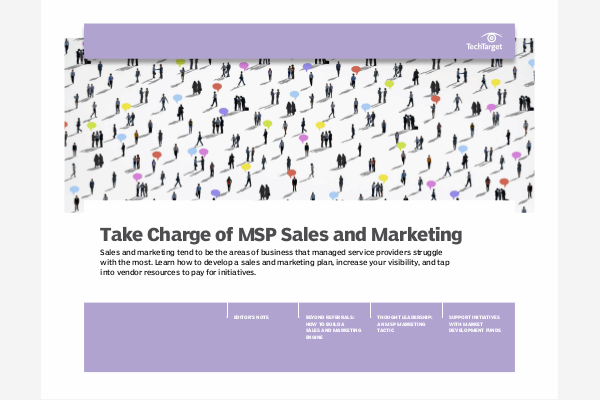 Expert Guide: Creating an MSP Sales and Marketing Plan
Sales and marketing tend to be the areas of business that managed service providers struggle with the most. Learn how to develop a sales and marketing plan, increase your visibility, and tap into vendor resources to pay for initiatives.
By submitting your personal information, you agree that TechTarget and its partners may contact you regarding relevant content, products and special offers.
You also agree that your personal information may be transferred and processed in the United States, and that you have read and agree to the Terms of Use and the Privacy Policy.
One study last month by the Info-Tech Research Group found that businesses' SOA implementations haven't lived up to the hype and marketing buzz, and there is still confusion among customers as to what exactly SOA means. Earlier this month a survey by IBM -- a major advocate for and developer of SOA products -- showed that customers often have trouble expanding from pilot programs to full SOA implementations.
"The adoption of SOA across enterprises is really limited," according to Bill DeSpain, chief technical officer (CTO) at CD Group, an Oracle partner in Norcross, Ga. "Our success is limited," he said.
The pilot programs that CD Group deploys are usually driven by IT staffers within a customer organization. Their top priority is to create a more flexible application architecture, however, not an explicit benefit to business units. When a pilot doesn't turn into a full SOA implementation, it's usually because it didn't impress the customer's business leaders, DeSpain said.
"They're not realizing the SOA benefits, mainly because the business side isn't in on the project," DeSpain said.
Customers sometimes view SOA as a solution looking for a problem, which has caused SAP and its partners similar trouble, according to Fergus Griffin, SAP's vice president for solutions marketing. Customers don't typically build SOA into the IT or business-unit budget, so vendors and solution providers need to demonstrate how SOA will make their business processes faster, easier to use and more profitable, he said.
Successfully demonstrating a streamlined process not only helps close a deal, Griffin said, but it's "a way that IT becomes much more relevant to business, fast."
A successful strategy that CD Group has employed is to start with a customer's business process workflows and then build an SOA solution around those, instead of doing it the other way around. That way, the customer's business and IT leaders both see the benefits right away, DeSpain said.
"You really end up selling two projects," he said.
But performing an SOA implementation from the ground up is often easier said than done, according to DeSpain, because "that technology isn't there yet." Technology like Oracle Fusion Applications and other enterprise resource planning (ERP) initiatives will make it easier to successfully deploy SOA, DeSpain said.
"That's one of the big hidden benefits of Oracle's Fusion Applications," he said.
Selling SOA also requires a knowledge of business processes above that of many solution providers. To address that issue, SAP has its Business Process Expert Community, an online portal with general SOA and ERP resources as well as specific information on business processes in different vertical industries.
"It can be tricky sometimes," Griffin said.
Dig Deeper on How to Sell Technology in the IT Channel