News
Stay informed about the latest enterprise technology news and product updates.
IBM's VP goes to HP
News headlines for the week of Nov. 12:
HP poaches IBM channel exec, and vice versa.
BEA results up; Oracle bid fading.
Cisco tops UC list.
News for the week of Nov. 12 - Nov. 17, 2007 -- in brief, updated daily, on topics important to the information technology (IT) channel.
IBM exec jumps ship
Kevin Hooper, IBM's vice president of worldwide business partner strategy, is leaving to take a post at rival Hewlett-Packard Co., where he will become the new general manager for Americas commercial SMB, according to sources. Hooper will work with HP's Technology Solutions Group (TSG) Americas, which is the direct sales side of the company, sources at HP said. In recent weeks, Louise Bishop, then HP's channel marketing manager for its worldwide partner organization, left to join IBM's global business partner organization. 11/16

Download this free guide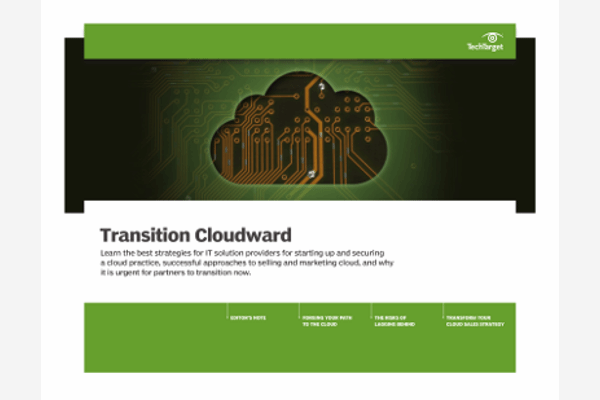 Could Securing Your Channel Business Be Easier? We Can Help.
Download our latest guide to the top strategies solution providers can leverage for starting up and securing a cloud practice, successful approaches to selling and marketing cloud, and why it is urgent for partners to transition now.
BEA, profits up, snubs nose at Oracle
BEA Systems Inc. posted a better-than-expected quarterly net profit of 59%, vindicating the software maker's contention that its decision to reject a takeover bid from Oracle Corp. was the right one. BEA reported net income of $56.0 million, or 13 cents per share, for its fiscal third quarter ended October 31, an increase of $35.1 million or 8 cents per share over a year ago. Last month Oracle proposed to buy BEA for $17 per share, but BEA's board rejected the bid, saying it was too low. 11/16
Cisco tops unified communications list
As the unified communications (UC) market continues to grow, a recent survey by our sister site SearchVoIP.com shows that Cisco's UC offerings continue to enjoy the most mindshare. 82% of the 500 IT professionals surveyed said Cisco's UC offerings were the strongest. Avaya, Microsoft and Nortel were a distant second, third and fourth. Of interest to the channel is that a considerable minority of survey respondents expressed confusion about vendors' current UC offerings. The largest group, 30%, said they don't know where each of the major UC vendors fits. Just over 27% noted that Cisco and Microsoft offer different approaches and compete with each other, while 21% said the two vendors offer different approaches but maintain a partnership. In addition, 16% said Cisco and Microsoft offer similar approaches but compete with each other, while 6% said they believe the pair offer similar approaches and are partners. These results indicate that vendors eager to profit from UC need to do a better job of communicating the benefits of their respective products, and this task will undoubtedly keep their channel partners busy for the foreseeable future. 11/16
Dell to acquire SaaS vendor Everdream
Dell is moving to expand its Software as a Service (SaaS) presence by acquiring Everdream, a remote management vendor in Fremont, Calif. Dell said yesterday it has signed an agreement to acquire Everdream, but the companies did not disclose financial details. In its announcement, Dell also said Everdream will continue to develop its products for and offer them through the channel. 11/16
Microsoft moves WinHEC to fall
Microsoft has announced preliminary plans for next year's Windows Hardware Engineering Conference (WinHEC), and there's one big change: It will take place in the fall instead of the spring. Microsoft didn't announce specific dates or a location, other than to say it will be on the West Coast. The company also said it changed the timing of the event due to "industry feedback." 11/16
HP's Virtual Connect ties in with Oracle VM
Hewlett-Packard Co. (HP) is planning to take advantage of Oracle Corp.'s Oracle VM. HP has seen a way to package products with Oracle's offering to enhance storage server virtualization offerings. Virtual Connect is HP's offering to provide network connectivity between blade servers and SAN storage. Virtual Connect layers software over OEM switches to create better connectivity between servers and the storage system by eliminating passthrough and switched connections. Currently, Virtual Connect allows one blade server chassis to be attached to the storage system, but HP plans on expanding that number to 100 chassis allowing for 1,600 blade servers to become part of the system. 11/16
Symantec targets healthcare customers
Symantec this week launched a new product to help customers in the healthcare industry meet their security, storage and regulatory compliance needs. The Symantec Healthcare Provider Solution combines several Symantec technologies, including endpoint security, storage management, backup and recovery. The company's announcement highlighted these four goals for the solution: mitigate security risks, manage digital imaging and electronic medical records, automate regulatory compliance processes and improve e-discovery functionality. 11/16
ArcSight addresses compliance with log manager
Security and compliance vendor ArcSight this week announced its new Log Management Suite, designed to address customers' regulatory compliance concerns. ArcSight executives tout that the suite can capture any log, thanks to its 180 built-in connectors and the ability to build custom connectors as well. For channel partners who work closely with ArcSight, the vendor offers margins for registered deals that are up to 25% higher than unregistered sales. 11/16
EMC's Innovation Day previews storage products
EMC Corp.'s Innovation Day provided details of new software applications and products that the company plans to release over the next seven months. The announcement included details on Mamba, a departmental storage device for small to medium-sized businesses; HomeStore, EMC's lifeline software; and Hulk and Maui, which will form a clustered storage system. 11/16
Dell, Sun strike deal
Dell Inc. has agreed to distribute Sun Microsystems Inc.'s Solaris 10 operating systems in its PowerEdge servers. Dell CEO Michael Dell and Sun CEO Jonathan Schwartz unveiled their plans yesterday. Under the agreement both companies will cooperate on system certification and the development of systems based on Solaris and Dell technology. 11/15
IBM taps into large data center opportunities
IBM is developing a new line of business that will help customers like banks or retailers better manage their hardware, software and services in data centers. The initiative, called Blue Cloud, is designed to enable corporate data centers to operate in a similar fashion to the Internet by distributing computing across a large pool of computers rather than on local machines or remote server farms. The idea is to allow users to tap into resources as needed. IBM plans to introduce the first products in the spring of 2008. 11/15
Microsoft to offer Office rentals in more countries
Microsoft users in Bulgaria, Egypt, Lithuania, India and Indonesia will soon be able to buy subscriptions to Office. Microsoft announced Wednesday it will offer Office Prepaid Edition to those five countries by the end of the year. Under the program, users pay a monthly fee for three- or six-month subscriptions. Office Prepaid Edition is already available in South Africa and Romania. 11/15
Oracle's hard sell
Oracle CEO Larry Ellison this week announced the first applications released under Oracle's Fusion label. The Fusion middleware tools, named Sales Prospector, Sales References and Sales Tools, were announced at Oracle OpenWorld 2007. Ellison called them the second generation of the kind of tools from Salesforce.com and Oracle-owned Siebel. All three products will be delivered through a Software as a Service (SaaS) model, Ellison said. Less than two months ago, Ellison was on record doubting the benefits of SaaS for small businesses, and these offerings presumably would be targeted at partners working higher up on the corporate food chain. Oracle partners will no doubt look for more details before crafting strategies to offer Oracle's "second-generation" sales tools to their clients. 11/15
Sun unveils its virtualization roadmap
Sun Microsystems Inc. unveiled its free open source virtualization product line yesterday – including the xVM Server hypervisor that supports Linux, Solaris and Windows guest operating systems, and OpsCenter a management product set. The company plans to spend $2 billion in research and development for xVM, and build a virtualization sales and service practice that will accommodate several brands of servers and storage products; the open-source practice is designed as a moneymaker and as a way to introduce new customers to Sun technology. In his latest blog, Jonathan Schwartz said the xVM hypervisor inherits several Sun virtualization technologies including ZFS, FMA, Dtrace and Crossbow.
VeriSign consolidates to focus on core business
VeriSign Inc. has decided to divest itself of several businesses it has acquired with the goal of refocusing its core efforts on security and domain name registry. VeriSign's plans to rid itself of its communication, billing and commerce functions point to a focus on core business strategies with the goal of creating higher returns for shareholders. As VeriSign streamlines its operation, the redoubled efforts the company will place on its operating at the core of the Internet may provide new partner opportunities and increases channel benefits. 11/15
Clearing up confusion with SAP
As SAP continues to acquire new businesses, customers are confused about its supplier relationship management (SRM) offerings. As part of the company's "tuck-in" model of purchasing small businesses that offer products with specific functions, SAP's SRM customers are not always sure which of the new or old applications are for them. Although SAP's portfolio continues to expand, the products the company has purchased are not necessarily part of the upgrade path that is being offered to customers -- some of whom are forced to purchase new offerings separately. Value-added resellers and systems integrators have the opportunity to relieve this confusion by offering their customers a suite of services and products as part of their service offerings, instead of making customers puzzle out what will be coming down the pike from SAP. 11/15
Oracle: Stuck in the middle(ware) again
Despite its public statements, this week's presentation on Oracle Fusion Middleware 11g at Oracle OpenWorld 2007 shows that the company is serious about moving forward with a middleware strategy. The news comes just a month after middleware vendor BEA Systems Inc. rebuffed Oracle's acquisition offer. The applications are designed to supply wikis, Really Simple Syndication (RSS) and other Enterprise 2.0 functions, Oracle executives said. Analysts at the show said Oracle was building its portfolio into one that does not require partners or customers to go to other vendors for specific functions that might be supplied by PeopleSoft, JD Edwards and Siebel users already. 11/15
Forrester: Major Vista migrations to begin soon
One in three businesses will start deploying Windows Vista by the middle of next year, according to a new report by Forrester Research Inc. The report, "How Windows Vista Will Shake Up the State of the Enterprise Operating System," says the long-stalled adoption of Vista will finally happen as more applications become certified to run on the operating system and the price of compatible hardware drops. The report also calls OS migrations "massive projects that take years," which could mean there are significant new opportunities on the way for Microsoft channel partners. 11/14
NYT: AT&T announces remote monitoring for SMBs
AT&T today is launching a service for small and medium-sized businesses (SMBs) to remotely monitor facilities, employees and customers, according to The New York Times. With the AT&T Remote Monitor program, business owners can install cameras in their facilities and receive real-time video on their mobile devices or personal computers. They can also adjust room lighting and monitor temperatures. The equipment costs between $199 and $349, and monthly service charges range from $9.95 to $39.95 a month, according to the Times. 11/14
IT pros with business experience make the big bucks
The business market and IT market have always been closely linked, but a new study finds that companies are beginning to look for tech staff with real-world business experience. According to a recent salary report by SearchCIO.com, the number of CIOs with business experience is rapidly increasing. As critical aspects of a company -- such as human resources and finance -- align with technology that is available, IT pros who know technology and speak the language of business are finding themselves in high demand. CIOs, the survey results show, who don't align business strategy with IT goals are 26% less likely to meet financial goals. As a result, salaries are rising. Value-added resellers should pay careful attention to this trend. Because VARs run business based on technology, their expertise and tech skills are likely to be in demand by companies who can't afford to keep IT functions in house. 11/14
Here comes the Sun: ERM vendor Vaau snatched up
Regulatory compliance and identity management are top of agenda for most companies, and now Sun is addressing their need for enterprise role management (ERM) by acquiring Vaau. Sun executives have said that the addition of ERM dovetails nicely with Sun's existing identity management portfolio. Oracle and Cisco, both Sun competitors, have also used acquisitions over the past few months to beef up their ERM capabilities11/14
Hundreds of thousands of SQL Server and Oracle databases lack firewalls
Security concerns have kept many a database administrator (DBA) up at night, but a new report finds that many Microsoft SQL Server and Oracle databases aren't even protected by a firewall, leaving them vulnerable to information security threats. U.K.-based security expert David Litchfield's new security survey finds that 368,000 Microsoft SQL Servers and 124,000 Oracle databases are vulnerable to attack because their owners haven't installed a network firewall. While it's doubtful that many midsized or any enterprise companies would tolerate such a glaring security lapse, some smaller companies may be among the negligent. Security VARs and consultants will continue to play a valuable role in raising consciousness among these smaller companies about the value of prudent information security. 11/14
Oracle integration puts the squeeze on system integrators
Oracle unveiled new products recently in order to make good on its "Apps Unlimited" pledge, but the new Oracle VM and process integration packs for Oracle Application Integration Architecture (AIA) may be leaving systems integrators empty-handed. Announced at OpenWorld in San Francisco, Oracle VM, which allows for server virtualization on Linux machines, and the new Foundation Pack make Oracle's product offering, along with the company's SOA Suite and AIA, more complete, reducing the need for systems integrators -- assuming integration is easily achievable between the new products. If interoperability isn't a problem, systems integrators wonder how they will make up for the lost revenue as integration contracts begin to shrink. Coming up with inventive new service offerings may be the only way for systems integrators not to lose business, said Ray Wang, a principal analyst with Cambridge, Mass.-based Forrester Research Inc. 11/14
Symantec confirms layoff plans
Symantec Corp. said yesterday it will cut an undetermined number of jobs following a quarter in which its earnings failed to meet analysts' estimates. The number of job cuts is not "material," a Symantec spokesperson told The New York Times. Symantec announced Oct. 24 a forecast of $1.47 billion in sales, missing analyst estimates of $1.48 billion. 11/13
Microsoft's Hyper-V challenges VMware
With enterprise adoption of virtualization technology taking off, Microsoft announced this week that it will offer its hypervisor software -- now known as Hyper-V -- both as part of its forthcoming Windows Server 2008 and as a standalone server. The standalone Hyper-V server allows Microsoft to compete directly with VMware's ESX Server and is a departure from Microsoft's previous insistence that any virtualization solution it develops be closely tied to the Windows OS. According to Microsoft, the standalone is intended for IT administrators who want to consolidate Windows Server 2000 or 2003 servers and recoup licenses. With Windows Server 2008 due to be released in early 2008, service providers now have another upgrade option to consider when working with their Windows Server clients. 11/13
Microsoft patches WSUS
The batch of patches being released by Microsoft today is lighter than usual, but has been overshadowed by reports that Windows Server Update Services (WSUS) 3.0, the key Microsoft patching software, was giving errors when used to apply the previous month's patches. Microsoft released a statement saying it has fixed the problem and expects that today's updates will proceed as normal for most Windows administrators. Meanwhile, Microsoft is continuing with plans to integrate the upcoming WSUS 4.0 into its other products so that patching becomes more seamless. 11/13
Sun releases Honeycomb archive
Sun Microsystems Inc. recently announced the release of its new data archiving system, the Sun/StorageTek 5800, also known as Honeycomb. Honeycomb relies on a cell-based RAIN architecture that runs open source Solaris. Sun has released some source code to developers to encourage them to create third-party applications for data deduplication and other storage or archive-related functions. Also of note to VARs who manage data for customers is Honeycomb's ability to port and capture metadata, allowing for easier management of data in a customer shop. 11/12
IBM to acquire Cognos
IBM has announced plans to acquire Cognos, the performance management and business intelligence specialist, for $5 billion. IBM's announcement said the Cognos technology would extend its own service-oriented architecture (SOA) business by adding to IBM's suite of open-standards-based BI, information integration and data warehousing capabilities.The acquisition is expected to close during the first quarter of next year. 11/12
Microsoft announces eight versions of Server 2008
Microsoft has released new details about Windows Server 2008, including the name of its virtualization hypervisor. Server '08 will be available in eight different versions, three of which will come with Hyper-V -- the official name for the hypervisor formerly code-named Viridian. Bob Kelly, Microsoft's vice president of infrastructure server marketing, made the announcement today at TechEd IT Forum 2007 in Barcelona.
The eight versions of Server '08 are Standard (with and without Hyper-V), Enterprise (with and without Hyper-V), Datacenter (with and without Hyper-V), Web Server (without Hyper-V) and Server for Itanium-based Systems (without Hyper-V). At $469, Web Server is the lowest-priced offering; Enterprise is the most expensive at $3,999. The worldwide Server '08 launch is scheduled for Feb. 27, but the ship dates for each version are not yet available. 11/12
IBM introduces new tools to manage data centers
IBM has announced a new set of self-management tools designed to reduce costs and the number of people required to operate data centers. The new tools include an energy management package called the IBM Systems Director Active Energy Manager, which monitors power consumption. Another is IBM Tivoli Usage and Accounting Manager, which gives information on usage including CPU utilization in a data center, and a new platform, IBM Tivoli Change and Configuration Management Database, incorporates the characteristics of assets in an IT environment for system administrators to see. The new tools are another step forward in IBM's development of hardware, software and services to reduce human intervention in the data center. 11/9
Dig Deeper on Channel partner program news