News
Stay informed about the latest enterprise technology news and product updates.
Microsoft claims supremacy over Google
News headlines for the week of Nov. 5:
Ballmer: Google does not lead.
EqualLogic customers fret over Dell acquisition.
SAP services make things tough on consultants.
News for the week of Nov. 5 - Nov. 9, 2007 -- in brief, updated daily, on topics important to the information technology (IT) channel.
Ballmer: 'Google is not ahead of us'
Microsoft CEO Steve Ballmer touted his company's dominance over Google today, telling reporters that Microsoft is ahead of Google in every area except online search, according to the Associated Press. Ballmer made his comments during a press conference for Microsoft's launch of Windows Live services for email, instant messaging, blogging and photo-sharing. Google already offers similar services and announced earlier this week its plans to offer its search engine, email and maps for mobile devices. 11/8

Download this free guide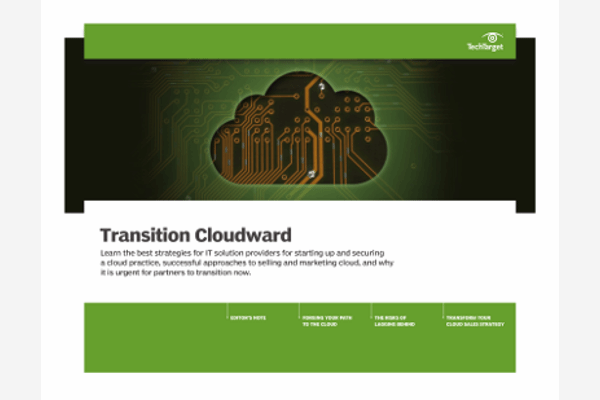 Could Securing Your Channel Business Be Easier? We Can Help.
Download our latest guide to the top strategies solution providers can leverage for starting up and securing a cloud practice, successful approaches to selling and marketing cloud, and why it is urgent for partners to transition now.
Dell changes the (storage) channel
Dell's recent acquisition of iSCSI SAN vendor EqualLogic Inc. has caused EqualLogic customers some anxiety over the uncertainty of the future of EqualLogic products. Many industry analysts believe that EqualLogic's product line will be folded into Dell's own server-based offerings, giving Dell customers access to a multiplexing architecture and better software management. EqualLogic customers will gain the ability to expand disk space with inexpensive hardware, rather than adding controllers along with every disk purchase. Dell's move to acquire EqualLogic, a company with an active channel program, together with some other recent steps, seems to indicate that a company once famous for direct selling is testing the channel waters. Perhaps understandably, this has VARs from storage vendor giant EMC, erstwhile partners with Dell, feeling somewhat nervous. The same is true for existing EqualLogic channel partners, who are wondering aloud how committed Dell is to the storage channel. 11/9
Data centers soft on security
A client locating its servers in a hosting company's secure data center sounds like a good idea -- except when that data center isn't quite so secure. The recent robbery at CI Host in Chicago, during which thieves stole more than 20 servers containing customer data, is a good illustration -- it was the fourth robbery there in the past two years. Data centers tend to focus on information security, not physical security. But, with clients actively seeking ways to integrate IT and physical security, managed service providers must continue to take steps to ensure that client data sent offsite is safe from both physical and digital assaults. 11/9
Expanding SAP is tough on consultants
New customers are finding that more large service providers are offering SAP, making it easy to find the services and support needed. However, independent consultants and systems integrators are feeling the squeeze as large companies ramp up their offerings. Large providers are beginning to cut into independent SAP consultants' business as vendors increasingly streamline SAP offerings by including them prepackaged. Customers are looking for service providers who can offer streamlined set services that don't just include SAP. Value-added resellers and systems integrators don't need to worry about SAP contracts drying up just yet, though. SAP expertise is still in high demand by customers, and as consultants flood the field, systems integrators who offer lower prices are likely to continue to find work. 11/8
Intel pushes into SOHO market
Intel Corp. has introduced the Intel Entry Storage System SS4200x for the home office, small office (SOHO) market. The product is being distributed through Intel's channel partners and comes in two models: the SS4200-EHW, a hardware-only version, and the SS4200-E, which comes preconfigured with EMC software to create a network-attached storage appliance. Both models are powered by the Intel Celeron 400 series processor with DDR2 memory and include the Intel 945GZ with ICH7-R chipset for I/O performance. Additionally, the boxes come with an external SATA port to allow users to expand their storage beyond four hard disk drives (HDDs). Falconstor, Open-E, Wasabi Systems and other independent software vendors (ISVs) are testing their software on the Intel SS4200-EHW to provide the channel will greater options. The new storage systems will be available in December, starting at approximately $500. 11/8
Microsoft ousts CIO Scott
Microsoft has fired its corporate vice president and chief information officer, Stuart Scott, following an investigation into company policy violations. Scott had worked for Microsoft since July 2005 and oversaw the company's security, infrastructure, messaging and business applications practice areas. Prior to joining Microsoft, Scott was a CIO at General Electric. 11/7
Microsoft releases standalone enterprise search
Microsoft's enterprise search software is now available as a free download. The company yesterday released Search Server 2008 Express, the standalone version of the enterprise search capabilities contained in Microsoft Office SharePoint Server 2007. Microsoft also announced that its enterprise search products will be able to connect to and search for files on the EMC Documentum and IBM FileNet platforms by early 2008. 11/7
SAP purchases Yasu for business rules management tools
SAP's acquisition of Yasu Technologies in Hyderabad, India, is part of SAP's ongoing strategy to purchase smaller companies in order to fill gaps in their own product offerings. Gobbling up Yasu allows SAP to offer better business rules management capabilities to customers and partners alike. Business rules management tools allow customers to automate business functions such as credit card applications. Rather than spending time working with code, systems integrators who partner with Yasu and SAP can now offer customers interfaces that focus on updating customer information in order to determine if they qualify for more credit, for example. Systems integrators can take advantage of this pairing by offering better functionality in business rules management tools while having the name SAP behind them. 11/7
CIOs face a newbie challenge
Sometimes change in middle and senior management is good for a CIO, but a recent survey reveals a high degree of turnover among middle and senior IT managers. SearchCIO.com's annual IT salary survey estimates that 70% of middle- and senior-level IT managers have been with their companies for less than five years. It often takes years, experts said, for IT managers to establish credibility with their peers and coworkers, so frequent turnover causes very real business impacts. Helping such managers avoid rookie mistakes and build a culture of constructive change is an ideal way for consultants to build customer loyalty. 11/7
Super Micro says its new blade server is world's densest
Super Micro Computer Inc. has announced what it calls the world's densest blade server. The SuperBlade SBA-7141M-T enables 160 processor cores and 640GB of DDR2 memory in 10 blades per 7U enclosure. The product supports both Quad-Core AMD Opteron 8300 Series and Dual-Core AMD Opteron 8200 Series processors at all speeds. It is designed as a power-saving data center option and virtualization platform. It will be sold through Super Micro's channel partners. 11/7
Cisco expands small-business VoIP package
Cisco Systems Inc. is expanding its small-business unified communications (UC) product to triple the number of potential users per unit and add new switching options. The Unified Communications 500 (UC500) is an IP-based phone switch that links Voice over IP (VoIP) networks to carriers' analog phone networks and includes firewall, virtual private network (VPN) and wireless capabilities. The UC500 shipped in an eight-user configuration now comes in 32- and 48-user versions. Cisco packages it as the Smart Business Communications System after stacking on the switching hardware required to link it to IP phones inside a small business. New switching options include boxes with 20 or 24 10/100 Ethernet ports and two Gigabit Ethernet ports, all of which run at 6.6Mbit/sec. It also offers a faster unit with 8 Gigabit Ethernet Base-T ports and 4 Gig Ethernet Base-T/SFP ports, that runs at 18 Mbit/sec. Cisco Capital is offering 0% financing and an EasyLease financing package to help small-business customers make the leap. 11/6
Google launches phone software, not phone
Google Inc. announced yesterday that it would not be producing its own cell phone or cell phone service, as had long been rumored. Instead Google will release an open source mobile phone operating system (OS) code-named "Android." Motorola Inc. and Samsung Electronics Co. Ltd. are among the 33 companies Google said had joined an alliance to produce the operating system. T-Mobile announced plans to sell the phone next year; other carriers said they are working with handset makers on Google-based phones. The free open source OS will save handset makers about 10% on their cost to produce the phones, and will give Google and its partners a path to run Google services and ads more easily on handsets. 11/6
Sun 1Q revenues increase marginally
Sun Microsystems Inc. reported profit for its first fiscal quarter, but revenues grew less than Wall Street expected. Sun's first quarter revenue rose less than 1% to $3.22 billion compared to a year ago. The company's net income was $89 million compared with a net loss of $56 million last year. Sun's product revenue increased to $1.98 billion from $1.96 billion, and its services revenue increased to $1.24 billion from $1.23 billion. Sun has been restructuring its business as it seeks to turn around its fortunes by changing its product line, selling server computers powered by chips from Intel Corp. and Advanced Micro Devices Inc. and last month combined its server and storage under one systems group. The company has also cut about 4,000 jobs in the past year.11/6
Symantec to buy data leak prevention maker for $350 million
Symantec has announced plans to buy data leak prevention vendor Vontu for $350 million. The acquisition, rumored for weeks and announced this afternoon, should bolster Symantec's expansion into information security as well as antivirus and intrusion prevention. A statement form the companies said the deal should become final in the fourth quarter of the fiscal year. Vontu's products are designed to prevent access to vulnerable data on networks and prevent it from being copied or removed.
The move is the latest major acquisition by Symantec, which has also purchased Altiris, Sygate, Whole Security, Veritas and others in the past two years. It comes despite CEO John Thompson's prediction in September that the pace of Symantec's acquisitions would slow down.
Symantec competitor McAfee immediately issued a response: "Symantec still doesn't compare to McAfee as a data protection vendor. McAfee was the first major security vendor to offer DLP (data leak prevention), and with the recently announced SafeBoot acquisition, our data protection both at the network level and on PCs and laptops will be unlike anything Symantec can offer." 11/5
Microsoft launches sync platform
Microsoft has released a community technology preview of Sync Framework, its new synchronization platform that lets developers integrate different applications and files over any network -- and offline. Sync Framework also supports offline peer-to-peer synchronization of music, video, contact and other files, and Microsoft said it will allow developers to take online services and databases offline as well. It's now available for download on Microsoft's Web site. 11/5
Leopard Server gets virtual
In a move that will gladden the hearts of IT managers running Macintosh software and hardware, the end user license agreement (EULA) for Apple's Leopard Server allows multiple versions of Leopard Server on a single Apple-certified server. Apple's move opens a market for virtualization vendors such as SWsoft, but unless Apple authorizes Leopard Server to run on non-Apple hardware, such as HP or Dell servers, it faces an uphill battle because of its relatively small server install base, analysts said. Meanwhile, Microsoft is due to release its Windows Server Virtualization product next year, in addition to signing virtualization interoperability deals with Sun and VMware -- both moves that are likely to attract far more channel interest. 11/5
Apple bitten by security bugs
While Macintosh machines have enjoyed a reputation of being largely immune from the viruses and malware that have long plagued Windows, some security experts now believe that OSX is becoming a target of malicious cyber attacks. The latest evidence is an exploit code, disguised as a multimedia codec with an Apple .dmg file extension, that users unwittingly download and install from the Internet. Apple is struggling to patch these security flaws in OSX while simultaneously trying to shore up its reputation as hacker-safe. Naturally, Apple's efforts open up opportunities for security consultants who may be able to transfer some of their battle-tested Windows expertise over to the world of OSX. 11/5
CommVault offers archiving, replication and search in one console
CommVault's core backup application, Simpana 7.0, has integrated archiving, replication and search and resource management capabilities into application. The move to integrated features, which came last July, has paid off, raising the number of CommVault's customers as well as showing an increase in revenue for the company. Integrating these features into one central console is potentially good news for resellers and consultants. By partnering with CommVault, resellers can take advantage of the flexibility Simpana 7.0 offers and sell a solution for several customer needs in a single application. Resellers can sell Simpana 7.0 either as a one-off sale or try to use the console as a starting point for a services contract. 11/5
Data center robbed for fourth time in two years
Last month's robbery at a Chicago data storage center was the facility's fourth in the past two years, according to U.K.-based tech pub The Register. Thieves broke into the C I Host collocation center Oct. 2 and stole thousands of dollars' worth of servers, and some customers complained to The Register that C I Host took "several days" before notifying them. At least one affected client said he was taking his remaining servers out of the facility. 11/5
Dig Deeper on IT Distributors-Wholesale Providers