News
Stay informed about the latest enterprise technology news and product updates.
Mozy seeds its cloud backup service with Data Shuttle device
Headlines: Mozy looks to improve the time it takes to get started with its MozyPro cloud backup service with a seeding device called the Data Shuttle.
Storage channel news roundup for Sept. 28 to Oct. 5, 2011
Mozy seeds its cloud backup service with Data Shuttle device
EMC Corp.'s Mozy online backup service is looking to get more businesses hooked on the cloud with its new Mozy Data Shuttle, a cloud backup seeding device for SMBs to perform a fast, encrypted first backup of large data sets from their servers to Mozy's data center.

Download this free guide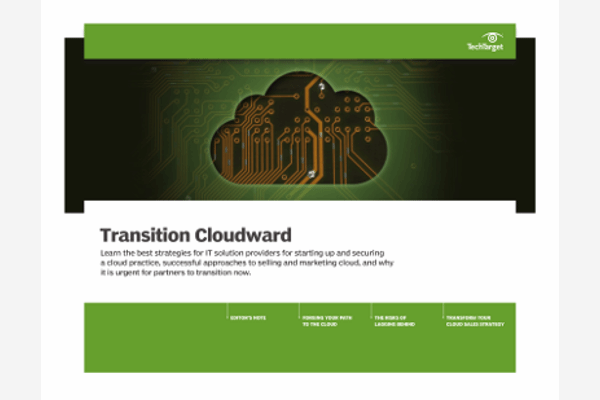 Could Securing Your Channel Business Be Easier? We Can Help.
Download our latest guide to the top strategies solution providers can leverage for starting up and securing a cloud practice, successful approaches to selling and marketing cloud, and why it is urgent for partners to transition now.
Data Shuttle is part of the MozyPro business data protection service. Mozy sends a pre-paid overnight shipment to Data Shuttle customers containing one or more 2 TB EMC Iomega disk systems to store full backups that exceed 100 GB of data. Once the administrator does the initial backup, the company sends the hard drive back to Mozy. There, the data is copied into Mozy's storage.
MozyPro software double encrypts the data with a Mozy-generated key or a personal key, plus a one-time Data Shuttle key for encryption while the hard drive is in transit. After Mozy copies the data, it wipes the device clean using military-grade encryption standards. Mozy is ISO 27001 certified and SAS 70 Type II audited.
Check out this tip on two possible inroads to cloud data backup services.
QLogic takes another whack at converged storage networks
QLogic is taking the stance that having multiple personalities is the sane way to approach converged storage networking. With Fibre Channel (FC) remaining the dominant protocol and Ethernet becoming a better candidate for SANs, QLogic has new gear that supports the latest flavors of both.
The storage networking vendor updated its product platform to 16 Gbps Fibre Channel last week, including a switch that supports FC and 10 Gigabit Ethernet (10GbE) ports to give it what QLogic calls "dual personalities." QLogic also launched its 8300 Series Converged Network Adapter (CNA), which supports Ethernet, Fibre Channel over Ethernet (FCoE) and iSCSI, and the 2600 Series 16 Gbps FC HBA.
Read the full story on QLogic's dual-pronged approach to converged storage networking.
DataCore adds support for cloud as storage tier
When DataCore added automated tiering to its SANsymphony-V storage virtualization software in July, it left out support for one tier – the cloud.
This week, DataCore addressed that omission through a partnership with cloud storage gateway vendor TwinStrata.
SANsymphony-V virtualizes storage across pools of heterogeneous systems, adding management features such as thin provisioning, RAID striping, asynchronous replication, and snapshots. The new tiering feature lets customers dynamically move disk blocks among different pools of storage devices.
Find out the pros and cons of cloud gateways for primary storage in this tip.
Arkeia adds dedupe, SSDs to backup appliances
Arkeia Software CEO Bill Evans has watched Symantec roll out a steady stream of backup appliances over the last year, and he asks, "What took so long?"
Arkeia began delivering its backup software on appliances four years ago, and last week launched its third generation of appliances. They include the data deduplication that Arkeia added to its software a year ago, solid state drives (SSDs) to accelerate updates to the backup catalog, and up to 20 TB of internal disk on the largest model.
Read more on Arkeia's latest generation of backup appliances.
Atlantis Computing expands VDI solution partner program
Atlantis Computing this week announced the expansion of its VDI Solution Partner Program with Dell and 46 authorized partners in North America, EMEA and APAC. The Atlantis ILIO software-based virtual appliance is designed to allow organizations that deploy virtual desktops to reduce the amount of storage normally required, boost performance and enable security to be implemented. The product can be deployed by channel partners into existing VMware View, Citrix XenDesktop or Quest vWorkspace deployments to either support more users on the same storage or address ongoing scalability and performance issues.
Additional storage news
Check out last week's storage channel news roundup.
Dig Deeper on Data Management Technology Services