News
Stay informed about the latest enterprise technology news and product updates.
VARs say lackluster IBM system storage business hurts
Three consecutive quarters of lackluster IBM system storage revenue results begin to hurt VARs, as competition heightens in midrange storage.
Channel partners selling IBM system storage hardware are beginning to feel the pinch of IBM's struggling storage hardware sales as they compete with EMC Corp., Hewlett-Packard Co., Network Appliance Inc. (NetApp) and others.

Download this free guide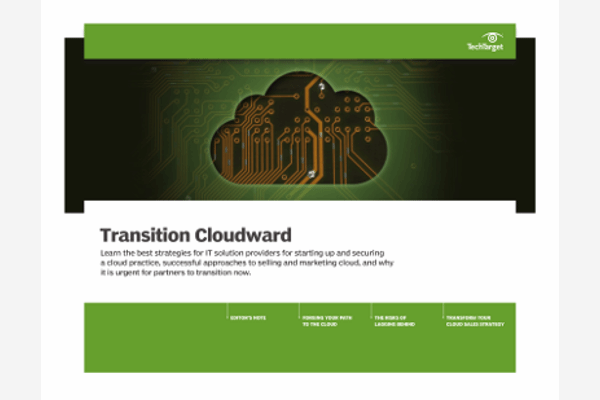 Could Securing Your Channel Business Be Easier? We Can Help.
Download our latest guide to the top strategies solution providers can leverage for starting up and securing a cloud practice, successful approaches to selling and marketing cloud, and why it is urgent for partners to transition now.
By submitting your personal information, you agree that TechTarget and its partners may contact you regarding relevant content, products and special offers.
You also agree that your personal information may be transferred and processed in the United States, and that you have read and agree to the Terms of Use and the Privacy Policy.
This week, IBM introduced new storage products, including offerings for the midmarket, where it hopes channel partners can sell to customers who have not been clamoring for Big Blue's IBM system storage products lately -- a fact reflected in the company's revenue for three consecutive quarters.
The company's most recent quarterly results show some softening of its sales. The first-quarter results showed a decline in storage revenue by 1%, on top of flat second-quarter storage revenue. IBM's third-quarter results showed some recovery -- an increase of 1%.
Disk storage revenue declined 3%, primarily in the midrange storage products, while revenue from tape storage increased 7% .
"The reason is competition," said Gavin Rosenberg, marketing director for Inglewood, Calif.-based Sunstar Company Inc., an IBM system storage reseller. "I think people are now a little bit more open than ever before to other manufacturers. I don't think people are purchasing second- or third-tier storage as long-term investments quite the same as they did in the past, and prices have come down," Rosenberg said.
Rosenberg said his IBM customers generally buy IBM equipment, but it's difficult to get new customers to buy Big Blue for the first time.
That hurdle and a 6% decline in Sunstar's storage revenue for the year is prompting him to consider reducing his focus on IBM.
"I can't rely on IBM -- the profit margins aren't there. I'm making a conscious effort to go out and look for different solutions that are emerging technologies because I think there's much more money to be made. I don't see IBM selling anything super-innovative right now," Rosenberg said.
IBM executives are more optimistic, saying lackluster sales of IBM system storage products are the result of one area of the storage business which should pick up soon.
"If you look behind the disk business, it was really midrange disk where we had more difficulty," said Mark Loughridge, IBM's senior vice president and chief financial officer, during last week's earnings announcement. "Tape did well, high-end disk did well, and as we go into the fourth quarter we expect to see improvements in midrange, but we also expect to see ongoing performances continue in tape and high-end disk."
But Robert W. Baird & Co. analyst Joel Inman has his doubts about Loughridge's explanation. Sales of IBM system storage is weakest in the midrange where IBM has both developed its own technology and has sold products from NetApp, LSI Corp. and NTAP. These relationships, in part, could be a reflection that IBM has lost focus on its own midrange strategy. The company was also late to introduce iSCSI-enabled storage products and delayed its deduplication offerings.
"IBM is losing share in storage to more focused, storage-only vendors like NetApp and EMC. At a high level, EMC and NetApp differentiate their offerings in storage because there is no conflict of interest selling other hardware/software like servers," Inman said. "IBM storage also includes a good amount of tape business, which is not competitive with disk storage vendors," he added.
For companies like Norcross, Ga.-based Optimus Solutions, a value-added reseller that sells storage products from EMC, IBM and Sun Microsystems Inc., the declining numbers for IBM system storage sales are having a real effect.
"It's a dog fight out there. My storage revenues year over year are almost double, but the IBM sales year over year are showing a 10% decline," said Keith Baskin, Optimus' storage practice manager.
"But I usually have a good fourth quarter with IBM products and hope to have another one," he added.
Brian Casey, principal at Littleton, Mass.-based Daymark Solutions Inc., said his company, which sells IBM, EMC, Sun, NetApp and Hitachi Data Systems storage products, does not sell a lot of IBM.
"Sun, EMC, NetApp -- those are the ones that we see being considered actively, in the opportunities being considered on the street, and we don't see IBM on that list all that often," Casey said. "That's the perspective from somebody that's not a big IBM partner. But if customers asked for IBM more we'd certainly consider ramping up our IBM business, but that's not at the top of our list," he added.
Dig Deeper on Technology Vendors-OEMs