News
Stay informed about the latest enterprise technology news and product updates.
Microsoft exec explains Microsoft Dynamics NAV delay
This week Microsoft Corp. is holding its premier customer event in Europe against the backdrop of its announcement that there will be a one-year delay for the next version of Microsoft Navision ERP (also known as Microsoft Dynamics NAV).
European customers are gathering at Convergence Copenhagen 2007 in Denmark to hear Microsoft's positive spin on its enterprise resource planning (ERP) strategy, even as competitors that once largely ignored any market but the enterprise continue their advance into the midmarket.
SAP AG has introduced its on-demand Business ByDesign product aimed at midmarket customers with 100 to 500 employees. And Oracle's Accelerate program is helping channel partners sell to midmarket customers more quickly, using a combination of prepackaged software for vertical markets.
It's the delay in Navision that's getting Microsoft's ERP efforts in the headlines, however. Nicole Lewis of SearchITChannel interviewed Steve Malme, Microsoft's director for Dynamics partners and independent software vendors (ISVs), to find out more.
Why the delay in Microsoft Navision ERP (aka Microsoft Dynamics NAV), and how will this affect the channel partners selling Microsoft Dynamics NAV?
What you see in NAV in terms of the release date is a very realistic release date relative to the complexities that exist whenever you really try to make a significant architectural change in the product line. And so in the next release of NAV what you will see are some fantastic capabilities in terms of user interface and workflow within the product, but you will also see an architecture that allows you to utilize NAV even more as a toolset to develop applications in combination with Microsoft Dynamics NAV.

Download this free guide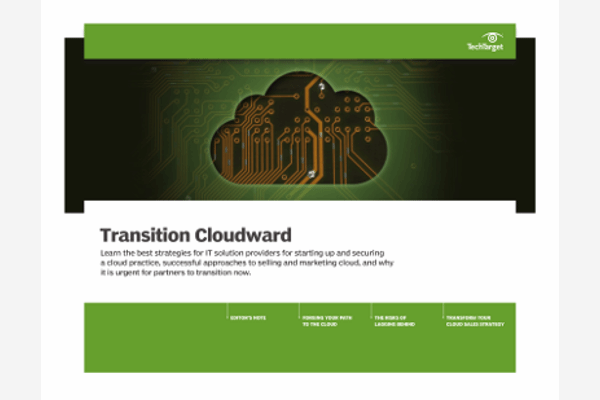 Could Securing Your Channel Business Be Easier? We Can Help.
Download our latest guide to the top strategies solution providers can leverage for starting up and securing a cloud practice, successful approaches to selling and marketing cloud, and why it is urgent for partners to transition now.
By submitting your personal information, you agree that TechTarget and its partners may contact you regarding relevant content, products and special offers.
You also agree that your personal information may be transferred and processed in the United States, and that you have read and agree to the Terms of Use and the Privacy Policy.
We were a little bit too aggressive in terms of our initial timeframe, but we now feel really good about the new NAV timeline.
The other thing that's worth highlighting is that the current NAV release has only been in the market for a few months and if we were to release the next version of NAV on the original timeframe, it's actually so rapid that we would have a difficult time seeing the channel consume it.
And so what you will see, and this is true for Microsoft Dynamics NAV as well as all of the other Dynamics products, is that the timeline that we will execute against going forward is a two-year release cycle for every product. The reason for that is simply [that] we need to give our partners and customers the time that is necessary to consume our releases as we move from one release to the other. We also need the right kind of time to be able to continue to really expand the feature set with each product and each release. What about the on-demand, Software as a Service push for Microsoft Dynamics? What are you seeing in this market and is it a growing market for you?
We are actually seeing partners using on-demand or Software as a Service ERP delivery very commonly across Dynamics.
Some great examples are that we've got a couple of partners that are hosting thousands of customers on Dynamics AX, another one hosting a few thousand on Dynamics NAV. What we see them doing for those customers is simplifying their business processes and then providing a whole cross section of additional services to those customers that are using ERP on demand, so that additional services include things like tax, audit, payroll and other financial services that are very complementary to using ERP in a on-demand environment.
We have specific agreements in place to help our partners do that, and then we continue to build out programs and initiatives to make sure that we get the right kind of partners and focus in that area. That is a growing business for the partners. What are the top agenda items that Microsoft Dynamics executives have on their plate?
No. 1 is product roadmap, clarity and consistency. What you will hear is a very loud and clear and consistent message around the products that we have -- here's their ongoing lifespan and how we will continue to invest in each one of these products and support our partner channel in each one of these areas.
There has been some question in years past in terms of the longevity of the products and the convergence of the products. What you're hearing [from Microsoft executives] is clear support to carry all of those products forward to make sure that our customers and partners are well-served.
Message No. 2 is partner capacity -- in terms of investing in existing partners and adding new partners as appropriate. You've seen some of our past announcements in terms of adding a $20 million incremental investment on top of everything we already spend with our partners. We're actually very aggressively executing against that investment to make sure we deliver the right kind of training, hire the right kind of resources to really be able to accelerate [partners'] business. How are you enabling partners to expand their midmarket presence, which is where IDC says the growth is?
To serve [the smaller] midmarket segment what you see us doing is actually packaging up Dynamics GP, Dynamics NAV and including some service partners who can support that kind of rapid implementation process to really make sure that the customer has a super effective deployment in terms of both cost as well as impact on their business.
What we see larger midmarket customers requiring is typically a lot of tailored functionality to their specific business. And so we've spent a good deal of time and effort to make sure that we have published literally the world over the catalog of all of our top Dynamic software solutions that end up tailoring Dynamics to specific industries and verticals.
Our most successful Dynamics partners end up generating about 60% of their revenue based on Dynamic sales, and they end up generating another 40% off of selling and implementing complementary Microsoft technologies.
And so those top-performing partners already know that as soon as they implement Dynamics, within three to six months they will be implementing SharePoint servers or a BI solution, or they may be implementing Dynamics CRM fully integrated with ERP.
Dig Deeper on Application Servers and Management Solutions