News
Stay informed about the latest enterprise technology news and product updates.
Managed service providers' business models, pay rates attract qualified technicians
Managed service providers are finding that remote management and changing pay rates help them hire top-notch technicians despite less supply in the job market.
For managed service providers, the pool of engineers seeking high-level jobs is not as deep as it once was. But some say changes in the way they do business and evolving managed service rates for their employees are helping them find qualified people -- and get more value out of those they hire..

Download this free guide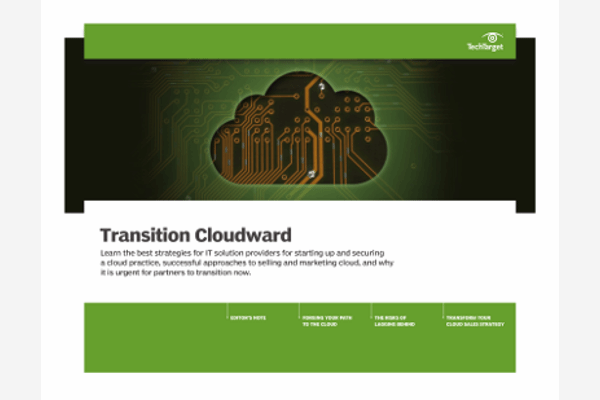 Could Securing Your Channel Business Be Easier? We Can Help.
Download our latest guide to the top strategies solution providers can leverage for starting up and securing a cloud practice, successful approaches to selling and marketing cloud, and why it is urgent for partners to transition now.
At the beginning of the decade, West Palm Beach, Fla.-based managed service provider SLPowers could post an ad online Friday and receive 300 resumes via email by Monday morning, according to CEO Rory Sanchez. Now, managed service providers have to compete against more businesses' and organizations' IT departments to hire the same people.
"It's really sort of dried up," Sanchez said. "A lot of those candidates take corporate jobs. The talent pool is not out there like it once was."
Still, Sanchez said SLPowers is "not really having a whole lot of difficulty" hiring engineers today. The trend toward remote service management means managed service providers can recruit nationally, instead of limiting themselves to candidates who live within commuting distance of their support desk or network operations center (NOC).
It used to be that "customers really wanted to see the A team show up," Sanchez said. Now customers are more willing to accept remote management. Only one of SLPowers' five support technicians actually works at the support center.
"Our customers know, because we tell them, but they don't know the difference," Sanchez said.
That acceptance has also opened the door for ClearPointe Technology, an MSP in Little Rock, Ark., to attract older, more experienced technical staffers who say they're "tired of going out in the field and billing and keeping track of [their] time in 15-minute increments," said Bob Longo, director of managed services. "It just wears on them."
ClearPointe's engineers are all on salary, instead of hourly managed service rates. With that pay structure, there is less incentive to look for problems that could be fixed, but aren't critical, Longo said. For example, managed service providers that pay their engineers hourly often set their clients up to receive software updates from Microsoft, then check on the updates monthly to resolve any issues that arise.
ClearPointe, on the other hand, manages its clients' updates through its NOC for a flat monthly fee, freeing up time to address customers' real issues, Longo said. That provides more value for the customer and cost savings for the employer.
Paying salaries instead of hourly managed service rates makes it easier for ClearPointe to attract the kind of experienced technicians it wants, but they are still in high demand and short supply.
"It remains very difficult to find mature people to do remote management," Longo said.
The best place to recruit senior engineers -- those with the most experience, talent and value to a managed service provider -- is from the ranks of other managed service providers, or the IT departments of customers or other companies, according to Mike Ellison, director of partner development at N-Able Technologies, a software company and managed service provider in Ottawa, Ont. Senior technicians are "the lifeblood of your services organization," he said. However, "they are hard to find."
But Ellison said managed service providers can still offer top-notch services to customers and get more out of their employees by paying them hourly managed service rates. He recommends dividing a technical staff into three levels: a response team, systems engineers who run the NOC and perform preventative maintenance, and senior technical consultants who do high-level project work. That approach is better than having one support team that is expected to handle all responsibilities, because that "limits the ability of the organization to put the right person in front of the right problem," Ellison said.
Dig Deeper on Employee Recruitment and Retention Strategies