News
Stay informed about the latest enterprise technology news and product updates.
VAR on VAR: How to offer the best channel support
In this article, value-added resellers (VARs) speak about their experiences with clients and how to make a successful channel relationship last for the long run.
This article originally appeared on SearchCIO.com.
Channel takeaway: As buisness men, value-added resellers (VARs) know there are certain demands that a customer will make of a vendor. But no matter how good you think you're relationship is, or how good your support is, there will always be aspects of the business that can be worked on. This article voices a few of those oft over looked details that can make or break a business relationship.

Download this free guide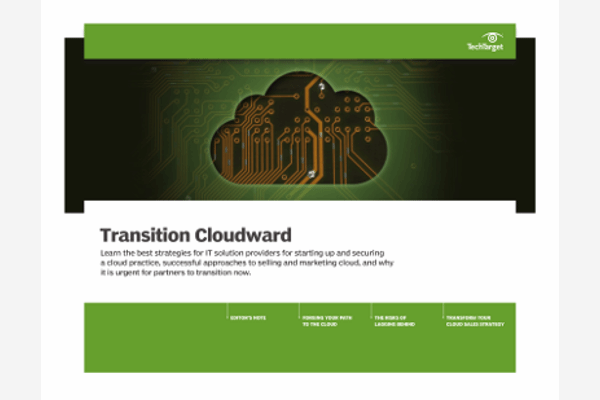 Could Securing Your Channel Business Be Easier? We Can Help.
Download our latest guide to the top strategies solution providers can leverage for starting up and securing a cloud practice, successful approaches to selling and marketing cloud, and why it is urgent for partners to transition now.

By submitting your personal information, you agree that TechTarget and its partners may contact you regarding relevant content, products and special offers.

You also agree that your personal information may be transferred and processed in the United States, and that you have read and agree to the Terms of Use and the Privacy Policy.

Let it be known and preached from the mountaintops: Know your business. Communicate. Don't be too stingy.

These are but a few of the 10 canons that CIOs, resellers and other experts cited when asked their secrets to success in that most sacrosanct of relationships -- user and technology supplier.

Eric Goldfarb, CIO of Atlanta-based PRG Schultz-International Inc., a $375 million cost recovery and auditing firm, has used value-added resellers (VARs) in nearly every niche over the years. One advantage, he says, is that they are unbiased and can help you choose the best overall solution from the vendors they represent. Many also have experience working with the midmarket and may understand your needs better than a large manufacturer. "Resellers tend to be midmarket businesses themselves," he notes, so every customer is important. "You'll likely have one point of contact [and] when you need help, you'll know where to turn."

In the end, services offered, reference checks and gut feel contribute to VAR selection, while working as partners -- with all the communication, respect and flexibility that implies -- sustain success.

Know your company
To effectively choose a technology partner, you first must know your own business, and align your technological directions with your business road map. "You've got to know what you are looking for and what your needs and capabilities are," says Mike Kahn, chairman of The Clipper Group Inc., a small consultancy based in Wellesley, Mass. Put more plainly: Know what kind of added value you want or can afford, or you'll end up dissatisfied.

Kahn says midsized businesses usually fall into two categories: those that are self-sufficient and those that need help -- sometimes, lots of help. The former "know what they want and are ready to put the pieces together," and can afford to price shop aggressively, he says. The latter group needs guidance, consulting and probably integration help, as well. "Those are the ones that need a full service partnership," he notes.

Offer enough business
The more business you have to offer a reseller, the more interested a reseller will be in winning your business. "Simple order fulfillment buys no loyalty or opportunity and degrades the image of resellers as partners," says IT reseller Tom Meers, president of Result Data Consulting Ltd., a $2 million value-added reseller in Columbus, Ohio. "While price is a constant concern, long-term relationships between IT departments and resellers are almost always based on integrity, trust and the value the reseller can provide beyond that which is found in the products."

In CIO Goldfarb's view, if both partners cannot get value from the investment, no matter its scale, then it's the wrong investment or partner. For example, Goldfarb says he may ask a reseller to participate in his payback. "Instead of paying the reseller up front, I have metrics of my ROI, which I share with them. They get paid when certain targets are met," he explains.

Build a relationship
A good relationship is more than a smile and a handshake; it is based on mutual understanding, trust and shared goals. That's how Dale Frantz, CIO at 1,500-employee Auto Warehousing Co. in Tacoma, Wash., defines it. A key factor, he says, is face time. "It is extremely important to have a face-to-face relationship with a VAR. In fact, if a vendor is not in a position to do that or won't commit the people, we will exclude them from the business," he says.

David Lewis, CIO at $200 million Deseret Mutual Benefit, an employee benefits administrator in Salt Lake City, has a long-term relationship with a key application vendor that also resells a wide range of hardware and related software. He relies on a close relationship with his client account manager, but he doesn't stop there. "Some things have to be approved by the reseller's higher-ups, and if I don't like the original offer, they know me well and I usually am able to negotiate what I need," he says. However, Lewis notes that a low price is never the only goal. "We don't want a low-ball price if it is going to cause problems. We want what is best for the organization," he adds.

Be Loyal
A key maxim to working well together: Don't jump ship for the first cheaper offer you find elsewhere without consulting your partner. "If you remove your VAR from the buying process, you lose their other services as well," says Tom Adams, executive vice president of Calence Inc., a privately held, 150-person firm in Tempe, Ariz., that builds and manages networks. "But if you work with your reseller from the beginning, each aspect of the process is their responsibility, and you will be able to direct all of your questions and concerns to one qualified person."

Similarly, Jeff Dimock, infrastructure practice leader at Atlanta-based Intellinet Corp., a $12 million IT strategy and consulting services firm, says he tries to find a single provider for each client engagement. "We balance project management with technological expertise and work with our own customer to develop a clear scope of expectations," he says.

But there should be limits to loyalty, CIO Lewis points out. "For instance, if I am buying a commodity, I don't have a lot of patience for back and forth haggling, and I have no patience for being told something that's not true," he says.

Expect responsiveness and flexibility
A value-added reseller should be able to provide service and equipment to its customers quickly and efficiently. That includes everything from quick shipments of in-stock inventory to being able to plan and move a data center in as little time as possible. "I don't ask resellers for their lowest price; I tell them to set a fair price. But in the event of an emergency, we expect immediate response" without paying a premium, says CIO Frantz.

Ideally, VARs should think and behave as if they are managing the projects they work on and be ready to do whatever it takes to get the job done on time, says Brian Le Suer, partner at Star Quality, a Hopkinton, Mass.-based, eight-person consulting firm that focuses on assisting clients with quality assurance, testing and training. That might mean long days and weekend work when faced with a large project on tight deadlines.

Hold your reseller's feet to the fire
IT resellers must back up what they say with action. They must be able to deliver the products and services as promised, on time and equipped to fit the customer's needs. "An ethical IT reseller will be able to produce exactly what they promised, and if a complication occurs they will be able to get the right people involved and take care of it for the customer with no hassle," says James Davie, vice president and co-founder of Canvas Systems, a $150 million reseller of pre-owned IT and networking equipment in Norcross, Ga.

To minimize risk and keep everybody on track, customers should implement project management milestones, recommends Mark Metz, CEO of Optimus Solutions, a $70 million reseller of systems management, storage and networking products in Norcross, Ga.

Communicate
Just as important as walking the walk is talking the talk -- and doing it regularly. "Companies are constantly changing, so make sure your vendors know where you are going and what you are doing," says reseller Metz. "Watch for potential synergies in your goals, technologies and target markets. These can provide additional value for the relationship."

Intellinet's Dimock recommends that resellers set up some type of secure, Web-based project collaboration and communication site that records, stores and shares all information pertinent to a project. Dimock says the system keeps IT organizations apprised of how their projects are coming along, what problems/issues are occurring, and whether they will be delivered on time and within budget.

Similarly, Metz recommends that customers implement and track project management milestones. Start with a kickoff meeting that brings all the key stakeholders into one room. "Make the strategic decision to partner at the highest executive level, and secure buy-in from all levels of employees," he says.

Account for your own actions
Accountability is a two-way street. You must offer direction and communicate with your partner in a clear and timely manner. And, if things go wrong because of something on your end, take the heat.

CIO Frantz has high expectations for his VAR but says he's fair, too. In one case, his staff ordered the wrong product through the reseller's online system, without involving its staff. "If one of their people had seen the order, they probably would have caught the mistake," he recalls. "We make sure to take responsibility for [errors like] that, so that they don't suffer because of our mistake."
Dig Deeper on Channel business management strategies