News
Stay informed about the latest enterprise technology news and product updates.
VARs report rosy results this quarter, solid optimism for next quarter and for 2007
Hewlett-Packard is the most-improved player for the year, according to VARs, who are selling more HP stuff than they expected. The rest of the market isn't shabby, either. Three-quarters of VARs are operating at or above plan now; two-thirds expect 5% to 15% increases for next year.
Computing hardware and storage sales are up this quarter, according to a new survey of integrators, VARs and other companies in the channel. And next quarter will be even better, according to quarterly state-of-the-channel report "Computer Hardware & Storage" from financial analysts Robert W. Baird & Co.

Download this free guide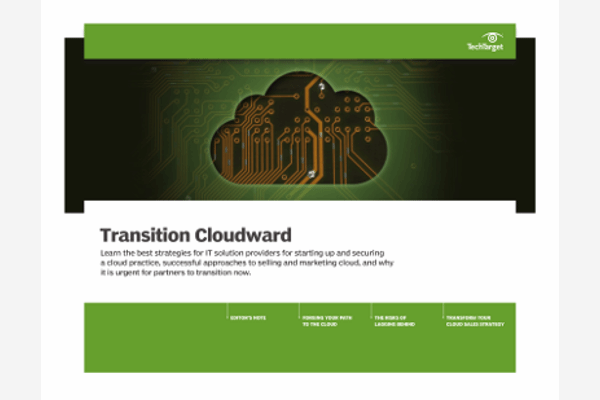 Could Securing Your Channel Business Be Easier? We Can Help.
Download our latest guide to the top strategies solution providers can leverage for starting up and securing a cloud practice, successful approaches to selling and marketing cloud, and why it is urgent for partners to transition now.
By submitting your personal information, you agree that TechTarget and its partners may contact you regarding relevant content, products and special offers.
You also agree that your personal information may be transferred and processed in the United States, and that you have read and agree to the Terms of Use and the Privacy Policy.
According to the survey of 60 resellers large and small, only 23% of channel companies are operating below plan this quarter, while 38% are above plan. That's an improvement over the 23% that were above plan last quarter.
Overall, large VARs, integrators and resellers reported better results and greater optimism than smaller companies – those with less than $100 million in revenues per year.
But only 5% of either group is negative about the strength of the next quarter. On average, 62% of VARs from the two groups are solidly positive about the strength of the next quarter.
Looking ahead to 2007, 68% of all respondents expect increases in revenue between 5% and 15%, while 28% expect increases greater than 15%.
Results are more mixed on pricing, however. Price pressure on servers has eased a bit but is increasing on storage.
A separate survey of the seven largest IT distributors, interestingly enough, indicated that none believe hardware pricing has become more aggressive and none are oversupplied with inventory. Good news for the distributors, possibly bad news for the VARs that buy from them.
Technology expectations are changing in the storage market, however. One-third of respondents said demand for storage encryption is increasing, while 51% said they're getting more demands for iSCSI storage.
Baird interpreted this to mean that iSCSI is getting popular in the small- and mid-sized business segment, possibly inching up into the low end of the enterprise.
In rating specific vendors and how well their products are selling, VARs rated Hewlett-Packard Co. as being vastly improved from its near-bottom-of-the-barrel rating at the same time a year ago, largely because of the consistency and order under new chief executive officer Mark Hurd.
Cisco products are rated as those selling most consistently above plan for the quarter, with HP, NetApp and IBM following. Those are the top four, in that order, of those cited as expected best-sellers for next year.
At the bottom of the scale for the quarter – rated by the largest number of VARs as selling below plan – was Dell. Next came Sun, then Hitachi, then Lenovo.
Sun takes several steps up the positive expectations scale for 2007, with 50% more VARs expecting to sell more of it in 2007 than those who expect to sell less.
Dell and Lenovo were at the bottom, but Acer managed to edge both of them on the scale of shame; not a single respondent expects to sell more Acer next year than they did this year.
Dig Deeper on Technology Vendors-OEMs