News
Stay informed about the latest enterprise technology news and product updates.
When tech support doubles as disaster recovery services
Technical support can morph into disaster support after disk failures, fires and other disasters cause problems for customers, and can become ideal customer-retention services.
For the past three years, Chris Novak has been tooling around in his bright red Volkswagen beetle, helping his small, midsized business and home-office customers survive IT pitfalls ranging from self-induced technology blunders to unavoidable computer snafus.

Download this free guide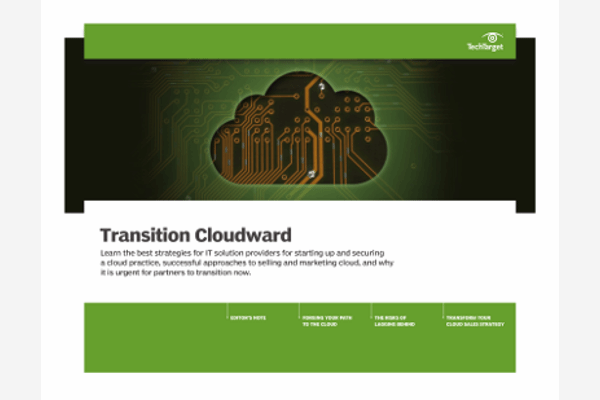 Could Securing Your Channel Business Be Easier? We Can Help.
Download our latest guide to the top strategies solution providers can leverage for starting up and securing a cloud practice, successful approaches to selling and marketing cloud, and why it is urgent for partners to transition now.
He's part of a new breed of IT solution providers that make a living by rescuing potential customers from an immediate problem, then building a long-term relationship on that positive experience.
Along the way some have built fairly large businesses rescuing (often) very small customers on a fairly large scale.
The Chicago-based Novak, in fact, is a POD leader (which, although it stands for Passionate, Orchestrated and Driven, means that he is a regional service coordinator) for Nerds on Site.
"Just about all of our clients have an emergency at one time or another," Novak said. "Typically, it's how we acquire new clients -- they've gotten themselves into a jam of one type or another. Their previous IT person is no longer there or they don't have the skills they need to fix the problem."
Nerds on Site, which began in 1995 in Ontario, now has about 650 "Nerds" in its ranks, and the organization spans six countries.
The company takes a percentage of the earnings of each Nerd, who work as independent contractors, and, in turn provides billing, communications infrastructure, training, marketing/advertising and other services.
"Individual Nerds establish practices and evolve them into groups of multiple Nerds in a region," said Novak, who was the first Nerd in his area, and is leader of a POD that now numbers ten. "As a POD leader I take care of liaisons between Nerds and corporate."
Customers can put out a call for help either by calling a toll-free number or logging a service request on the corporate Web site.
Calls are then dispatched to an "opportunity hopper," which pages area Nerds, who are supposed to respond within 30 minutes or less.
The advantage of the Nerds on Site model, he adds, is that more complex problems might be serviced by multiple technicians with the right combination of skills and availability.
Common service calls include PCs brought low by viruses or spyware, downed Internet access, network problems, crashed disk drives, or badly installed wireless gear. Sometimes the problems are more serious.
"My largest client had an office fire that gutted the office and melted the plastic off the main server where their accounting information was, and killed the president's laptop," said Novak. "We were able to salvage the information and get them in new quarters and up and running in a day and a half."
When a Nerd receives a call, he provides an initial quote that includes a flat rate price. "We'll do our best when we get an initial contact with a client to give them a range of flat rate prices, which will vary from region to region," said Novak. "One of the jobs of the POD leader is to take the standard set of services and establish comparable pricing."
Nerds on Site focuses on capturing repeat business. "Typically, a third-time client is a client for life. We are after repeat business and relationships with those customers," said Novak. "Our two mantras are 'Don't bruise the brand,' and 'Delight the client.' Our goal as technology partner is not just do break-fix but also help them to leverage technology to achieve some of their other business goals."
Building a new model
Nerds on Site is just one of a handful of organizations helping right the problems of customers tempted by frugality to take a "do it yourself" approach to technology integration. The GeekSquad (also known for colorful VW Bugs — black and orange, in this case) was founded in 1984 and sends out Agents recognizable by the uniform short-sleeved white shirt, black pants and clip-on tie.
They offer in-store (at BestBuy locations or a GeekSquad storefront), on-line or on-site service, priced by the project.
Rent-a-Geek, meanwhile, based in Vernon, British Columbia and begun in 2000, focuses on small businesses and currently employs ten technicians, with plans to add 15 more by the end of the year. The company also offers a combination of in-store (usually same day service), on-site or remote services.
These companies are offering some small IT service providers an opportunity to align themselves with the organization in order to simplify their business model and make more money.
Prior to aligning himself with Nerds on Site, Steve Zavitz, now a POD Leader in Thunder Bay, Ontario, had his own business helping individuals and small businesses with computer problems. "By becoming a Nerd, I didn't have to reinvent the wheel and do all the stuff I was struggling to do on my own," said Zavitz. "Client acquisition is much easier." Zavitz estimates that he has more than doubled his income, compared to his solo attempt.
However, these companies haven't cornered the market. Traditional solution providers, too, say that emergency services can be a lucrative and business building offering -- both in terms of revenue and customer loyalty.
"We definitely get a lot people that call us up after they've tried to do something for themselves and have it a wall, and usually they are desperate," said Michael Cooch, CEO of Everon Technology Services, an IT managed services provider based in Boston, Mass. "There's an opportunity to build some pretty high-margin services."
Picking up a project
Many companies also need to bring in help when an IT project has gone off the rails. "We have seen a lot of failed IT projects that haven't been properly managed and expectations haven't been set forth properly," said Keith Schoolcraft, owner and president of aCoupleofGurus.com LLC, in Golden Valley, Minn. The company, which has ten employees and was founded in 2002, provides outsourced network support to small to mid-sized businesses.
"We take a calculated approach by looking at best practices, and having a discussion about why they bought the equipment and where they want to go with it," Schoolcraft said
Cadre Information Security, in Cincinnati, Ohio also rescues customers from others' mistakes, most clearly in the case of a Fortune 1000 customer that had been waiting four months for another IT consultant to get two firewalls installed. "They called to see if we could figure out what the other company was missing," said president Steve Snider. "It took the technician ten minutes to get them up and running, and the other consultant got the heave-ho. We see a lot of times where people take months and try to turn a simple project into a big bill for the customer."
When coming in mid-stream, solution providers also have an opportunity to help customers get more out of the software and hardware they have. "We have seen a lot of instances where people have put in a server, or even brought someone else to help them out with it, but they aren't aware of the potential of it," said Schoolcraft. "We try to look at the entire network and do a good evaluation."
Dig Deeper on MSP business model transformation