iSCSI storage expands remote data replication
iSCSI storage holds many benefits over Fibre Channel, when it comes to storage networking, as evidenced in this book excerpt from IP Storage Networking: Straight to the Core.
IP storage networking expands remote data replication
The distance and performance limitations of Fibre Channel switches primarily are the result of practical rather than technological barriers. Virtually all of the world's private and public networks now use IP as their communications protocol, so all other protocols, including Fibre Channel, must be converted to or encapsulated in IP packets for transmission across standard IP networks.
Beyond that, conventional Fibre Channel switches typically have none of the wide-area networking (WAN) facilities that are common in IP switches, such as large data transmission buffers, intelligent credit spoofing and data compression, which collectively improve long-distance network performance. Some of the new multiprotocol storage switches include all of those wide-area IP networking facilities and provide wire-speed protocol conversion between Fibre Channel and IP. Therefore, they can be used to front-end existing Fibre Channel switches or Fibre Channel end systems and link them via standard IP networks to remote locations that can be hundreds or even thousands of miles away.
With large data transmission buffers and intelligent credit spoofing, the multiprotocol switches can convince the Fibre Channel switches or end systems to forward chunks of data much larger than the amount that could be stored in their own buffers. The multiprotocol switches continue to issue credits until their own buffers are full, while the originating Fibre Channel devices suppose that the credits arrived from the remote site. Credit spoofing affects only the flow rate of the data and not the data itself or its end-to-end write-complete acknowledgments, so the integrity of the data never is compromised.
The added reach and performance of IP storage networking gives IT professionals more options for backup and consolidation. Data centers can back up each other, or a centralized backup data center can be established and shared among the primary data centers, as shown in Figure 10–1.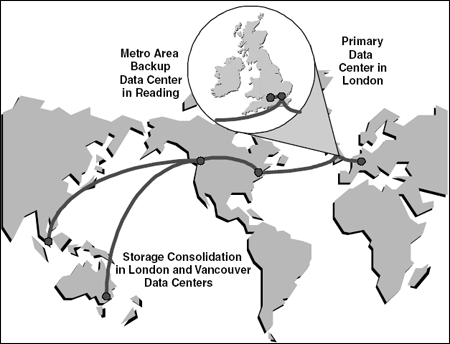 Figure 10-1: Remote data replication and centralized backup with IP storage switches.
Since storage data can be moved faster and farther over economical highspeed networks, it now is possible to back up more applications at greater distances from the areas that might be impacted by an earthquake or hurricane. During off-peak periods, the storage network can be used to transfer data to archival sites, where it can be copied to optical disks or tapes. Compared to physically transporting the media, storage networking offers a less labor-intensive, more secure, and more reliable approach. Centralizing the media transfer also may be more economical, as many sites can share the backup equipment and staff.
The above tip was excerpted from IP Storage Networking: Straight to the Core. Get additional book excerpts and information below.

Long-distance storage networking applications

Home: Introduction
IP storage networking expands remote data replication
IP storage data replication technology
Sizing link bandwidth for long-distance applications
Network latency effects on application performance
TCP effects on application performance

About the book: Whether you're a technical or business professional, IP Storage Networking: Straight to the Core will help you develop storage action plans that leverage innovation to maximize value on every dime you invest.
About the author: Gary Orenstein has been active in the IP storage networking industry since its inception with a career spanning multiple network storage companies and industry efforts. He was an initial governing board member of the Storage Networking Industry Association (SNIA) IP Storage Forum where he helped develop, promote, and deliver educational information furthering market growth. Gary is currently vice president of marketing at Compellent Technologies, a network storage company.