Manage
Learn to apply best practices and optimize your operations.
Windows Vista Upgrade Advisor tests your drivers
Windows Vista Upgrade Advisor tests crucial software drivers and peripherals for potential obstacles -- for example devices that are not Vista supported. Learn more about it in this chapter excerpt from "Windows Vista Secrets."

Are Your Drivers Capable of Vista?
After the core experiences test of your hardware, the Upgrade Advisor moves on to test the software drivers that are crucial for the various components of your system and peripherals that may be attached. Assuming that the PC you're testing has passed the basic compatibility test, you may find that the driver test poses challenging obstacles for you. There are three possible situations that the advisor will report to you about your drivers.
You may need to manually update certain drivers after Vista is installed.
Certain devices may simply not be supported by Vista at all.
Vista may simply support your devices with native Windows Vista drivers. In that case, you obviously won't need to do anything to make those drivers work with Vista.
We look at the other two cases in the sections that follow.
Drivers That Need Manual Updating
Drivers that need manual updating are updated versions of drivers that are compatible with Vista, but for some reason, Microsoft hasn't included them in the shipping version of Vista. That means Vista can't install the newer drivers. You'll have to find them and install them yourself—before you try to install Vista over XP.
Drivers you need to manually update are shown in the first section of Figure 3-3, with the exclamation-point-in-a-triangle icon. The details of which drivers are involved aren't shown in this figure.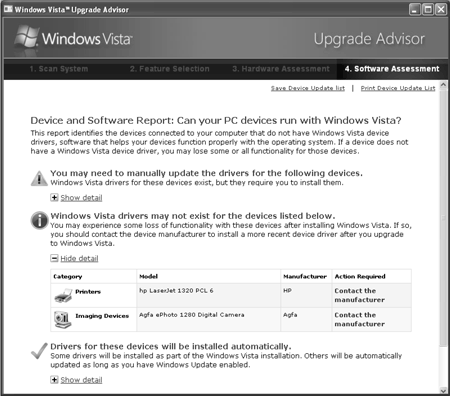 Figure 3-3: The Upgrade Advisor sorts your drivers into three categories—Vista-compatible drivers that you need to obtain and install yourself, drivers that are incompatible and have no newer version, and Vista-compatible drivers that Vista itself will install for you.
This may pose a dilemma for you. If Microsoft can't include the new drivers in Vista in such a way that it can install them for you, why does Microsoft think you'd like to search the Web for the right software and install it yourself?
If the advisor says that a particular driver you need may not exist, the first place to start your search—as with the drivers Microsoft says you must manually install—is the site of the hardware vendor. New drivers are released every day, so the one you need may have just come out.
If your search doesn't reveal an updated driver that specifically says it's Vista-compatible, your next step is to enter the world of tech-support hell. That's right, you'll need to find someone in the company who'll pay attention to your e-mail, phone call, or letter and tell you when a Vista-specific driver will be released.
Good luck on making that happen. Fortunately, major manufacturers tend to quickly release drivers that work with new Windows versions. That may mean drivers that come out at almost the same time as Vista or only two or three months later.
Smaller companies and those who no longer support a particular model of hardware, however, may never spend the time to develop a Vista-ready driver. In that case, you may have no choice but to purchase newer hardware that does have a driver you can use in Vista. In such a case, there's always the question about what to do with the hardware that won't work with Vista—eBay, anyone?

Windows Vista Secrets
Home: Introduction:Upgrading to Vista
1: Windows Vista Upgrade Advisor
2:Windows Vista Upgrade Advisor tests the essentials
3: Windows Vista Upgrade Advisor tests your drivers
4: Microsoft's little known legacy drivers

ABOUT THE BOOK:
Go beyond Microsoft's Help guide and discover the true secrets of Windows Vista that are essential to power users. Written by two of the most recognized Windows authorities, this resource provides you with numerous tips, tricks, and undocumented features that aren't available anywhere else. You'll find extensive screenshots, tables, and illustrations that clearly show how to achieve optimal performance, fix desktop problems, and take advantage of the robust features of Windows Vista.Purchase Windows Vista Secrets from Wiley
ABOUT THE AUTHOR:
Brian Livingston is the coauthor of 11 Windows Secrets books. He is also editorial director of the weekly Windows Secrets Newsletter and author of the Executive Tech column for Datamation. Paul Thurrott is the author of more than a dozen books as well as the news editor of Windows IT Pro Media and editor of the SuperSite for Windows. He writes a daily Windows newsletter called WinInfo Daily UPDATE.
Dig Deeper on Desktop management, sales and installation