Manage
Learn to apply best practices and optimize your operations.
Windows Vista Upgrade Advisor tests the essentials
Windows Vista Upgrade Advisor can tell you whether your customer's current PC can handle Vista's essential functions. Learn more about it in this excerpt from "Windows Vista Secrets."

Can Your PC Run the Core Experiences?
The Upgrade Advisor first tests a PC's hardware, looking for signs that the system has all the chops it needs to handle essential disk, memory, and CPU functions. As you can see in Figure 3-2, the Advisor will tell you whether these hardware features are up to the task of running Vista's core experiences, which are basic features.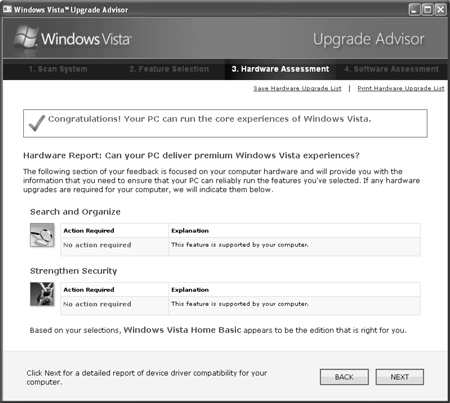 Figure 3-2: On most PCs built since 2005, the Upgrade Advisor will report that the hardware will run the core experiences of Vista. If a PC fails this test, don't even think about installing Vista on the machine without investing in more serious hardware upgrades.
If the Upgrade Advisor reports "No action required" for your hardware, you can breathe a sigh of relief. This all-clear doesn't necessarily mean that Vista will run acceptably fast on that particular machine, but it does mean that the advisor found no show-stoppers that would necessitate expenditures on your part for new PC components.
If you decide at this point to install Vista on this particular PC, and it proves to be too slow for you, you can still upgrade your RAM, video board, disk drive—possibly even swap out your motherboard for a new model—to improve the situation. You may not have that luxury if you install Vista on a PC that the Upgrade Advisor reports isn't capable of handling it.

Windows Vista Secrets
Home: Introduction:Upgrading to Vista
1: Windows Vista Upgrade Advisor
2: Windows Vista Upgrade Advisor tests the essentials
3: Windows Vista Upgrade Advisor tests your drivers
4: Microsoft's little known legacy drivers

ABOUT THE BOOK:
Go beyond Microsoft's Help guide and discover the true secrets of Windows Vista that are essential to power users. Written by two of the most recognized Windows authorities, this resource provides you with numerous tips, tricks, and undocumented features that aren't available anywhere else. You'll find extensive screenshots, tables, and illustrations that clearly show how to achieve optimal performance, fix desktop problems, and take advantage of the robust features of Windows Vista.Purchase Windows Vista Secrets from Wiley
ABOUT THE AUTHOR:
Brian Livingston is the coauthor of 11 Windows Secrets books. He is also editorial director of the weekly Windows Secrets Newsletter and author of the Executive Tech column for Datamation. Paul Thurrott is the author of more than a dozen books as well as the news editor of Windows IT Pro Media and editor of the SuperSite for Windows. He writes a daily Windows newsletter called WinInfo Daily UPDATE.
Dig Deeper on Desktop management, sales and installation