Manage
Learn to apply best practices and optimize your operations.
Windows Vista Upgrade Advisor
Run Windows Vista upgrade advisor on your customers' non-Vista PCs to learn what upgrading will entail. This excerpt from "Windows Vista Secrets" will help you prepare.

XP Users Can Try the Vista Upgrade Advisor
To help you determine whether a particular PC has the performance characteristics and the current hardware drivers it needs to work well with Vista, Microsoft provides the Vista Upgrade Advisor. We recommend that you run the Upgrade Advisor on your current, non-Vista PC, if only to be humbled when you see the many aspects of your system that may need you to shell out some bucks for complete Vista compatibility. Even if you never install Vista on an older PC, you may find that upgraded drivers are available that will give you better performance on your current system.
The Upgrade Advisor is a short and simple test that you access on Microsoft's web site. It runs only on PCs that have Windows XP installed. As Microsoft states on the site, "In general, PCs purchased within the last two years have a better chance of being able to run Windows Vista as-is or with affordable improvements to the system hardware." That leaves out a lot of PCs that were built when Windows 2000, Me, or 98 were the leading operating systems.
The Vista Upgrade Advisor
For those who want to upgrade a Windows XP machine to Vista, starting with the Vista Upgrade Advisor is a good first step.
Getting Ready for the Upgrade Advisor
When you start the Upgrade Advisor from Microsoft's site, a small application is downloaded to your PC. When you run this app, you see the dialog box shown in Figure 3-1.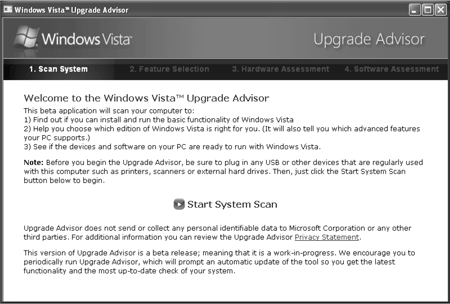 Figure 3-1: After you download and start the application, you'll be prompted to plug in any printers, scanners, external hard drives, or other devices that might need driver updates to work well with Vista.
The advisor is designed to test two different kinds of hardware compatibility:
Whether your hardware is fast enough and modern enough to run Vista satisfactorily
Whether your device drivers are compatible with Windows
The advisor's initial dialog box suggests that you plug in any devices you may want to use with Vista. It's easy to forget some, but this is absolutely the time you want them to be checked out. So here's a short list to jog your memory about gizmos you'll want to make sure are plugged in to your PC and powered on before you start the advisor's system scan:
Printers and scanners (make sure they're powered on, not just plugged in)
External hard disk drives, backup devices, and USB drives of all kinds
An extra USB hub that you seldom use—plug it in anyway to check it
Spare USB keyboards and mice that you may have forgotten
iPod or other MP3 player, even if you seldom synchronize it to your PC

Windows Vista Secrets
Home: Introduction:Upgrading to Vista
1: Windows Vista Upgrade Advisor
2: Windows Vista Upgrade Advisor tests the essentials
3: Windows Vista Upgrade Advisor tests your drivers
4: Microsoft's little known legacy drivers

ABOUT THE BOOK:
Go beyond Microsoft's Help guide and discover the true secrets of Windows Vista that are essential to power users. Written by two of the most recognized Windows authorities, this resource provides you with numerous tips, tricks, and undocumented features that aren't available anywhere else. You'll find extensive screenshots, tables, and illustrations that clearly show how to achieve optimal performance, fix desktop problems, and take advantage of the robust features of Windows Vista.Purchase Windows Vista Secrets from Wiley
ABOUT THE AUTHOR:
Brian Livingston is the coauthor of 11 Windows Secrets books. He is also editorial director of the weekly Windows Secrets Newsletter and author of the Executive Tech column for Datamation. Paul Thurrott is the author of more than a dozen books as well as the news editor of Windows IT Pro Media and editor of the SuperSite for Windows. He writes a daily Windows newsletter called WinInfo Daily UPDATE.
Dig Deeper on Desktop management, sales and installation