Sergey Nivens - Fotolia
Will digital whiteboards put partners in the black?
Channel partners may find a resurgent whiteboard market with large IT vendors making a splash, but they will need to get a handle on products' emerging functionality.
Whiteboards have long been part of the classroom, but recent interest from industry giants, such as Google, Cisco and Microsoft, may push the technology into the workplace. To take advantage of that potential, channel partners need to be aware of the devices' emerging functionality, as well as their limitations.
Traditional whiteboards required projectors to display images, but the new crop of digital whiteboards, sometimes called interactive whiteboards, are all-in-one devices that integrate touchscreen displays with audio and video conferencing capabilities. The digital whiteboards may be mounted on a wall or attached to a stationary or rolling stand. Users control input with their fingers, a stylus or a pen.
Whiteboards have been used to deliver content mainly in classrooms and training rooms, although they have also found a niche in corporate boardrooms, broadcasting studios and professional sports.
Whiteboard market: Enter the three industry giants
Recently, the market has been expanding. "In the last year or two, the whiteboard market dynamics shifted dynamically," said Joe Berger, collaboration practice director at World Wide Technology, a technology solution provider based in St. Louis. To wit, Cisco Spark Board, Google Jamboard and Microsoft Surface Hub are trying to usher in a new generation of whiteboards, and the technology goliaths are betting on a major whiteboard market transformation.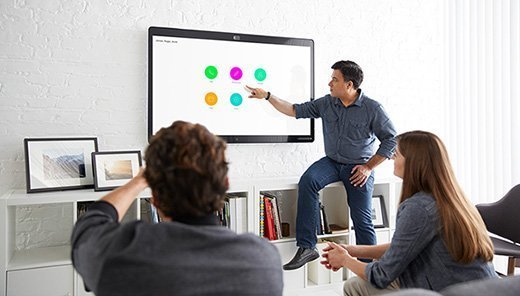 Corporate planning has been changing with the use of new tools like Slack that provide quick and easy collaboration functionality, and the next-generation whiteboards build on that change. These systems include ultra-high definition displays, cloud-based collaboration capabilities and built-in conferencing features. For instance, the Google Jamboard, which sells for $4,999, acts like a tablet, and lets multiple people, even remote employees, work together in G Suite.
In the last year or two, the whiteboard market dynamics shifted dynamically.

Joe Bergercollaboration practice director, World Wide Technology
These products are designed to stimulate conversation and brainstorming in a nimbler manner than legacy systems such as video conferencing systems, audio conferencing equipment and projectors. Traditionally, the participants using the legacy conferencing gear lacked the ability to collect notes and transform them into useful data.
The new systems are easy to use. "Anyone can walk up to Jamboard and use it," stated Nicky Parseghian, practice director at SADA Systems, a cloud consulting firm in Los Angeles. "No training is required." Employees can brainstorm, converse and jot down thoughts, and the data is captured in collaboration tools.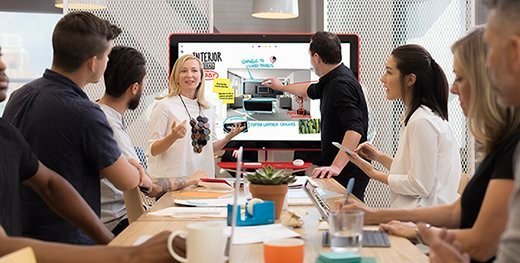 Some holes emerge
However, the emerging interactive products have limitations. At a low point of about $5,000 to a high of approximately $20,000 for an 84-inch Microsoft Surface Hub, the boards are expensive, so gaining management sign off for the purchase of multiple units can be difficult. Like most hardware, the margins are thin, comparable to what resellers see with Google Chromebooks, according to SADA Systems' Parseghian.
The digital whiteboards, themselves, present problems for today's teams. Currently, the whiteboards work with a small number of products, mainly the vendors' own collaboration solutions. If an organization had Office 365 users as well as G Suite, the two would find it difficult to share information.
For resellers, they need to determine whom to approach. The traditional IT manager may not see the need for these systems. Typically, resellers have not had contact with other potential buyers, like the marketing team or the audio- visual manager, and will need to foster such relationships to sell digital whiteboards.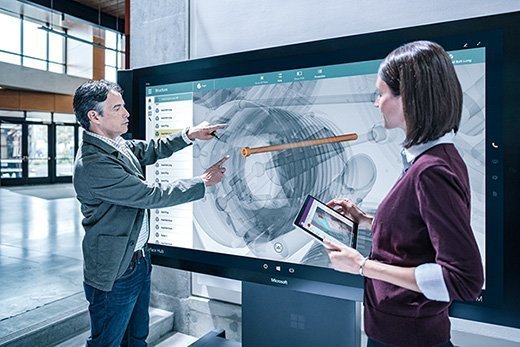 Looking on the bright side
But resellers can benefit from pushing these devices. The systems have recurring revenue streams: Google, for example, charges an annual $600 management and support fee. Cisco Spark Board, meanwhile, requires customers to pay a monthly $199 subscription fee for the product's associated cloud service, software updates and help desk.
Also, the suppliers are making their APIs available to third parties, including partners, so they can integrate different items and even develop custom applications. The ecosystems are in a fledgling state, so few turnkey solutions are available now. Longer term, applications are expected to be developed in a manner seen with mobile phones. For instance, a solution may enable a digital marketing agency to automate the process of creating a company newsletter or a monthly magazine.
To date, the whiteboard market has been limited, but the emergence of new tools from top vendors may change those dynamics. For resellers to succeed, they need to understand what digital whiteboards do and do not offer and plan appropriately.
Next Steps
Read more about resurgent conference room systems
Gain insight into the role of digital annotation as a whiteboard feature
Learn about use cases for digital whiteboards