Why a SOA methodology should include service-oriented analysis
This excerpt from "SOA: Principles of Service Design" discusses the importance of service-oriented analysis and service modeling.
To effectively deliver standardized services in support of building a service inventory, it is recommended that organizations adopt a SOA methodology and consisting of structured analysis and design processes.
Within SOA projects, these processes are centered around the accurate expression of business logic through technology, which requires that business analysts play a more active role in defining the conceptual design of solution logic. This guarantees a higher degree of alignment between the documented business models and their implementation as services. Agnostic business services especially benefit from hands-on involvement of business subject matter experts, as the improved accuracy of their business representation increases their overall longevity once deployed.
Service-oriented analysis establishes a formal analysis process completed jointly by business analysts and technology architects. Service modeling, a sub-process of service- oriented analysis, produces conceptual service definitions called service candidates. Iterations through the service-oriented analysis and service modeling processes result in the gradual creation of a collection of service candidates documented as part of a service inventory blueprint.
While the collaborative relationship between business analysts and architects depicted at the lower half of Figure 3.24 may not be unique to an SOA project, the nature and scope of the analysis process is.
Figure 3.24 A look at how the collaboration between business analysts and technology architects changes with SOA projects.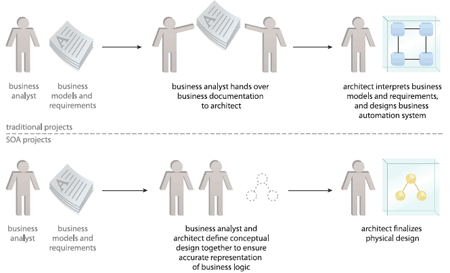 "Service-Oriented Architecture: Concepts, Technology, and Design"
Descriptions of first and second-generation Web services technologies, service models, service layers and variations of SOA, as well as a mainstream SOA methodology providing step-by-step process descriptions for service-oriented analysis, service modeling, and service-oriented design are explained in detail in the book Service-Oriented Architecture: Concepts, Technology, and Design. SOA is fundamental to all of the content in the remaining chapters and therefore a solid understanding of the concepts behind its architectural model and technologies commonly used for its implementation is recommended.
SUMMARY OF KEY POINTS
The service-oriented computing platform is comprised of a distinct set of elements, each of which represents a specific aspect of service-oriented computing, and all of which are collectively applied to achieve its goals.
Service models are used to establish service layers by categorizing services based on the type of logic they encapsulate.
SOA represents an implementation-agnostic architectural model. However, Web services currently provide the foremost means of implementing services.
Use the following table of contents to navigate to chapter excerpts.


SOA: Principles of Service Design


Home: Service-oriented computing and SOA: Introduction


1: Design fundamentals: Design characteristics


2: Design fundamentals: Design principles


3: Design fundamentals: Design pattern and design pattern language


4: Design fundamentals: Design standard


5: Design fundamentals: Best practices


6: Introduction to service-oriented computing


7: Service oriented architecture


8: Service compositions


9: Understanding service oriented computing elements


10: Entity services


11: Web services and service oriented computing


12: Service inventory blueprints


13: Service-oriented analysis and service modeling


14: Service-oriented design


15: Goals and benefits of service-oriented computing


16: Increased intrinsic interoperability


17: Increased federation


18: Increased vendor diversification options


19: Increased business and technology domain alignment


20: Increased ROI


21: Increased organizational agility


22: Reduced IT burden

ABOUT THE BOOK:
SOA: Principles of Service Design is dedicated to service engineering and establishing service-orientation as a design paradigm. This hands-on manual for service design establishes concrete links between specific service-orientation design principles and the strategic goals and benefits associated with SOA. Purchase the book from Amazon.com.
ABOUT THE AUTHOR:
Thomas Erl is the world's top-selling SOA author, Series Editor of the "Prentice Hall Service-Oriented Computing Series and editor of The SOA Magazine. His books have become international bestsellers and have been formally endorsed by senior members of major software organizations such as IBM, Microsoft and Oracle. He is the founder of SOA Systems Inc., a company specializing in SOA training, certification and strategic consulting services with a vendor-agnostic focus.