Melpomene - Fotolia
Why TIC Gums chose a cloud computing disaster recovery plan
After a manufacturer recognized the risks in having its systems and data located onsite, the company implemented a cloud computing disaster recovery plan with the help of a channel partner.
When IT professionals Brian Hensley and Steve Mathur came aboard TIC Gums a little over two years ago, they joked that it was like taking a step back in time.
The manufacturer of food texturizer and stabilizer solutions for food and beverage companies had not invested much in infrastructure, recalled Hensley, IT director.
Originally founded in 1909, the company has four locations, three in Maryland and one in China, and about 200 employees. At the time he and Mathur joined TIC Gums, the company was running most of its applications on outdated hardware. Creating additional risk, the hardware resided in the manufacturing facility where a lot of heavy production was done, Hensley said.
"We identified when we came in that one of the biggest risks to IT was having our systems located in our manufacturing facility, because it didn't have all the redundancies a data center or cloud provider would have," he said. "One of our priorities was to ensure we had disaster recovery. We wanted to move our core business applications offsite and ensure we had failover available in case it was ever needed."
According to the IT Disaster Recovery Preparedness (DRP) Council's 2014 survey, business outages resulted in reported losses ranging from a few thousand dollars to millions of dollars, with nearly 20% of respondents indicating losses of more than $50,000 to over $5 million.
Developing a cloud computing disaster recovery plan
Organizations are more frequently turning to disaster recovery as a service (DRaaS) because of benefits such as immediate recovery, reliability, portability, security and high performance. Gartner estimates DRaaS is currently a $2.02 billion market and projects it will reach $3.73 billion by 2021.
The IT staff at TIC Gums knew they had to invest in refreshing their infrastructure while keeping the risk to the business as low as possible. IT soon decided the best approach was to implement a cloud computing disaster recovery plan.
However, that wasn't going to be easy, Hensley noted, because most of the company's business apps were intertwined. "The analogy I'd use is moving a wedding cake from one table to another and hoping it doesn't fall," he said. "That's the same idea with all of our applications. ... We had a lot of intermingling of unrelated applications on the same virtual machine."
We identified when we came in that one of the biggest risks is having all IT shut down, because it didn't have all the redundancies in a data center or cloud where we could [do] backups.

Brian HensleyIT director, TIC Gums
Hensley wanted to have the apps decoupled from one another and each on its own server. The problem was there wasn't time or space to allow for this. Additionally, moving everything at once as opposed to one server at a time becomes risky because interdependencies could cause something to break, he said. Among the business apps are an ERP system, an app that manages nutritional information, a system that manages quality assurance and a number of custom-built apps.
The IT team evaluated a number of IT providers and approaches, including hyper-convergence, and ultimately partnered with Expedient, which proposed DRaaS.
Taking time to migrate
Using a cloud and infrastructure provider meant getting all the space TIC Gums needed to scale and the ability to get rid of outdated hardware, Hensley said. Expedient is "giving us the ability to scale and spend the time decoupling and fixing the challenges we're facing" with the interconnected apps.
Leveraging Expedient's On-Site Private Cloud offering also buys IT the time to "clean up," rearchitect and redeploy their apps over the next several months. "Then when we feel comfortable, we'll move to [Expedient's] offsite data center," he said.
Expedient is providing its on-site cloud inside TIC Gums, said John White, Expedient's vice president of product strategy. "The reason that was done was to handle the migration toward our cloud service," he said. Expedient's equipment will stay on site while TIC Gums transitions its apps and reduces its legacy systems and then will move the equipment out of their facility, he said. "We're replicating all of that to a site in Memphis," he added.
A public cloud model provides "the necessary security and segmentation [TIC Gums] needed at a cost-effective price," White explained. "It was the same amount of service at a lower cost since they're not using [disaster recovery] all the time." When a company like TIC Gums doesn't require physical segmentation of its data because of regulatory compliance, a public cloud works fine most of the time, he said.
Expedient built the on-premises environment with VMware's NSX as the software-defined network layer, White said. The NSX network "makes it look like a flat network between the two data centers," meaning TIC Gum and Expedient's. "That's what eases the failover from the primary site to the secondary."
Implementing DRaaS also means employees can continue to work remotely uninterrupted and have access to TIC Gum's virtual private network. If employees can't get on site or the company loses power, they can still log in and work. "If something happens to the building where we're currently storing all of our apps or power is lost and the generator cannot continue to support everything, we can failover to the disaster recovery site," White said.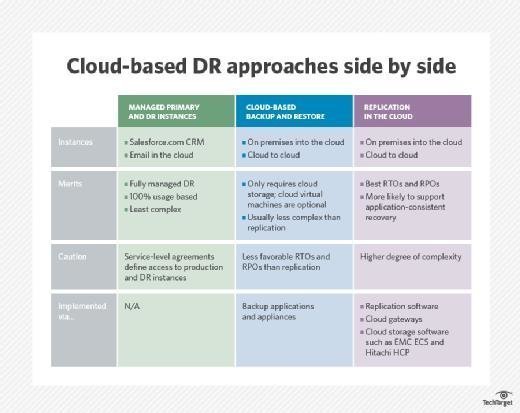 Freeing up the IT team
Once the decoupling and move to Expedient's data center is completed, the TIC Gums IT staff will be able to focus on projects and adding value to the business, not just focus on operational issues, Hensley said.
"We have the standard 'keep it running' mentality where ... as much as 75% of my staff's work is focused on IT operations," he said. "Expedient will be providing managed services, so they'll be patching and monitoring and that frees up [IT] to work on projects that add value to the business." That includes upgrading the phone system and moving to VoIP at some point, implementing Microsoft OneDrive and SharePoint, updating the ERP and other business applications, and investing in more web services technologies, he said.
Hensley can see the return on their investment coming soon. The IT team gets regular project requests from TIC Gums business units; currently, he has had to defer many of them because of system resource constraints. "But as soon as this infrastructure is in place and we have space, we can take on projects such as implementing software that can help to enhance order processing."
Dig Deeper on Storage Backup and Disaster Recovery Services