What you need to know about service-oriented design
This excerpt from "SOA: Principles of Service Design" defines the service-oriented design process and talks about how to use it effectively.
The service-oriented design process uses a set of predefined service candidates from the service inventory blueprint as a starting point from which they are shaped into actual physical service contracts.
When carrying out service-oriented design, a clear distinction is made between service candidates and services. The former represents a conceptual service that has not been implemented, whereas the latter refers to a physical service.
As shown in Figure 3.25, the traditional (non-standardized) means by which Web service contracts are generated results in services that continue to express the proprietary nature of what they encapsulate. Creating the Web service contract prior to development allows for standards to be applied so that the federated endpoints established by Web services are consistent and aligned. This "contract first" approach lies at the heart of service-oriented design and has inspired separate design processes for services based on different service models.
Figure 3.25 Unlike the popular process of deriving Web service contracts from existing components, SOA advocates a specific approach that encourages us to postpone development until after a custom designed, standardized contract is in place.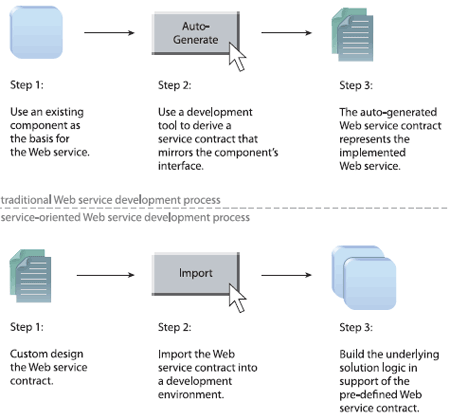 Use the following table of contents to navigate to chapter excerpts.


SOA: Principles of Service Design

Home: Service-oriented computing and SOA: Introduction


1: Design fundamentals: Design characteristics


2: Design fundamentals: Design principles


3: Design fundamentals: Design pattern and design pattern language


4: Design fundamentals: Design standard


5: Design fundamentals: Best practices


6: Introduction to service-oriented computing


7: Service oriented architecture


8: Service compositions


9: Understanding service oriented computing elements


10: Entity services


11: Web services and service oriented computing


12: Service inventory blueprints


13: Service-oriented analysis and service modeling


14: Service-oriented design


15: Goals and benefits of service-oriented computing


16: Increased intrinsic interoperability


17: Increased federation


18: Increased vendor diversification options


19: Increased business and technology domain alignment


20: Increased ROI


21: Increased organizational agility


22: Reduced IT burden

ABOUT THE BOOK:
SOA: Principles of Service Design is dedicated to service engineering and establishing service-orientation as a design paradigm. This hands-on manual for service design establishes concrete links between specific service-orientation design principles and the strategic goals and benefits associated with SOA. Purchase the book from Amazon.com.
ABOUT THE AUTHOR:
Thomas Erl is the world's top-selling SOA author, Series Editor of the "Prentice Hall Service-Oriented Computing Series and editor of The SOA Magazine. His books have become international bestsellers and have been formally endorsed by senior members of major software organizations such as IBM, Microsoft and Oracle. He is the founder of SOA Systems Inc., a company specializing in SOA training, certification and strategic consulting services with a vendor-agnostic focus.