Get started
Bring yourself up to speed with our introductory content.
What should channel partners look for in a vendor partner program?
Not all vendor partner programs are created alike. Learn why money, ease of entry and reseller support are essential components of a good vendor partner program.
Q: What should channel partners look for in a vendor partner program?
I'm sure you've heard WIFM – what's in it for me? The bottom line in any vendor partner program is basic business: how much money is the channel partner going to make? But the money, ease of entry and support from the vendor partner are all important in this scenario.

Download this free guide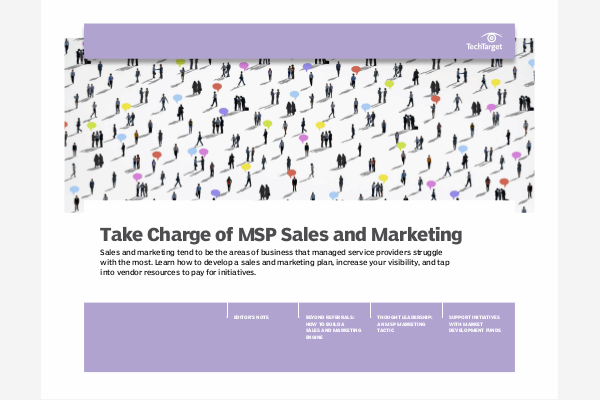 Expert Guide: Creating an MSP Sales and Marketing Plan
Sales and marketing tend to be the areas of business that managed service providers struggle with the most. Learn how to develop a sales and marketing plan, increase your visibility, and tap into vendor resources to pay for initiatives.
By submitting your personal information, you agree that TechTarget and its partners may contact you regarding relevant content, products and special offers.
You also agree that your personal information may be transferred and processed in the United States, and that you have read and agree to the Terms of Use and the Privacy Policy.
I'll start with money. That equals margin, the percentage of discounts the channel partner will actually get, referral fees and how the financial aspects of the program are structured.
Meet the expert
Angela Vines is co-founder and vice president for partner services at ServiceKey, an independent provider of hardware service and maintenance for mid-range servers, networking and storage equipment based in Norcross, Ga. She has 18 years of channel development and management experience with hardware and services. Download her entire podcast on vendor partner programs.
And then there's ease of entry. How easy is it to do business with this vendor? From the channel partner's perspective, you want it to be as simple as possible.
Unfortunately some vendors have created hurdles for entry. For example, they require the channel partner to commit to volume requirements or pay for enrolling in the program. IBM proved back in the early 1980s that volume requirements can be a negative. IBM had a 92% share of the PC market, and today they aren't even a player. This is a result of IBM putting volume requirements on their channel partners, and the partners had to invest in inventory. They had more inventory than they could actually sell. So this is a problem.
The next aspect is the support. How is the vendor partner going to support the channel partner? What training, marketing support or even a dedicated program manager will they provide to ensure a successful launch when the program's actually established?
Return to the vendor partner programs FAQ guide and read the rest of Angela's expert responses.
Dig Deeper on How to Sell Technology in the IT Channel