Get started
Bring yourself up to speed with our introductory content.
What are the popular pricing models for managed services providers?
The most popular pricing models for managed service providers include the monitoring-only, per-device, per-user, tiered and all-you-can-eat models. Learn about the advantages and disadvantages of each model and how to develop your sales presentation accordingly.
What are the popular pricing models for managed services providers?
The most popular pricing models managed service providers (MSPs) are using today include:
Monitoring only
Per device
Per user
Tiered
Sold in small and medium-sized businesses (SMB), as well as mid and enterprise environments, the monitoring only pricing model provides network monitoring and alerting services by the MSP, the mid or enterprise customer's in-house IT staff or both.

Download this free guide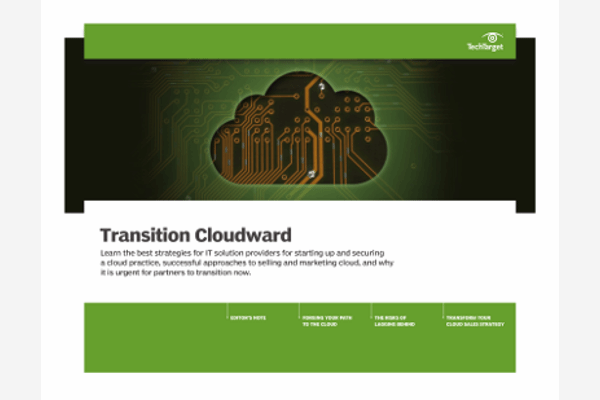 Could Securing Your Channel Business Be Easier? We Can Help.
Download our latest guide to the top strategies solution providers can leverage for starting up and securing a cloud practice, successful approaches to selling and marketing cloud, and why it is urgent for partners to transition now.
In this scenario, several different service levels can be employed. For example, an SMB-focused offering that provides operating system and software application patch management, antivirus and antispam updates, disk optimization and backup monitoring for a flat fee per month allows the MSP to bill for additional remediation activities identified through monitoring. A mid/enterprise service level offering forwards all alerts to the customer's in-house IT staff only and allows MSPs to address and perform all incident resolution. Another service level may be where the MSP participates in basic incident resolution or even more advanced support.
The per-device pricing model is fairly simple and many MSPs utilize it primarily for this reason. The premise is to develop a flat fee for each type of device that is supported in a customer environment. For instance, a basic per-device pricing model might designate a flat fee of $69 per desktop, $299 per server, $29 per network printer and $99 per managed network.
The benefits of this pricing model are that it is very easy to quote and illustrate costs for prospects and it is also easy for the MSP to modify the monthly service fee as the customer adds additional devices.
Something to think about when evaluating this model is that it can lend itself to selling managed services based more upon price rather than benefit. The experienced MSP will realize this and will modify their sales presentation accordingly.
The per-user pricing model is similar to the per-device pricing model, with the difference being that the flat fee is billed per end user per month and covers support for all devices used by each end user. This may entail supporting an office PC, laptop, PDA or smartphone, home PC and connectivity, and communication from hotels and kiosks while traveling.
The tiered pricing model may be the most popular among MSPs. The premise is to build several bundled packages of services with each increasingly more expensive package providing more services to the customer.
For instance, a "bronze" desktop managed services package may include basic phone and remote support, patch management and virus and adware removal for an entry-level price. Bumping up to the higher priced "silver" desktop managed services package may include on-site visits, and the "gold" package may include emergency after-hours support (being the highest-priced package).
The all-you-can-eat pricing model is extremely flexible and includes all remote support, on-site support and lab or bench time for an entire organization for a flat fee per month. It also may provide 24/7/365 support or services during certain hours and/or days of the month only with additional charges billed for services rendered outside of those times. The primary goal is to provide the customer with the ability to realistically budget their IT support costs over a year's time and experience no extraordinary billing fluctuations.
Return to the managed services FAQ guide and read the rest of Erick's expert responses.
About the author
Managed services expert Erick Simpson is the vice president and CIO of Intelligent Enterprise and MSP University. An acclaimed speaker and trainer, Erick has authored The Guide to a Successful Managed Services Practice: What Every SMB IT Service Provider Should Know and MSP University's The Best I.T. Sales & Marketing Book Ever! Erick's prior experience includes overseeing the design, development and implementation of enterprise-level help desks and call centers for Fortune 1000 organizations.
Dig Deeper on Managed service provider (MSP) business model