patpitchaya - Fotolia
What are the challenges of managed communications services?
Of all the managed services types that solution providers can potentially offer, managed communications has proven to be among the knottiest. Learn about the difficulties involved in delivering them and evaluating prospective partnerships.
Managed communications, which comprises email, unified communications and VoIP (Voice over IP), is one of the more challenging managed services. Managed services providers (MSPs) say it's challenging for a myriad of reasons, and a recent survey revealed fewer solution providers offer managed communications services than other types of managed services, most notably managed data center, managed network, managed infrastructure and managed security.
In the 2014 North American Channel Directions Survey, 48% of the respondents who said they offer managed services are currently offering managed communications services. This year 21% are planning to add it. While 25% of respondents said that managed communications was one of their top three most successful managed services, 20% said it was one of their top three most challenging services.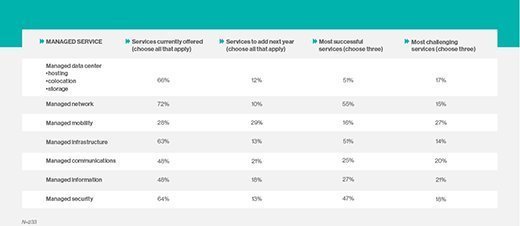 "Managed communications has proven more problematic to offer and successfully [and] efficiently support" than other managed services, said Frank Hannaford, solution architect and project manager at CoreTech, an MSP offering telephony services to small and medium-sized businesses (SMBs) in parts of Nebraska and Iowa. "Ensuring Quality of Service [Qos] is complicated, and vendors [and] suppliers in the market do not seem to be as mature or responsive as others."
For most businesses, communication systems are mission-critical and require hiring specialists to actively manage them, Hannaford noted. He added that vendors and suppliers in the market are not fully staffed and prepared to meet this need.
Where do managed communications fit in?
Heather Selbert, vice president of operations at WAN solutions provider American Telesis, said the company does not offer managed communications services. "We don't feel we have [an] adequate support infrastructure to provide these services with excellence," she said. Adding a VoIP offering "takes us into that voice world that we have intentionally avoided for 20-plus years."
Although she said American Telesis has lost customers because it does not offer a fully integrated communications platform, the company is sticking to its decision. "After careful and sometimes heated evaluation, the costs and benefits still have not led us down the voice/VoIP path." In addition to support concerns, she said the margins for voice offerings continue to fall. "Also, supporting VoIP on the various hardware platforms is more complex than TDM (Time Division Multiplexing) voice once was," Selbert noted. "So our internal support costs would increase for a product that will save some data customers but won't necessarily drive a lot of revenue on its own."
Going forward, the managed services she sees American Telesis adding will lean more toward IT than communications/VoIP.
While traditional telephony today is complex enough, mobile and VoIP... communications have introduced a whole new level of complexity.

Frank Hannafordsolution architect and project manager, CoreTech
But not everyone regards the challenges as daunting. The Intelligence Group, an MSP serving SMBs, is about to start offering cloud-based VoIP and unified communications to complement the third-party CRM, accounting and e-commerce software it offers. The company is currently in the process of identifying a suitable product and partner, said CEO Joseph Wong. One cloud vendor the company met with offered to make outbound sales calls to schedule appointments on The Intelligence Group's behalf, he said. If The Intelligence Group partners with this vendor, it will be a different type of partnership for them, he said, since the company currently does all of its own marketing, prospecting and sales.
Corporate Technology Group, a Montana-based value-added reseller, provides voice and collaboration systems and manages email with appliances or the cloud services it sells. Using services and appliances that provide data loss prevention for outbound email is key, particularly in industries such as healthcare, said Gordon Lemon, account manager and technology advisor at Corporate Technology Group.
"Voice and collaboration systems are so stateful that we do not see a demand for management," Lemon said, referring to the fact that the computer or program keeps track of the state of interaction. Corporate Technology Group does resell, install and implement voice and collaboration systems but provides those services only "in a reactive manner," which is all that they see their clients' voice and collaboration systems needing, he said.
Choosing your managed communications partners
For CoreTech, the problem with trying to manage a customer's communications is that the infrastructure requirements for global communications are complex, said Hannaford. The complexity is due to a large variety of products and services delivered by a wide range of providers. "While traditional telephony today is complex enough, mobile and VoIP … communications have introduced a whole new level of complexity."
Some of those parts, players and services are mature, proven and reliable, but some are not, he added. "There is no single 'manager' of all of it who you can, for example, get a guarantee of QoS from or an SLA [service-level agreement] for support." For managed services providers, that means their ability to meet customer expectations and manage the environment is somewhat limited, he said.
"All of this makes providing managed communications as a service much more difficult than traditional IT-related services,'' Hannaford said.
Wong concurs that the biggest challenge for MSPs when it comes to offering managed communications -- as well as other managed services -- is finding the right product and company to partner with, and one that has very good sales and marketing training. "It's not easy gathering relevant info to make a decision. Once a partnership is formed, the initial months are very critical for MSPs to embrace the new product and gain sales," he said. "In our experience, some vendors we work with are better than others in communications and showing genuine care in the success of new MSP partners. It builds loyalty, as well."
Selbert, too, said selecting partners that are committed to staying the course and helping MSPs grow their business is difficult. "Unfortunately, experience shows that companies in this space come and go quickly," she said. "We have been in business for more than 20 years, and we look for partners that have similar long-term commitments, not just the desire to start up and sell."
She advises companies to do their due diligence by testing a product in their own lab and then with staff. "Our best partners have come from those we first used for our own infrastructure. Experiencing the actual product tells you far more than a product brochure or sales rep can."
"Make sure the vendors [and] suppliers of services you want to offer as 'managed' can deliver what you and your clients need," Hannaford said. Furthermore, ensure that a managed communications service agreement clearly spells out what clients can expect and any limits on what you are delivering.
"[Managed communications] is so different than traditional IT-type managed service that some real education is called for," he said.
Dig Deeper on Voice and unified communications