Virtualizing the desktop
What is desktop virtualization? Find out how desktop virtualization will free up your IT department and add flexiblity that wasn't previously realized.
IT Channel takeaway: What is desktop virtualization? Find out how desktop virtualization will free up your IT department and add flexiblity that wasn't previously realized. With Brian Carter, director, strategic communications, Ardence Inc.

Question: Desktop virtualization has emerged as a distinctly separate animal from storage and server virtualization. Can you explain what exactly it is, and how it would change computing?

Download this free guide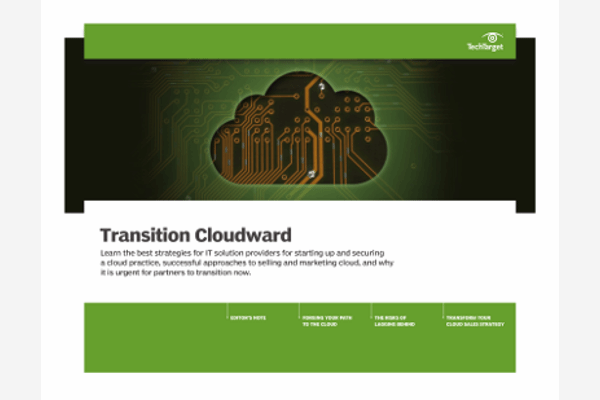 Could Securing Your Channel Business Be Easier? We Can Help.
Download our latest guide to the top strategies solution providers can leverage for starting up and securing a cloud practice, successful approaches to selling and marketing cloud, and why it is urgent for partners to transition now.
By submitting your personal information, you agree that TechTarget and its partners may contact you regarding relevant content, products and special offers.
You also agree that your personal information may be transferred and processed in the United States, and that you have read and agree to the Terms of Use and the Privacy Policy.
Carter: A virtualized desktop has no permanent state – no software of any kind (operating system or applications) is pre-loaded and no software is permanently installed. Instead, operating systems and applications are streamed to the desktop on-demand from centralized storage (SAN, NAS etc.). For example, a virtualized desktop can run a Windows XP OS/App stack for one session and upon re-boot run a Windows 2000 OS or a Linux OS. This technology, which delivers a full PC experience (this is not thin client; not application streaming; not blade PCs) without overloading the network, is available today and is deployed worldwide. Desktop virtualization's agility enables IT to be responsive to the business in a way that previously has not been possible.
Question: Some folks are talking about the end of the operating system as we know it. Will the change be that fundamental?
Carter: The fundamental change is that operating systems are not installed at the desktop, but rather streamed on-demand from the network. This capability adds tremendous flexibility for IT and for users. IT manages the complete architecture centrally and has far fewer images to manage. Users get unmatched flexibility. Consider an enterprise's rollout of Microsoft's Vista operating system from XP or Windows 2000. IT can test and build a Vista image and then add it to the network options. If, for some reason, the Vista image is causing some glitches that were not discovered in testing, users can simply reboot and select their XP or Windows 2000 image and continue to be productive while IT solves the challenges.
Question: In what way, then, should a typical IT manager prepare his or her network for a virtualized desktop environment?
Carter: The technology that enables OS/application streaming performs optimally with 100MB connectivity at the desktop and Gigabit at the switch. Common desktop hardware (NIC, video card etc) is preferable, but not essential. Because processing takes place at the desktop, a minimum of 512K RAM is required and 1G is recommended.
This 3 Questions originally appeared in a weekly report from IT Business Channel.
Dig Deeper on Virtualization Technology and Services