peshkova - Fotolia
Vendors adapt to the demands of IT services companies
The growing market for IT services has compelled vendors such as Dell EMC and Cisco to rethink their traditional partner programs, which previously focused on reselling products.
The impetus for vendors to adapt their traditional partner programs for IT services companies and service-oriented markets boils down to three things: opportunity, profitability and customer satisfaction.
Today, services such as upfront consulting, integration, customization and vertical market expertise are how channel firms will garner most of their revenue in the years ahead, said Carolyn April, senior director of industry analysis at CompTIA.
Much of this shift to services is being driven by the explosion of cloud-based offerings, including SaaS applications, April said. Consequently, IT services companies look now for resources and incentives that reward them for meeting metrics such as a customer's business outcome or undergoing training to gain skills in a particular vertical market, she said.
Vendors are responding to the IT services market shift with changes to their traditional partner programs to make them more services-oriented.
"For legacy vendors such as Dell, EMC, Cisco and others, the channel's push into services necessitates a change in the way they construct their partner programs,'' April said. "Incentives such as deal registration, discounts and rebates are less relevant when partners are no longer reselling large amounts of products."
Instead, vendors need to rework existing partner programs and find a balance between their different types of partners, she said. "This is not an easy exercise, and many vendor channel program architects are struggling to find the right mix of incentives and benefits."
But even newer vendors that don't carry the same burden of needing to support legacy systems and hardware also have challenges, she noted.
For legacy vendors such as Dell, EMC, Cisco and others, the channel's push into services necessitates a change in the way they construct their partner programs.

Carolyn Aprilsenior director of industry analysis, CompTIA
"It's also not a simple exercise for newcomer vendors and ISVs that are born in the cloud," April said. "Many of these companies have no experience at all with an indirect channel, only realizing they need one as their companies start to grow."
Many ISVs have experimented with referral-based compensation models, but "over time, that is unlikely to attract partners that are more interested in providing the ongoing services for end customers," she said. "So it remains a bit of trial and error for the cloud-based vendors."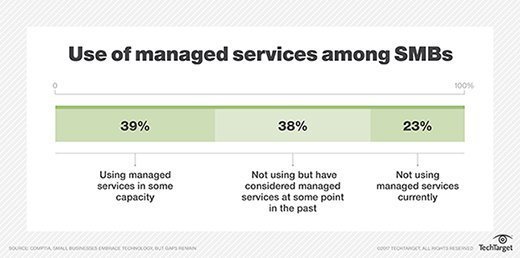 The appeal of selling services
NSI, a managed services provider (MSP) based in Naugatuck, Conn., is an example of a traditional firm that shifted to the services model, illustrating why vendors are recasting their channel programs to accommodate service-oriented partners. NSI was an IBM value-added reseller for many years and has transitioned to almost exclusively selling services now, said Tom McDonald, president.
"We realized there was opportunity for us" in selling maintenance contracts on hardware. The recession in 2007 "forced us into being an MSP full throttle. That left us with very little choice ... if we wanted to survive," he said.
NSI provides a per user, fixed fee, all-inclusive managed IT support offering to small and medium-sized businesses in the Connecticut area. The service includes onsite and remote monitoring management and project work. "It's really a white-glove [service] that we sell to the business owner or finance person who understands the value to their business,'' McDonald said.
NSI's main service provider partners are distributor Ingram Micro, professional services automation vendor ConnectWise and IT management platform provider Continuum Managed Services.
These partners make it easier to transact business with big vendors like Microsoft, he said. They also provide conferences and education around business operations, best practices, and "a whole ecosystem of partners that make additional add-on pieces of software or tools that help you drive out inefficiencies in your business," McDonald said. This is valuable, he added, because IT services companies such as MSPs are always trying to contain costs and create more efficiencies.
"You want to be able to service more customers and grow that revenue and maintain your expenses," he said. "It would be a terrible [business] model if every time I added a new client I had to add a new employee. We want to make our people better, faster [and] stronger, and we want to give them tools ... to make their jobs easier and service customers in a better manner."
How are legacy vendors transitioning?
The combined Dell EMC launched its integrated partner program last February after Dell's $58 billion acquisition of EMC in September 2016, featuring a strong emphasis on services.
"Building a services conversation around our technologies increases our partners' ability to grow their profitability," said Erica Lambert, vice president of global channel and alliances services sales at Dell EMC. "Not only do they earn margins on the services they resell, they also earn significant rebates."
Selling services drives more product sales, which adds to a partner's profitability, she noted. "It's a continuous cycle of profitability."
The goal of Dell EMC Services is to power the rapid adoption and optimization of Dell EMC technologies, Lambert said. "This is very important to our partners, because they know that happy customers buy more."
Dell EMC partners have a choice on how they deliver service offerings to their customers: They can resell services from the Dell EMC portfolio or become authorized to deliver their own. "This is not an either-or situation; it's most often a both,'' she said.
Partners that resell services have access to aggressive services rebates -- up to a 1% additional rebate on everything they sell if they reach targeted services penetration rates, according to Lambert. Services revenue counts toward Dell EMC Partner Program tier attainment, which enables partners to receive additional benefits as they move up the tiers.
IT services companies that become authorized to deliver their own services have access to the same training and deployment tools as Dell EMC delivery professionals. "This access is critical to enabling our partners to deliver outstanding customer service, which is beneficial to everyone," she added.
This model is something partners "are pushing us to do more," she noted. "Services is a unique value-driver for our partners, as it adds to their differentiation in the marketplace. They are the ones asking us to make it easier to add services to their deals and help them grow their profitability."
Services revenue through the Dell EMC channel is up 14% year to date, Lambert noted. She said the areas that are seeing greatest growth are Dell EMC's midrange storage and converged infrastructure offerings, she said.
The strategy at Cisco is to move 50% of revenue to a software and services model by 2020, so there was impetus to bring partners along as they transition, said Caralyn Brace, vice president of the Americas enterprise, Cisco Services.
Cisco's strategy began two to three years ago with the launch of Cisco's Lifecycle Advisor Program and formation of the Customer Success organization, which provides support to partners as they build out their customer success practices. The focus of both is on "driving loyalty and delivering value after the initial point of sale," Brace said.
"Partners who invest and demonstrate these capabilities will be rewarded for their performance across the lifecycle," she said. "We are also encouraging partners to sell lifecycle capabilities, whether it is professional or managed services, based on their business and how they want to build out those capabilities."
The key benefit with IT services companies offering their services and Cisco's services together is that they work in tandem to drive business outcomes for customers. "It's a mutually beneficial partnership,'' she said.
Cisco has increased funding for the Lifecycle Advisor Program since its launch, and the goal for fiscal year 2018 is to double the number of partners that participate in it, she said.
Partner response, Brace said, has been "overwhelmingly positive."