Manage
Learn to apply best practices and optimize your operations.
Upgrading to energy-efficient servers
This chapter excerpt has information on consolidating servers, using power management tools and choosing energy-efficient servers and power supplies.
When you plan to green your datacenter, it would be nice if you could do it in one fell swoop. But, realistically, that's not going to happen. You can't really take down your entire system and replace it from scratch.
It won't work for a couple reasons. First, the cost would be too prohibitive. The budget just probably won't be there for so much expensive equipment. Second, there's the issue of workflow. Can anyone really envision being dark for the amount of time it would take to turn everything off and install new equipment? In most cases, when a new server is installed, it has to be hot-swapped in, so that there isn't even a fraction of a second of downtime.
So what you'll wind up doing is replacing your equipment with green alternatives as you would normally replace servers and storage units. When you do design your green datacenter, there are some issues to keep in mind and some practices you should follow.
Consolidation
The first place to start with any datacenter greening project is to consolidate servers. In some cases, you might find servers that you don't even need and you can just turn them off. Between 10 and 30 percent of servers aren't even being used and could be deactivated.
NOTE: If you take one physical server out of service, you'll save about US$560 in yearly electrical costs (that's assuming 8 cents per kWh).
As soon as unused servers have been taken out, the next step is to consider consolidation. Many servers are underused, in terms of their processing power, as Figure 11-4 shows. Most physical servers run at a maximum of 15 percent.
Move as many server-based applications as you can to a virtual machine. A virtual machine is simply a software server installed on a physical server. You can put a number of virtual machines onto a physical server. This will result in a sharp drop in the number of physical servers in your datacenter. The servers that take on the additional roles will be more efficient in terms of their utilization levels.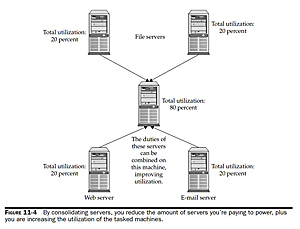 New Replacement Policies
The biggest place where you will see cost savings, power reduction, and cooling reduction is in server consolidation. It's a no-brainer—the less hardware you have, the less consumption will occur. When you replace servers, keep these guidelines in mind:
Replace two or more old servers with a two-way server or dual-core, single-processor server.


Replace old servers with a blade based on a low-voltage or mid-voltage processor.


Replace dual-processor servers with a single, dual-core processor.


Replace four-way servers with two-way, dual-core servers.



Use Power Management Features

It seems obvious, but some IT managers don't get it: Use your equipment's power management tools. Although electricity usage is reasonably constant, the IT load swings up and down according to the needs of the system. It can be as much as a factor of three.

By using your equipment's power management functions and turning off unused servers, you can cut datacenter energy usage by 20 percent. But it's not because IT managers are dimwits—rather, they're focusing on uptime and performance. In reality, however, turning on power management features can improve overall reliability and uptime because it reduces the stress on datacenter power and cooling systems.

NOTE: Experiment with your system, however, before turning on any power management features. In some systems running Linux, for example, waking up an idle server can cause unexpected behavior.

Get Energy-Efficient Servers

As you upgrade to new equipment, look for energy-efficient servers. They're using less power than before, and they'll probably only get more efficient as new products are introduced.

The first generation of multicore chips resulted in huge reductions in power consumption. For instance, the Intel Xeon 5100 delivered twice as much performance with a 40 percent drop in power usage.

Use Energy-Efficient Power Supplies

Probably the biggest wastes of power in the datacenter are the power supplies. Inefficient units tend to ship with servers, and they aren't really selected based on how the server is configured.

Inefficient power supplies can waste almost half of the power before it gets to the server. Further, every wasted watt is turned into heat, which then requires at least another watt of power to cool.

Look for power supplies that achieve 80 percent or higher efficiency, even at 20 percent load. They cost more, as much of this type of equipment does, but they cost less to use. We'll talk about power supplies later in this chapter.

Talk to Your Facilities Manager

The IT department might keep scrupulous records and track the performance of its equipment, but most IT managers don't see the electrical bill. The facilities group does.

In order to truly understand how much power you're using (and costing the company), pick up the phone and punch in the facilities manager's extension. You might make his day. At the very least, open some communications with the facilities manager so that he knows that you are trying to address the power usage problem.

NOTE: This disconnect is also affecting how vendors develop equipment. Often, vendors just work on their one piece of equipment and don't worry about how their power needs will affect the rest of the datacenter.

Refer to the Standards

If you're not sure which equipment to buy and you don't have the time, patience, or energy to sit down with product brochures and data sheets, you can still make wise procurement decisions.

A number of standards are out there that you can refer to. For instance, the 80 Plus certification program was initiated by electric utilities, and it names power supplies that achieve 80 percent efficiency at load levels of 20, 50, and 100 percent.

Energy Star is most commonly affiliated with desktop machines, but there is an effort underway to extend certifications to servers. Certainly, if you purchase a server in Europe, it will have to be RoHS and IEEE compliant. It's likely that vendors would tout that feature in other parts of the world, should their servers be so certified.

Ask for It

Remember 15 years ago when fat-free food was all the rage? To make it taste better it was jacked up with extra sugar. Remember 5 years ago when the Atkins diet made it forbidden to eat carbs, but you could eat steak wrapped in bacon and smothered with cheese? In each case, industry responded to demand. Fifteen years ago store shelves were stocked with fat- free foods. Five years ago store shelves were stocked with low-carb food.

Industry only responded because customers wanted it. It's the same way for Green IT equipment. If you don't ask your vendors for it, they won't see the need to make it.


Datacenter Design and Redesign

Designing data centers for energy efficiency

Upgrading to energy-efficient servers

Benefits of using server consolidation for energy efficiency
Printed with permission from The McGraw-Hill Companies. Copyright 2008. Green IT: Reduce Your Information System's Environmental Impact While Adding to the Bottom Line by Toby J. Velte, Anthony T. Velte and Robert Elsenpeter. For more information about this title and other similar books, please visit http://www.mhprofessional.com.
Dig Deeper on Server management, sales and installation