Unified output readers for Snort
An introduction to Barnyard, a popular unified output reader.
Probably the most popular unified output (or spool) readers is Barnyard. Barnyard hasn't been updated in several years, but it continues to work. The following built-in help reveals some of its capabilities.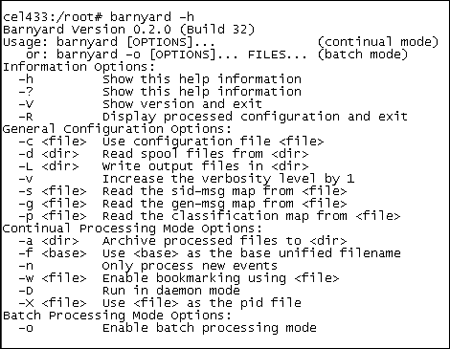 Just as the Syngress Snort book is the definitive reference on unified output, the same books are authoritative for Barnyard. The purpose of this article is to show how the unified output can be transformed into something more analyst-friendly.
Barnyard supports a variety of output plugins. If you read my previous article, then many of these will be familiar:
alert_fast
log_dump
alert_csv
alert_syslog
alert_syslog2
log_pcap
alert_acid_db
log_acid_db
sguil
First I'll demonstrate all of these except the ACID and Sguil plugins. I create a barnyard.conf file with the following:
config hostname: cel433
config interface: dc0
config filter: 

output alert_fast: alert_fast.by
output log_dump: log_dump.by
output alert_csv: /tmp/so/by/alert_csv.by
output alert_syslog
output alert_syslog2
output log_pcap: log_pcap.by

Next I test how Barnyard will process snort.alert.TIMESTAMP in batch mode using Barnyard's -R switch.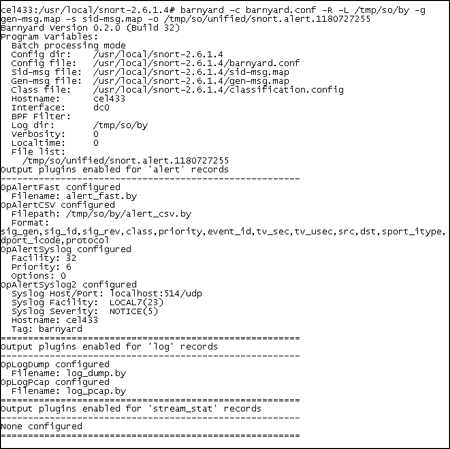 That looks good to me.

Working with unified output

Introduction
Examining unified output
Unified output readers
Barnyard processing alerts
Barnyard processing logs
Barnyard working with databases

About the author
Richard Bejtlich is founder of TaoSecurity, author of several books on network security monitoring, including Extrusion Detection: Security Monitoring for Internal Intrusions, and operator of the TaoSecurity blog.