AI in retail opens new business opportunity for channel firms
Channel partners with expertise in AI-powered retail technology are helping their customers transform shopping experiences and marketing strategies.
AI is hot in many vertical markets, and AI in retail is no exception.
AI-powered systems have become a game changer and enable channel partners to help their retail customers gain better insight into how and when to engage end customers and provide a better shopping experience.
A growing trend across numerous vertical industries, AI was listed as a top priority in 2017 for 30% of respondents in a study by media and advertising firm NewBase, an increase from 13% in 2016. While not specific to AI in retail, the study also found that almost a quarter, or 24%, of marketers worldwide said AI will be a priority in 2017. Just 18% felt the same way in 2016.
AI in retail: A more personalized experience
Retailers are utilizing AI systems to develop better personalization, grow their audiences and analyze unstructured data. For example, the outdoor and equipment apparel company The North Face is using an interactive online shopping experience powered by IBM Watson cognitive computing technology.
The system was developed using IBM Fluid's Expert Personal Shopper (XPS) software to create a more engaging, personalized and relevant shopping experience. XPS aims to help consumers discover and refine product selections based on their responses to a series of questions.
AI plays an integral role in enhancing marketing systems by feeding "very directly into many marketing functions and processes, including ROI and accountability, ad personalization, voice assistants and programmatic" approaches, according to the NewBase report.
"Personalization at scale is the holy grail," agreed Corinne Sklar, chief marketing officer at IBM consultancy Bluewolf. "By adding elements of personality insights or sentiment, touchpoints like email and web personalization can become contextually aware and can build on previous customer interactions," she said.
Companies that invest in AI-powered marketing will outperform their competitors in customer experience (CX), productivity and efficiency, leading to more ROI, Sklar maintained.
AI has also proved effective at analyzing unstructured data, or dark data, from social channels and other web interactions and providing "an unprecedented understanding of customer behavior," she noted. "These new insights empower organizations to have meaningful interactions and better engage customers. Bringing that pipeline into your segmentation is how you can provide the deeper elements of personalization and audience creation."
Sharpening retailers' marketing efforts
Digital consultancy Publicis Sapient -- formerly, SapientRazorfish -- partnered with Microsoft to help global cosmetics retailer Sephora integrate AI in its marketing systems. The goal was to create more intelligent and personalized CX and build more effective marketing campaigns. Publicis Sapient's Cosmos platform uses Microsoft Azure and its Cortana Intelligence Suite to glean information about a customer's purchasing history and profile information. Sephora can now notify customers by email, direct mail, text and mobile push notifications when their favorite products are in stock, on sale or if customers are near one of Sephora's retail stores.
Personalization at scale is the holy grail.

Corinne SklarChief marketing officer, Bluewolf
When customers display a combination of personality characteristics, affinities and have a certain tone in their communications with their sales rep, AI may reveal that a particular journey or offer will never work with that customer segment, Sklar said.
AI systems can help increase the ROI and efficiency of marketing efforts by revealing insights from unstructured data that would otherwise be invisible, she said. Those insights then power better personalization and segmentation to better speak to customers wherever they are in their journey.
AI systems also enable a deeper level of segmentation, so marketers can automatically create audiences for specific campaigns. "Marketers are using AI to combine all this data for insights on [the] next best journey, next best offer, next best product recommendation -- all of which can be integrated and automated at scale with a platform like Salesforce and then made visible to sales and service departments with the appropriate integrations," Sklar said. The systems are learning and improving with every interaction, she added.
AI is also opening new channels of customer engagement -- increasingly, SMS text, MMS text, home Alexa/Google and even cars, she noted. "We're seeing a convergence of AI driving personalized offers, AI driving automated bot interactions, IoT device connectedness, increased geofencing/location-based personalization -- all new channels for marketing cloud."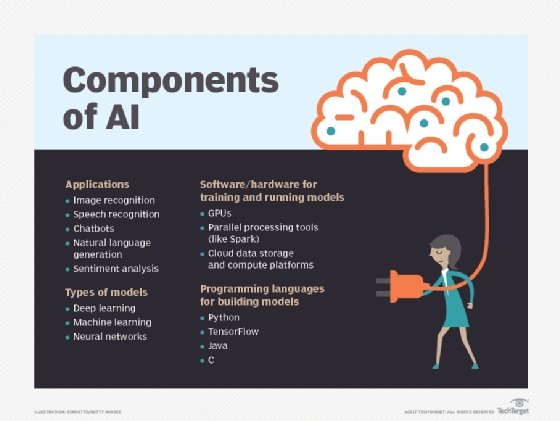 Automating the retail customer journey
Retailers are interested in automating the customer journey, said Rohit Adlakha, vice president and global head of automation at Wipro, an IT services company. Wipro's Holmes AI platform helps with functions such as onboarding customers, customer service and product management, he said.
"While rule-based RPAs [robotic process automations] help improve efficiency and accuracy, processes that can leverage natural language interaction and AI help enhance end-user experience," Adlakha said. Those processes also "free up the human worker to focus on more strategic work that will have a direct impact on business outcomes, such as customer loyalty."
For the channel, one of the challenges of addressing AI in retail has been investments in several siloed automation projects across technology and business functions, making centralized governance a challenge, Adlakha said.
"With an increasingly hybrid automation estate, integration across various technologies and measuring ROI are also major challenges," he said.
AI for marketers
The most likely areas of advancement for AI in retail include media platforms, marketplaces and consumer-focused online retailers, Sklar said. AI also helps with the ability to scale trackable engagements, marketing activities and sales activities into a single repository of insightful data.
AI is providing marketers with new tools to reinvent the way they interact with customers, Sklar said. These include chatbots, which will not just be part of a retailer's website but also "a powerful, ever-present tool to better engage customers." This means the bots will understand and answer complex questions and help shoppers, she said. Using AI, these interactions will be done via voice input because it's much more efficient.
Additional capabilities include AI search, which helps users find what they want based on their commands. With further signals, users can also receive AI-driven recommendations.
Dig Deeper on Benefits of artificial intelligence in the enterprise