Troubleshooting Windows 7 issues using online resources
This list of reputable online resources helps you quickly troubleshoot Windows 7 problems. You'll also find tips on using System Restore and System Recovery Options.
About the book:
This chapter excerpt on Troubleshooting and Recovering from Problems (download PDF) is taken from the book Microsoft Windows 7 Unleashed. This book covers key topics for solutions providers, including customizing Windows 7; monitoring, tuning and optimizing Windows performance; securing Windows 7; and using its power tools. Author Paul McFedries introduces new styles and techniques to troubleshoot Windows 7 and automate administration.
The Internet is home to an astonishingly wide range of information, but its forte has always been computer knowledge. Whatever problem you have, there's a good chance that someone out there has run into the same thing, knows how to fix it, and has posted the solution on a website or newsgroup, or would be willing to share it with you if asked. True, finding what you need is sometimes difficult, and you often can't be sure how accurate some of the solutions are. However, if you stick to the more reputable sites and if you get second opinions on solutions offered by complete strangers, you'll find the online world an excellent troubleshooting resource. Here's my list of favorite online resources:
Microsoft Product Support Services -- This is Microsoft's main online technical support site. Through this site, you can access frequently asked questions about Windows 7, see a list of known problems, download files, and send questions to Microsoft support personnel: support.microsoft.com/.
Microsoft Knowledge Base -- The Microsoft Product Support Services site has links that enable you to search the Microsoft Knowledge Base, which is a database of articles related to all Microsoft products including, of course, Windows 7. These articles provide you with information about Windows 7 and instructions on using Windows 7 features. But the most useful aspect of the Knowledge Base is for troubleshooting problems. Many of the articles were written by Microsoft support personnel after helping customers overcome problems. By searching for error codes or keywords, you can often get specific solutions to your problems.
Microsoft TechNet -- This Microsoft site is designed for IT professionals and power users. It contains a huge number of articles on all Microsoft products. These articles give you technical content, program instructions, tips, scripts, downloads, and troubleshooting ideas: www.microsoft.com/technet/.
Windows Update -- Check this site for the latest device drivers, security patches, service packs, and other updates: windowsupdate.microsoft.com/.
Microsoft Security -- Check this site for the latest information on Microsoft security and privacy initiatives, particularly security patches: www.microsoft.com/security/.
Vendor websites -- All but the tiniest hardware and software vendors maintain websites with customer support sections that you can peruse for upgrades, patches, workarounds, frequently asked questions, and sometimes chat or bulletin board features.
Newsgroups -- There are computer-related newsgroups for hundreds of topics and products. Microsoft maintains its own newsgroups via the msnews.microsoft.com server (an account for which is automatically set up in Windows Mail), and Usenet has a huge list of groups in the alt and comp hierarchies. Before asking a question in a newsgroup, be sure to search Google Groups to see whether your question has been answered in the past: groups.google.com/.
TIP
You can also access Microsoft's Windows 7 newsgroups via the Web: http://answers.microsoft.com/en-us/windows/default.aspx.
Recovering from a Problem
Ideally, solving a problem will require a specific tweak to the system: a Registry setting change, a driver upgrade, a program uninstall. But sometimes you need to take more of a "big picture" approach to revert your system to some previous state in the hope that you'll leap past the problem and get your system working again. Windows 7 offers three ways to try such an approach: last known good configuration, System Restore, and System Recovery Options (which you should use in that order). The next two sections discuss the first two tools, and I talk about the System Recovery Options in Chapter 23.
See "Recovering Using the System Recovery Options," p. 485.
Booting Using the Last Known Good Configuration
Each time Windows 7 starts successfully in Normal mode, the system makes a note of which control set -- the system's drivers and hardware configuration -- was used. Specifically, it enters a value in the following Registry key:
HKLMSYSTEMSelectLastKnownGood
For example, if this value is 1, it means that control set 1 was used to start Windows 7 successfully:
HKLMSYSTEMControlSet001
If you make driver or hardware changes and then find that the system won't start, you can tell Windows 7 to load using the control set that worked the last time. (That is, the control set that doesn't include your most recent hardware changes.) This is the last known good configuration, and the theory is that by using the previous working configuration, your system should start because it's bypassing the changes that caused the problem. Here's how to start Windows 7 using the last known good configuration:
1. Restart your computer.
2. At the Windows Boot Manager menu (refer to Chapter 4), press F8 to display the Advanced Boot Options menu.
3. Select the Last Known Good Configuration option.
Recovering Using System Restore
About the author:
Paul McFedries is the president of Logophilia Limited, a technical writing company, and has been writing computer books since 1991. McFedries is the author or coauthor of more than 60 books that have sold more than 3 million copies worldwide. He is also the proprietor of Wordspy.com, a website described as "the word lover's guide to new words," which tracks new words that become part of the English language.
The Last Known Good Configuration option is most useful when your computer won't start and you suspect that a hardware change is causing the problem. You might think that you can also use the last known good configuration if Windows 7 starts but is unstable, and you suspect a hardware change is causing the glitch. Unfortunately, that won't work because when you start Windows 7 successfully in Normal mode, the hardware change is added to the last known good configuration. To revert the system to a previous configuration when you can start Windows 7 successfully, you need to use the System Restore feature.
I showed you how to use System Restore to set restore points in Chapter 7. Remember, too, that Windows 7 creates automatic restore points each day and when you perform certain actions (such as installing an uncertified device driver).
See "Setting System Restore Points," p. 149.
To revert your system to a restore point, follow these steps:
1. Select Start, type restore, and then select System Restore in the search results. Windows 7 displays the System Restore dialog box.
2. The first System Restore dialog box (see Figure 21.10) offers two options:
Recommended Restore -- Activate this option to restore Windows 7 to the restore point shown (which is usually the most recent restore point). Skip to step 5.
Choose a Different Restore Point -- Activate this option to select from a list of restore points. Click Next and continue with step 3.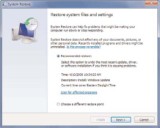 FIGURE 21.10 The initial System Restore window offers two restore options
3. If you don't see the restore point you want to use, click to activate the Show More Restore Points check box, which tells Windows 7 to display all the available restore points, as shown in Figure 21.11.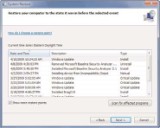 FIGURE 21.11 Use this dialog box to choose the restore point you want to revert to.
NOTE
By default, Windows 7 displays only the restore points from the previous 5 days. When you activate the Show More Restore Points check box, you tell Windows 7 to also show the restore points that are more than 5 days old.
4. Click the restore point you want to use. There are seven common types of restore points:
System -- A restore point that Windows 7 creates automatically. For example, the System Checkpoint is the restore point that Windows 7 creates each day or when you boot your computer.
Critical Update -- A restore point set prior to installing an important update.
Install -- A restore point set prior to installing a program or optional update.
Uninstall -- A restore point set prior to uninstalling a program or update.
Manual -- A restore point you create yourself. .
Undo -- A restore point set prior to a previous use of System Restore to revert the system to an earlier state.
Unknown -- Any restore point that doesn't fit in the above categories.
5. Click Next. If other hard disks are available in the restore point, Windows 7 displays a list of the disks. Activate the check box beside each disk you want to include in the restore, and then click Next.
6. Click Finish. Windows 7 asks you to confirm that you want your system restored.
7. Click Yes. System Restore begins reverting to the restore point. When it's done, it restarts your computer and displays a message telling you the results of the restore.
8. Click Close.
TIP
System Restore is available in Safe mode. So, if Windows 7 won't start properly, and if using the last known good configuration doesn't work, perform a Safe mode startup and run System Restore from there. If you can't start Windows 7 at all, you can also run System Restore using the System Recovery Options, discussed in Chapter 23.


Troubleshooting and recovering from problems


Troubleshooting Windows 7 problems by determining the root cause


Windows 7 troubleshooting tools and tips


Troubleshooting Windows 7 issues using online resources
Printed with permission from Sams Publishing. Copyright 2009. Microsoft Windows 7 Unleashed by Paul McFedries. For more information about this title and other similar books, please visit Pearson.
Dig Deeper on Desktop management, sales and installation