Tips for federated IT with SOA, standardized services
This excerpt from "SOA: Principles of Service Design" defines a federated IT environment and how SOA contributes to the standardization of IT resources.
A federated IT environment is one where resources and applications are united while maintaining their individual autonomy and self-governance. SOA aims to increase a federated perspective of an enterprise to whatever extent it is applied. It accomplishes this through the widespread deployment of standardized and composable services each of which encapsulates a segment of the enterprise and expresses it in a consistent manner.
In support of increasing federation, standardization becomes part of the extra up-front attention each service receives at design time. Ultimately this leads to an environment where enterprise-wide solution logic becomes naturally harmonized, regardless of the nature of its underlying implementation (Figure 3.28).
Figure 3.28 Three service contracts establishing a federated set of endpoints, each of which encapsulates a different implementation.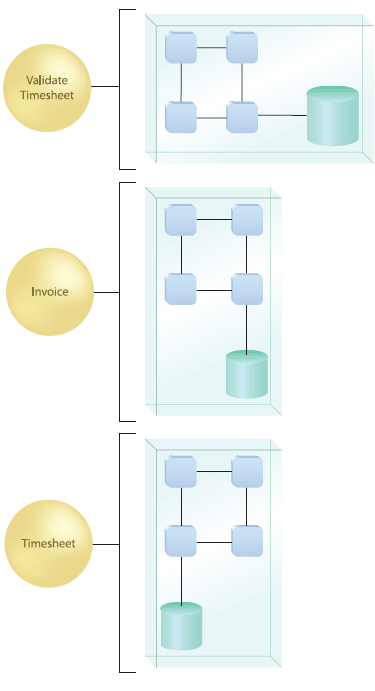 When service-oriented solutions are built via the Web services technology platform, the level of attainable federation is further elevated because services can leverage the non-proprietary nature of the technologies themselves. However, even when using Web services the key success factor to achieving true unity and federation remains the application of design principles and standards.
Use the following table of contents to navigate to chapter excerpts.


SOA: Principles of Service Design


Home: Service-oriented computing and SOA: Introduction


1: Design fundamentals: Design characteristics


2: Design fundamentals: Design principles


3: Design fundamentals: Design pattern and design pattern language


4: Design fundamentals: Design standard


5: Design fundamentals: Best practices


6: Introduction to service-oriented computing


7: Service oriented architecture


8: Service compositions


9: Understanding service oriented computing elements


10: Entity services


11: Web services and service oriented computing


12: Service inventory blueprints


13: Service-oriented analysis and service modeling


14: Service-oriented design


15: Goals and benefits of service-oriented computing


16: Increased intrinsic interoperability


17: Increased federation


18: Increased vendor diversification options


19: Increased business and technology domain alignment


20: Increased ROI


21: Increased organizational agility


22: Reduced IT burden

ABOUT THE BOOK:
SOA: Principles of Service Design is dedicated to service engineering and establishing service-orientation as a design paradigm. This hands-on manual for service design establishes concrete links between specific service-orientation design principles and the strategic goals and benefits associated with SOA. Purchase the book from Amazon.com.
ABOUT THE AUTHOR:
Thomas Erl is the world's top-selling SOA author, Series Editor of the "Prentice Hall Service-Oriented Computing Series and editor of The SOA Magazine. His books have become international bestsellers and have been formally endorsed by senior members of major software organizations such as IBM, Microsoft and Oracle. He is the founder of SOA Systems Inc., a company specializing in SOA training, certification and strategic consulting services with a vendor-agnostic focus.