The top trending storage terms a storage reseller should consider
See how VARs can use the currently trending storage-related terms to help guide customers.
For storage value-added resellers (VARs) and integrators to know what solutions are best for their customers, it's not only important to know the ins and outs of storage technology and how they impact the channel, but also to stay on top of what's currently trending in the industry. With topics that range from RAID rebuilding to SAN solutions for small and medium-sized businesses (SMBs), we've come up with a list of the top storage terms that members of SearchStorage.com -- your customers -- have searched for in the past year. If you're a storage reseller, make sure to read about these storage-related terms and their corresponding channel-specific tips to stay abreast of the best storage solutions for your customers.

Download this free guide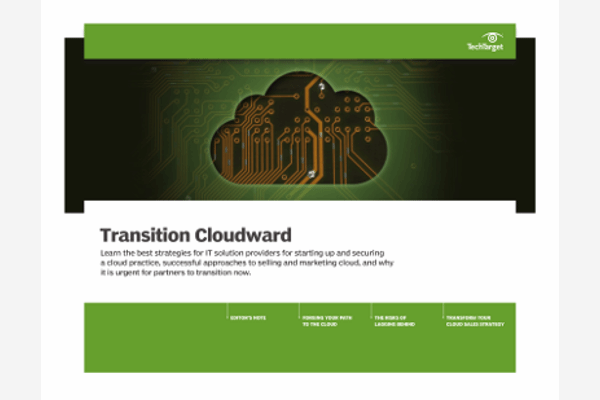 Could Securing Your Channel Business Be Easier? We Can Help.
Download our latest guide to the top strategies solution providers can leverage for starting up and securing a cloud practice, successful approaches to selling and marketing cloud, and why it is urgent for partners to transition now.
Automated tiered storage implemented in storage arrays provides many benefits for customers with block-based storage systems, especially in terms of cost optimization. Although block-based, array-based storage tiering is restricted within the array and can't support file-based applications, this type of tiering is more efficient than file-based or external block systems because it can automatically move smaller block segments among tiers without affecting the network, offering more granularity.
Discover the pros and cons of implementing automated storage tiering in the array.
While deduplication offers many benefits, especially large increases to storage efficiency, it's important for storage resellers to carefully weigh the considerations that factor into the process so that they can accurately set customers' expectations. These include discussions around realistic deduplication rates, clarifying the difference between single-instance storage and data deduplication, how variable-segment deduplication differs from block-level deduplication, the importance of implementing real-world testing, and more.
Get advice for setting customer expectations around backup deduplication rates.
In recent years, an increasing number of companies have adopted iSCSI storage networks. This means that storage resellers need to pinpoint how their customers can optimize their Ethernet networks to support these SANs. Although all Ethernet switches that support TCP/IP traffic can support iSCSI traffic, it's still crucial to consider factors such as the type of storage system your client plans to use and its growth rate.
See how the right Ethernet switch can optimize your customer's iSCSI SAN.
What is RAID?
RAID, or redundant array of independent disks, is beneficial for the data center because it improves I/O performance and helps protect the drives from failure. Failure, and recovery from it, is particularly important for VARs -- with the sheer amount of data found in today's high-capacity drives, rebuilding a RAID group after failure can possibly take days. This RAID rebuild process, among other considerations, is why it's essential for storage resellers to discuss with their customers the problems that can arise with RAID and how they can plan around it.
Find out more about RAID rebuilding and how it can affect customers in this tip.
Fibre Channel has long been considered the king of the SAN environment, especially among large companies. It's more reliable but also much more complex and more expensive than its brethren iSCSI. Now, however, iSCSI is gaining traction among companies of all sizes, which means storage VARs need to analyze customer environments more closely to guide them to the right type of SAN.
Find out whether a Fibre Channel array or iSCSI is right for your clients.
The storage term "network-attached storage" has become more important to IT organizations, which are facing ever-increasing amounts of file-based data. And some customers with NAS systems -- especially those in large environments -- will need to provide access to those files from both Windows and Unix clients. Because Common Internet File System (CIFS) and Network File System (NFS) handle NAS sharing permissions very differently from Windows NTFS, the process is more complicated than it sounds.
Discover how to configure your environment for NAS access from Windows and Unix clients.
What is FCoE?
In light of the confusion about storage terms that still abound among end users, especially about FCoE technology, a storage integrator needs to make sure that it plays the part of the FCoE expert. To become a knowledgeable and trusted advisor for your customers, make sure you're able to understand and articulate the strengths and weaknesses of FCoE, the technology's landscape, and conduct research and in-depth training.
Find out how to become an expert in FCoE.
Dig Deeper on Data Storage Management