bptu - Fotolia
The legal services market: Unique challenges for IT service providers
The legal vertical is a substantial and multifaceted opportunity for IT services providers but may also be one of the more complex verticals to work in.
Editor's Note: This is part one of two articles focusing on the legal services market. Part two will profile an IT services provider that has embraced the legal vertical and another provider that chose to walk away from it.

As law firms increasingly become more reliant on technology, many are looking to IT service providers to manage their IT systems. Pursuing the legal services market may not be in every channel partner's best interest, however.
There's a debate about the market's exact size, but various estimates depict the opportunity as large. In a blog post published in January, LexisNexis, a vendor of legal research and workflow products, observed that market-size estimates have ranged from $100 billion to $400 billion depending on the parameters used. SelectUSA, a government initiative to promote business investment in the U.S., stated the legal services subsector of the U.S. professional services industry posted $207.6 billion in revenue in 2012. Of all the professional services subsectors, legal services generated the most revenue, followed by engineering services at $184.1 billion in revenue, management consulting at $171.9 billion, accounting at $131.6 billion and architectural services at $62.5 billion.
But to get there, companies will have to learn to navigate one of the more challenging vertical markets. It's a vertical that contains hundreds of verticals, all of which demand a solid understanding of how law firms are structured and operate. Additionally, service providers will need exceptional communication skills and maybe even a high threshold for aggravation, as attorneys have a reputation for being difficult clients to work with.
On top of IT services, providers can offer a variety of other services, such as managed print services, and specialized offerings like E-discovery and computer forensics.
Organizational structure: Who is the decision-maker?
According to Charles Tholen, owner and CEO of Cognoscape LLC, a managed service provider (MSP) based in Addison, Tex., providing IT services to law firms demands a special approach. In August, Tholen gave a presentation entitled, "Successfully Winning in the Legal Market with Managed Services," at an ASCII Group event held in Waltham, Ma., detailing how law firms tend to operate and use technology, as well as how IT service providers can target them. He drew insight from his own experiences at Cognoscape, a company he and his colleagues founded in 2009 "with the express intent to focus on the legal vertical," he said. Over time, the MSP broadened its targeted customer to billable professional services customers, but 75% of his company's client base today consists of law firms.
There are many markets within the legal services market, "perhaps hundreds of different areas of practice that law firms can focus on, just like there is in technology," Tholen said. Cognoscape found good fits with firms focusing on litigation, intellectual property or family law, as well as transactional firms, which can include corporate, commercial, banking, bankruptcy, tax and internal business law and real estate finance. "Of all the areas that we've looked at, those [types of firms] seemed to be the ones that were the most dependent on technology," he said.
Compared to other business types, the organizational structure of law firms can complicate the sales process, Tholen explained. A firm may have a managing partner or management committee, partners, associates, paralegals, legal secretaries, receptionists, firm administrators and administrator staff. Sometimes management committees will have a separate technology committee responsible for the firm's IT decisions.
When presented with a proposal, "usually, there isn't one single owner who can just sign off and say, 'Yeah, we're doing this,'" Tholen said. Service providers instead may have to get several individuals on board with their IT services, including the firm administrator. Reporting to the firm's executives, the firm administrator is responsible for managing the firm's administrative operations, which usually includes overseeing personnel, human resources, finances and IT systems. While firm administrators generally understand the value of managed services, they don't have the power to win a service provider a deal, he noted. Firm administrators do have the influence to exclude you from a deal, however, so it is important to have their support.
You do not argue with an attorney; you will lose. They're trained to win from either side of an argument.

Charles Tholenowner and CEO, Cognoscape LLC
Steven Tessler, owner of ComptronX, an IT consultancy based in North Andover, Mass., said one of the issues he encountered in the legal services market stemmed from working with firms that had multiple partners. Since each attorney may focus on different areas of the law and have her own software requirements, there can be complexities and sometimes disagreements around IT decisions. For example, all attorneys use time-management and word processor applications, but a real estate attorney might need specialized software to do closing packages. Meanwhile, a divorce attorney may not need any additional software and may have a difficult time understanding what the firm's software needs actually are and argue the firm shouldn't spend the extra money. As a result, the partners will quarrel with each other and their service provider, Tessler said.
Attorneys are not people you want to engage in an argument, Tholen said. "They are trained to argue. … You do not argue with an attorney; you will lose. They're trained to win from either side of an argument."
Working at the non-partner level
Service providers may get better results focusing on a variety of individuals within the firm and their respective needs, rather than restricting their outreach to partners. For example, service providers may work with a firm's associates. Associates can be "particularly touchy, because if they have a [technology] problem, they're not only beholden to their client but have a partner breathing down their necks, too," Tholen said. He advised service providers to always keep associates informed about the status of their IT systems, providing information "even if you know it's information they don't want to hear," because the associates are under a great deal of pressure. "If you put [the associates] in a black hole and they can't adapt around that, that's where you're going to get yelled at, screamed at and all the things you typically hear about how lawyers behave."
Although ComptronX no longer focuses on the legal services market (more about the company's decision to withdraw from the market in part two), Tessler said he frequently gave precedence to the paralegals' IT needs. He described paralegals as "the backbone" of most firms and responsible for the heavy lifting. "We tended to focus more on keeping the paralegals happy and finding out from them what their needs were," he said. "When the paralegals get stressed, they get stressed out at the lawyers, who will then stress out at me," he said.
The technology needs of law firms
Apart from organizational structure, another aspect that makes the legal services market unique is the variety of technology needs they can have. For instance, many law firms will need e-discovery or rely on document management products such as iManage, WorldDox or NetDocuments. Email also takes on a greater significance to law firms than it does for other business types, Tholen said. "[Many attorneys] see email mailboxes as a file cabinet for every piece of work they've ever done. They do not [and] cannot work with conventional archiving, because their assistants and paralegals also need to be able to see their mailboxes." He noted law firms are increasingly requesting email encryption, often at the request of some of their own clients. "Working with third-party email filtering systems that have an option of encryption is usually a good choice for them," he said.
Law firms usually have heftier requirements for faxing, scanning, and printing (often in large volumes) than other businesses do. Tholen said most of Cognoscape's law firm clients work with third-party managed print providers that Cognoscape partners with.
Some technologies are vitally important for law firms to have in place. Firms generally need a client management product so they ensure a new client doesn't pose any conflicts of interest. Additionally, docketing means much more than simply calendaring. "If [lawyers] miss appointments, if they miss court dates and deadlines, they can be issued with sanctions in that matter," Tholen said.
Capturing time and billing is important. "An attorney's bill is a much different beast than what we [service providers] send out as an invoice. … [Attorneys] have to go through a review process to make sure they're accurate and so on. Misbilling from a lawyer can [cause] big problems for them … so they have a formal process that they go through to do that."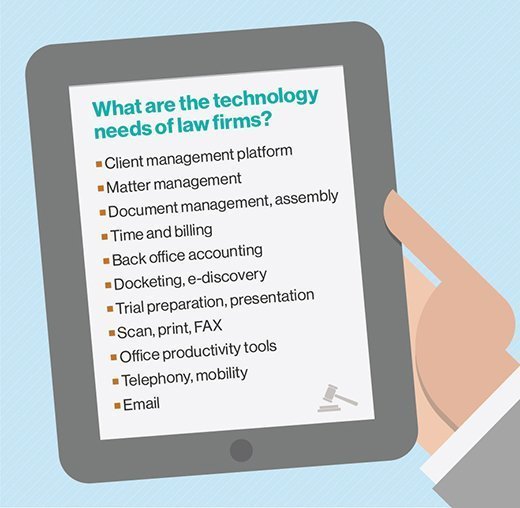 Many law firms use legal practice management software, such as PerfectLaw and ProLaw, which combine sets of tools they need. Typically, tools include time and billing, calendaring and docketing, and contact management. Tholen likened practice management software to professional services automation products like Autotask, ConnectWise and Tigerpaw. Many vendors of practice management software are now issuing cloud-based versions of their products, he added.
Targeting the legal services market
Targeting the legal services market requires a different approach than one might take with other verticals. Service providers can connect to legal firms by participating in their trade organizations, such as the bar association, Association of Legal Administrators and Legal Marketers Association. He also suggested working with "synergy partners" in managed print, telephone, e-discovery, staffing, document shredding and off-site document storage.