Sergey Nivens - Fotolia
Tech trends 2018: Partners to grapple with AI, app modernization
Tech trends 2018: MSPs and cloud consultants may find themselves working on AI projects, refactoring applications for the cloud, and adding containerization to their portfolios.
When it comes to business and tech trends, 2018 is shaping up as a big test for managed service providers and other channel partners.
Customers will be demanding greater breadth from partners as they attempt to navigate AI, multi-cloud deployments and containerized applications. But never mind becoming a mile wide and an inch deep: Clients also expect a level of specialization they can't produce in-house, given the paucity of talent in emerging technologies.
MSPs and cloud solutions providers, of course, have talent battles of their own to fight. So, expect to see partners rely more heavily on automation to counteract the skills shortage. But while they seek to automate, partners can anticipate finding tighter integration but perhaps a bit less freedom of choice amid consolidation in the MSP tool market (see part 2 of this tech trends 2018 feature).
And to top it off, partners need to boost their software development skills, deal with greater competition from ISVs and prepare clients for the next wave of cyberattacks.
Overall, most channel executives interviewed for this feature expect to see decent growth in 2018, particularly in light of digital transformation and the drive to translate an array of fast-moving technologies into competitive advantage. The channel winners will likely be those companies that can cover the most ground and demonstrate authority across a range of fields.
"Customers are challenging us to build different capabilities," said Tony Safoian, president and CEO of SADA Systems Inc., a cloud computing and IT services provider in Los Angeles. "They are asking for a more comprehensive set of offerings from partners."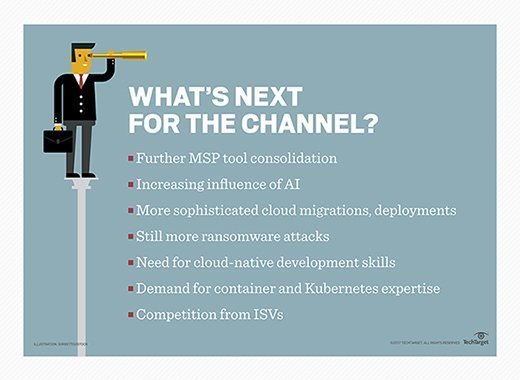 Tech trends: 2018 to see the arrival of practical AI
AI is one area where service providers will likely encounter increased demand from customers next year. The technology has seen a couple of false dawns over the years, but industry executives believe the age of down-to-earth AI and widespread adoption is at hand.
Dan Hushon, senior vice president and CTO at DXC, an IT services provider based in McLean, Va., said AI is poised at "a very appropriate entrance point for mass adoption."
In particular, AI-backed bots built upon Amazon's Alexa, Microsoft's Cortana and IBM's Watson technologies will expand access to Hushon called practical AI. In addition, AI "tool boxes," such as Microsoft's Azure Machine Learning Workbench, will also lower barriers to entry.
DXC already uses bots in-house. One such bot helps employees record their time on projects. Time tracking used to be a cumbersome process involving multiple layers of security, Hushon said. Now, the bot prompts employees to identify the project they have been working on, record how much time they spend on it during a given day, and make note of any subprojects for which time should be recorded.
Such workaday applications "free up time to do more productive things," Hushon said.
Safoian said AI will continue to permeate technology along two paths. On the user side, offerings such as Google Cloud Search make AI a more mainstream feature for G Suite customers. Google Cloud Search, introduced in 2017, uses machine learning to help users find G Suite files and documents. He also cited the AI aspects of other office productivity tools such as Microsoft Office 365.
[Customers] are asking for a more comprehensive set of offerings from partners.

Tony Safoianpresident and CEO, SADA Systems
Safoian said the addition of AI "is causing us to evaluate how we do training and adoption around the tools -- they are becoming smarter." SADA Systems partners with Google and Microsoft.
Cloud platforms, APIs and associated tools that service providers use to create their own offerings mark the second path along which AI is embedding itself. Safoian said platforms such as Microsoft's Cortana Intelligence Suite, based on the Azure cloud, are becoming easier to "implement into your own products and solutions you are building."
Matt Jackson, national general manager at BlueMetal, an interactive design and technology architecture firm, also cited the rapid advancement of platforms. He said those improvements reduce the upfront expense of building an AI application.
BlueMetal, an Insight company, is working with the various platforms to create chatbots and predictive analytics applications, Jackson said. In one case, BlueMetal worked with a medical device manufacturer to build a chatbot on Microsoft Azure Bot Service. The chatbot uses predictive analytics to make health suggestions to patients, according to the company.
While AI is expected to continue to make healthcare rounds next year, other vertical markets will also see activity.
In the legal market, AI is "dominating the talk," noted Stanley Louissaint, president at Fluid Designs Inc., an MSP in Union, N.J.
Clients aren't quite ready to adopt the technology yet, but law firms are beginning to explore AI as a way to boost efficiency. One promising use case is the discovery process, which accounts for a sizeable chunk of litigation costs. "This is where a lot of the money is being spent," Louissaint said. "Clients are starting to push back."
AI could help law firms sift through documents to find the case-relevant material, saving time and money.
Cloud computing: Modernizing, refactoring applications
Cloud computing in recent years has topped the list of tech trends; 2018 looks set to continue that run. And it looks likely to be another area in which customers will press partners for a combination of breadth and depth.
Dave Bartoletti, vice president and principal analyst at Forrester Research, suggested service providers develop expertise across different cloud environments, noting the prevalence of multi-cloud adoption. "Very few large enterprises use one cloud," he said.
In 2018, gaining expertise in multiple clouds could serve as a point of differentiation.
"The market is still pretty nascent for services companies that are deep experts in more than one cloud," Bartoletti said.
Multi-cloud knowledge, while useful for managing sophisticated deployments, can also put channel partners in an advisory role with customers. "I think it makes sense for cloud consultancies to not only build out skills in more than one cloud platform, but be able to offer strategic advice," he added.
Cloud adoption and migration services are expected to remain in strong demand. But as an additional twist on those tech trends, 2018 will likely see increased interest in services that go beyond rehosting applications in the cloud with little modification. Indeed, service providers can expect to find business modernizing and refactoring applications to help clients take fuller advantage of cloud platforms and services.
"Essentially, it is not just a lift and shift of workloads into the cloud," said Javed Sikander, vice president and CTO at NetEnrich, an IT operations and infrastructure provider in San Jose, Calif. "The opportunity is to modernize the application as you are doing this transformation."
MSPs are preparing themselves for that opening. Reliam, a cloud and managed services provider in Los Angeles, aims to develop deeper capabilities to provide more complex consulting services around "migrations that involve refactoring applications," said Simon Anderson, CEO at Reliam.
Anderson said Reliam will be looking to make an acquisition to expand its front-end cloud consulting services. The company recently received a funding commitment of up to $75 million from private equity investor Great Hill Partners.
Application modernization is part of a broader trend, poised for reinforcement next year, in which enterprises view the cloud as more than simply a cost-savings gambit.
"It is not a cheaper place for servers and storage," Bartoletti said of this change in thinking. "It is an innovation platform, a place to build better applications."
This interest in innovation means customers will harness new cloud technologies and services faster that previously.
Jeff Aden, executive vice president of strategic business at 2nd Watch, a cloud consulting firm in Seattle, anticipates enterprise uptake of services such as Amazon Elastic Container Service for Kubernetes, which was introduced in November 2017, to speed up. The 12- to 18-month adoption cycles of the past couple of years will shrink, he suggested.
"Customers want the newer services and won't take as long to adopt them," he said. "We are definitely bullish on acceleration."
Containers and cloud-native development
Bartoletti said service provider should boost their investment in cloud-native development skills and sharpen their expertise in containers next year, noting that cloud applications will increasingly leverage container technology.
He suggested services providers beef up tier skills in development environments such as RedHat's OpenShift container application platform and the Cloud Foundry cloud application platform. As for container management, Forrester recommends investing in Kubernetes, which the market research firm said will win the war for container orchestration dominance.
"The adoption rate we are seeing is much higher for Kubernetes than for any other orchestration platform," Bartoletti said. "I wouldn't build out teams for the other ... platforms."
SADA Systems has already worked on Kubernetes projects, and Safoian expects more to follow next year. "A lot of ... rearchitecting and containerization needs to take place" in addition to application migration, he said.
Those actions will put customers on a path toward benefits such as improved application performance, scalability and portability.
"There should be a clear benefit of migrating to the cloud above and beyond, 'It used to be hosted here and now it's there,'" Safoian said. "Cloud, itself, is not the destination. It is only the beginning of a new journey."