Fotolia
Software bots, MSP tool consolidation could figure in 2018
Intelligent automation technology and a consolidating MSP software market are two of the trends expected to affect the IT services provider market in 2018.
IT services providers expect intelligent automation technology such as software bots to rank among the top trends next year amid growing virtual workloads and competition for tech talent.
Automation, which also topped the list of key influences last year, is a perennial concern for managed service providers (MSPs) and other channel partners. Efficient service delivery is critical for profitability. But with digital transformation skills in limited supply and customer requirements growing, automation becomes even more important for just keeping up with the press of business.
DXC, an IT services provider based in McLean, Va., cited the "war for digital talent" as one of its 2018 tech trends to watch. Digital skills in fields such as operations, information integration, analytics and information governance are in short supply. Companies must respond with intelligent automation technology along with allied technologies, including machine learning and natural language processing.
Dan Hushon, senior vice president and CTO at DXC said the massive growth of virtual machines in the cloud and within enterprises -- on the order of 20x -- drives the need for greater productivity given a tight skills base.
"You can't hire enough people to manage the volume," he said.
But automation, which is beginning to intersect with AI, can supplement the IT workforce, Hushon suggested. The scope of automation includes software bots that make changes to systems, continuous integration platforms that test software code before it goes into production, and "digital recipes" written in Python that replace traditional runbooks, he noted.
The current path of intelligent automation technology will turn IT operations staff into software developers, Hushon said. "We are retraining staff to help them pick up the skills that are necessary," he added.
We do believe that, as with many things, automation will require some upskilling.

J. P. Gowndervice president and principal analyst, Forrester Research
J. P. Gownder, vice president and principal analyst at Forrester Research, also noted the need for retraining in light of automation.
"We do believe that, as with many things, automation will require some upskilling," he said.
As software bots of various kinds take over manual processes, IT personnel will need to acquire programming skills and take on a more strategic role, Gownder said. For example, in an organization that deploys robotic process automation (RPA) an employee previously engaged in performing a task manually could become a "bot manager," he explained.
A manager of software bots would review RPA results -- perhaps a bot assigned to a particular process could handle 80% of the cases and fail on the rest. The manager's job would be to improve the bot's software to "make it better able to deal with the long tail of exceptions."
IT services providers, meanwhile, are building AI-infused intelligent automation technology platforms for both internal use and external clients. Wipro, for example, launched its HOLMES platform about three years ago. The technology was first deployed predominantly in-house, but the company is now rolling out the technology to clients in industries such as retail and healthcare, according to Wipro.
Rohit Adlakha, vice president of Wipro HOLMES, sees a future of human-machine coexistence rather than displacement.
"We firmly believe both human labor and digital labor will coexist," he said. "It is not a question of one versus the other. It is always a question of how we can augment humans and make them more efficient."
Forrester, however, predicts 9% of U.S. jobs will be displaced by automation in 2018 -- an estimate that applies to the overall workforce, not just workers in the IT sector. That loss of employment will be partially offset by a 2% increase in jobs that support automation, according to the market researcher.
"There are real job losses and we shouldn't gloss over them," Gownder said.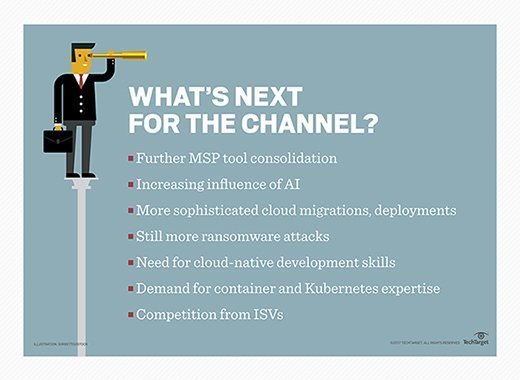 MSP tool consolidation?
AI and software bots aren't the only players in automation. Changes in the MSP software market are also on tap. The pending Datto-Autotask merger, announced in October 2017, may lead to further consolidation next year among the tools MSPs use to run their businesses.
Max Pruger, chief sales officer at CloudJumper, a workspace-as-a-service provider based in Garner, N.C., said he foresees more acquisitions in the MSP software space. The trend could lead to tighter integration within MSP tool suites, but less freedom of choice.
For the most part, MSP tool consolidation has focused on the combination of remote monitoring and management (RMM) and professional services automation products, Pruger said. He cited the ConnectWise/LabTech combo and Autotask's acquisition of CentraStage as examples. He also noted acquisitions of ancillary products such as ConnectWise's acquisition of Quosal, a quoting and proposal software vendor.
The Datto-Autotask deal, however, signals a new direction.
"The most interesting thing about Datto-Autotask is, for the most part, backup vendors were remaining independent," Pruger said. "Datto sort of put a shot across the bow of RMM vendors, especially Kaseya and ConnectWise."
He said he would not be surprised to see Datto-Autotask's rivals acquire and add a backup tool. And while he thinks MSP tool vendors will continue to pledge integration with third-party products, MSPs may be drawn to single-vendor suites because of better integration and bundled pricing.
"We will see more MSPs pick a horse and go with what they have," he said.
Stanley Louissaint, president of Fluid Designs Inc., an MSP in Union, N.J., said the toolset consolidation is "nothing we should be surprised about." He, like Pruger, expects MSP vendors to focus their best efforts on integrating products within their own portfolios.
"I think you are going to start to lose companies integrating with other companies to the level that you want them to," he said.
Security opportunities and competitive concerns
Cybersecurity seems a sure bet as a growth sector for channel partners next year, building upon customer demand in 2017. IT buyers put security-related products and services at the top of their purchasing priorities, according to a survey OneAffiniti conducted in the North American market. OneAffiniti, which offers marketing services to IT resellers, polled 1,986 IT buyers and found 32% reported buying security software in 2017. Security software came out ahead of operating systems, backup, productivity and database software.
Ryan Schenkel, senior director of sales at TBI, a master agent and technology services distributor, agreed that security will play a prominent role in customers' plans next year.
"Cybersecurity, we believe, will grow rapidly in 2018," he said. "Given the Equifax breach [and] WannaCry ransomware attacks ... we will begin to see CIOs and CFOs allocate more budget to ensure that their data is secure."
As service providers explore ways to expand their cybersecurity practices next year, ransomware protection is likely to remain an area of focus. Kevin Watson, CEO at Netsurion, a provider of managed security services for multilocation businesses, suggested more targeted, industry-specific ransomware attacks could be in the offing.
UCaaS pegged as top telecom market
Beyond the IT sector, where software bots and intelligent automation technology are expected to rank among the top technologies, channel partners can also set their sights on opportunities in the telecommunications space.
Here, unified communications as a service will emerge as the leading segment of the telecommunication market next year.
That's the prediction of Ryan Schenkel, senior director of sales at TBI, a master agent and technology services distributor.
"At this point, UCaaS is only used by approximately 10% of commercial users, yet the amount of opportunity and intrigue is growing daily from our partners and end users," he said. "This is an area that we expect to see the highest demand in the telecom space in 2018."
Channel partners can expect UCaaS providers to work toward improving interoperability and security in their platforms, Schenkel said. In addition, UCaaS providers will offer more high-quality features and a better user interface, he said.
"This will improve how remote workers interact with the technology and create more loyalty," he said.
Specifically, Watson said he believes retailers will see more ransomware outbreaks next year, noting the decreasing financial yields of credit card data theft.
"Hackers are getting sick of the months it takes to profit from [point-of-sale] malware breaches and exfiltrating card data," Watson said in a statement.
He said ransomware is the next step for cybercriminals who want a quicker payback and more money. Cybercriminals will pursue large and small retailers with ransomware attacks with the aim of compelling businesses to fork over large, immediate payments, he added.
While cybersecurity threats continue to abound, MSPs will also see a business threat as ISVs and telecommunications firms move down market.
Pruger said telcos now aims to sell managed services, expanding upon their voice and data services. Companies such as AT&T and Verizon have been trying to reach the desktop for years, but struggled to provide physical management of desktops. Widespread cloud adoption has changed the telco outlook.
"With the acceptance of cloud, [telcos] can provide workspace as a service down to the desktop level," Pruger said.
The strategy: Entice small and medium-sized business, a mainstay MSP constituency, to also purchase managed desktop services as well.
ISVs, for their part, are moving line-of-business applications to the cloud via the workspace-as-a-service model. "The natural progression is for the ISV to take over the management of the desktop as well," Pruger said.
Editor's note: The coming year looks set to feature a variety of opportunities for channel partners from software bots and intelligent automation technology to cloud migration and containers. Keep an eye out for additional features next year as we explore in more detail the emerging technologies that affect channel partners.
Dig Deeper on Technology Business Management Software