Thep Urai - Fotolia
Social media tools and applications: Channel execs sharpen strategies
Channel company executives are finding some success with social media platforms, but report it takes time and effort to develop effective social media marketing plans.
In their quest to create excitement, build brand awareness and boost sales, IT service providers are increasingly using social media platforms, which have become crucial parts of many companies' marketing strategies.
That said, service providers are trying to find effective ways to use social media tools and applications. Channel partner executives say it takes time, consistent engagement and an understanding of how to package a marketing message on social media platforms to effectively generate interest among the business executives they want to reach.
The goal of shining a spotlight on one's IT service business, while also educating customers on trends in the industry, seems easy enough to do. However, developing content that convinces companies to buy products and services in a crowded social media marketplace is harder to pull off.
Social media success: One managed services provider's story
One company that has seen some success with these methods is RCOR Technologies, a managed service provider in Raleigh, N.C., which has been using social media for more than four years to conduct webinars, provide educational content and explain what RCOR does and will do in the future.
"You can't just toss up a LinkedIn profile or a Facebook page and then consider that you are done," said Timothy Richter, president of RCOR Technologies.
One example of his company's success with social media, Richter said, started in February 2017, when 21 people signed up for his Facebook-promoted webinar on Payment Card Industry (PCI) compliance. The result: two out of the 21 companies that joined the webinar signed three-year agreements for approximately $2,500 a month.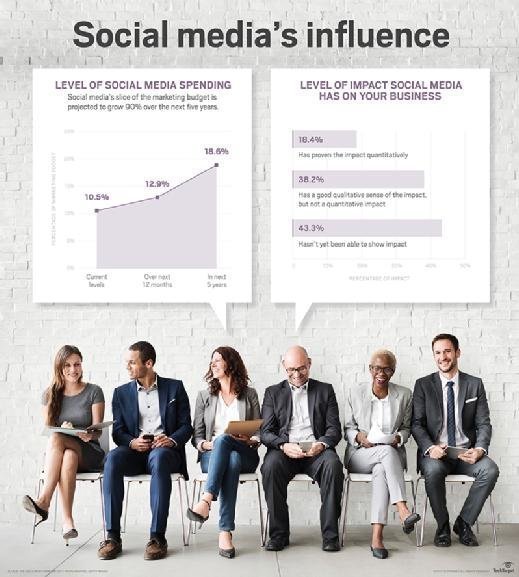 "I receive $5,000 a month for three years from two new customers that signed a contract with my company after listening to my PCI webinar. You take $5,000 times 12 months times three; that's $180,000. For that one Facebook ad that cost me somewhere in the neighborhood of $700, I received $180,000 back," Richter said.
Richter, who spends approximately 60% of his time dealing with sales and marketing, said LinkedIn is a great opportunity to network with executives on a professional level, whereas Facebook connects with people on a personal level.
"You have to provide different bits of information on different levels," Richter said.
Recently, Richter started a webinar that will be aired on Facebook every Thursday at noon Eastern Standard Time for six months. Richter will answer technical questions for 20 minutes in each Q&A session.
"That would not fit on LinkedIn," he explained. "That would fit on Facebook because that's just the medium for that. We've been connecting these Facebook sessions to Twitter's live-streaming app, Periscope," Richter said.
With regard to how social media tools and applications have impacted RCOR's marketing and advertising strategy, Richter said social media does not operate in isolation. He noted that almost everyone who contacts his company through social media has also heard of the company from email advertising, telemarketing, networking events or some other traditional marketing venue.
You can't just toss up a LinkedIn profile or a Facebook page and then consider that you are done.

Timothy Richterpresident, RCOR Technologies
"I don't think of social media as a replacement [for] traditional advertising efforts, but as a compliment to it," Richter said. "Right now, my budget is 50% social media and 50% traditional advertising, but I can see social media being 60% of my marketing budget in the near future," Richter said.
Along the way, Richter focused on developing several social media strategies. One of the most effective, he said, is to advertise as a trusted advisor, not an intense sales person. As a trusted advisor, an executive sharing information has to be personable on camera, Richter said.
Additionally, marketing executives must constantly post information on the company's services and solutions and on industry trends. The objective is to grab the attention of company executives at firms with which a channel partner wants to do business.
Social media marketing plans: How effective are they?
The task of finding out how well companies perform on social media -- and how much attention they attract -- is important to a company's marketing strategy. Many organizations engaged in social media marketing have difficulty measuring performance.
"Social media is a serious marketing strategy, and companies need to think about what their objectives are, including awareness, engagement or conversion," said Christine Moorman, professor of business administration at The Fuqua School of Business at Duke University and director of The CMO Survey, "Highlights and Insights Report." "Many companies don't have a clear sense of the customer that they are directing their efforts toward, and, as a result, the communication is not tailored to a particular segment," she said.
While companies are refining effective social media marketing plans, not every channel company is convinced that the effort is worthwhile.
As some IT service providers continue to expand their efforts online and to dedicate more resources to integrated marketing and digital content and engagement, others remain reluctant, said Jennifer Anaya, vice president of marketing for North America for Ingram Micro. In her role, Anaya helps channel partners communicate their value to the IT channel.
She explained that, typically, channel companies have limited time and marketing resources, or simply don't know where to start as they attempt to build a social media marketing strategy. She added that others question the return on investment, asking whether it is really worth spending the time and money.
For those who are hesitant, Anaya said, you should recognize that social media channels help IT service providers increase awareness, enhance credibility, strengthen customer relationships, build brand loyalty and grow the business.
"The buyer's journey is increasingly starting online," she said. "LinkedIn, Facebook, Twitter and other social media channels are being used to explore options before inquiries and purchases are made. Being a part of the conversation with a presence that projects accessibility and credibility is a powerful marketing tool."
She added that Facebook, LinkedIn and Twitter are all terrific channels for business, but which social media tools and applications channel partners devote their limited time and resources to should depend largely on their customer base. Anaya advises marketing executives to do their due diligence by searching for customers and business colleagues in the various channels, noting their level of social media activity and choosing social media channels accordingly.
Social media tools and applications: The bigger picture
Nathan Wiehe, vice president of integrated services at EST Group, based in Arlington, Texas, said his company adopted social media marketing on a consistent basis about two years ago.
Wiehe, who helps devise and strategize marketing campaigns, said social media was previously used for light communications, such as announcements of events and news of awards, which were sent to general followers of the company. However, during the last few years, the change in utilizing social media tools and applications revolved around a larger marketing strategy.
"The idea is to better align our focus on social media with our own achievements, as well as to improve alignment with our channel partnerships through various social media outlets," Wiehe said.
He added that it's important that a company's social media marketing strategy be in sync with vendors in order to have marketing strategies that complement each other's specific marketing strategies.
"We have meetings several times a month with our vendor partners to talk about our marketing strategy as a whole, which then enables us to determine what we will do from a social media perspective in order to augment those marketing events and create alignment," Wiehe said.
If there's one piece of advice Wiehe wanted to share it is that no matter what technology a company provides, it should craft a social media marketing campaign around what resonates most with their readers.
"If I had any advice at all, I would say keep working on the campaign and honing the message until what you are sending out resonates with your specific strategy," Wiehe said.
He added that if an IT service provider's strategy is to keep current customers informed on what the company is doing, then that strategy should stay focused on creating excitement about the company's brand. On the other hand, if the strategy aims to educate potential customers to get them interested in the service provider's knowledge, then it should focus on the topics of the day, and it should be consistent with the service provider's message.
"This will take some time, along with trial and error, to see what will eventually stick," Wiehe said.