Service-Oriented Architecture
This excerpt from "SOA: Principles of Service Design" explains the purpose of SOA and defines associated terms: service orientation, services and services-oriented solution logic.
SOA establishes an architectural model that aims to enhance the efficiency, agility, and productivity of an enterprise by positioning services as the primary means through which solution logic is represented in support of the realization of strategic goals associated with service-oriented computing.
On a fundamental basis, the service-oriented computing platform revolves around the service-orientation design paradigm and its relationship with service-oriented architecture. In fact, the term "service-oriented architecture" and its associated acronym have been used so broadly by the media and within vendor marketing literature that it has almost become synonymous with service-oriented computing itself. It is therefore very important to make a clear distinction between what SOA actually is and how it relates to other service-oriented computing elements.
As a form of technology architecture, an SOA implementation can consist of a combination of technologies, products, APIs, supporting infrastructure extensions, and various other parts (Figure 3.11). The actual face of a deployed service-oriented architecture is unique within each enterprise; however it is typified by the introduction of new technologies and platforms that specifically support the creation, execution, and evolution of service-oriented solutions. As a result, building a technology architecture around the service-oriented architectural model establishes an environment suitable for solution logic that has been designed in compliance with service-orientation design principles.
Figure 3.11 Container symbols are used to represent architectural implementation environments.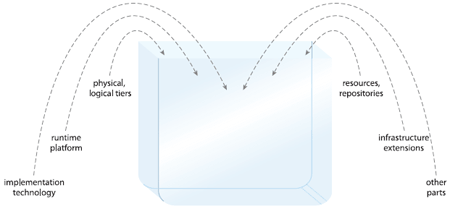 Service-Orientation, Services, and Service-Oriented Solution Logic
Service-orientation is a design paradigm comprised of a specific set of design principles. The application of these principles to the design of solution logic results in service- oriented solution logic. The most fundamental unit of service-oriented solution logic is the service.
Services exist as physically independent software programs with distinct design characteristics that support the attainment of the strategic goals associated with service- oriented computing. Each service is assigned its own distinct functional context and is comprised of a set of capabilities related to this context. Those capabilities suitable for invocation by external consumer programs are commonly expressed via a published service contract (much like a traditional API).
Figure 3.12 introduces the symbol used in this book to represent a service from an endpoint perspective. See the SOA and Web Services section for an introduction to the symbols used to illustrate a physical design perspective of services implemented as Web services. Note also that services and service-orientation are explored in detail in Chapter 4.
Figure 3.12 The yellow sphere symbol is used to represent a service. Alternatively, the chorded circle symbol introduced in Chapter 1 can also be used.

Use the following table of contents to navigate to chapter excerpts.


SOA: Principles of Service Design

Home: Service-oriented computing and SOA: Introduction


1: Design fundamentals: Design characteristics


2: Design fundamentals: Design principles


3:Design fundamentals: Design pattern and design pattern language


4:Design fundamentals: Design standard


5:Design fundamentals: Best practices


6:Introduction to service-oriented computing


7:Service oriented architecture


8:Service compositions


9:Understanding service oriented computing elements


10:Entity services


11:Web services and service oriented computing


12:Service inventory blueprints


13:Service-oriented analysis and service modeling


14:Service-oriented design


15:Goals and benefits of service-oriented computing


16:Increased intrinsic interoperability


17:Increased federation


18:Increased vendor diversification options


19:Increased business and technology domain alignment


20:Increased ROI


21:Increased organizational agility


22:Case study background

ABOUT THE BOOK:
SOA: Principles of Service Design is dedicated to service engineering and establishing service-orientation as a design paradigm. This hands-on manual for service design establishes concrete links between specific service-orientation design principles and the strategic goals and benefits associated with SOA.Purchase the book from Amazon.com.
ABOUT THE AUTHOR:
Thomas Erl is the world's top-selling SOA author, Series Editor of the "Prentice Hall Service-Oriented Computing Series and editor of The SOA Magazine. His books have become international bestsellers and have been formally endorsed by senior members of major software organizations such as IBM, Microsoft and Oracle. He is the founder of SOA Systems Inc., a company specializing in SOA training, certification and strategic consulting services with a vendor-agnostic focus.