WavebreakMediaMicro - Fotolia
Get started
Bring yourself up to speed with our introductory content.
Selling hyper-converged architecture: A channel primer
Partners interested in hyper-converged systems need to evaluate different sales approaches, technology options, potential use cases and related services.
Hyper-converged architecture is injecting new life into an otherwise stagnant IT infrastructure market and opening sales opportunities for channel partners.

Download this free guide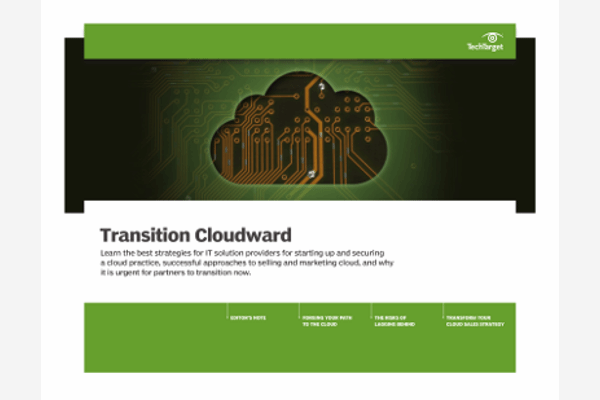 Could Securing Your Channel Business Be Easier? We Can Help.
Download our latest guide to the top strategies solution providers can leverage for starting up and securing a cloud practice, successful approaches to selling and marketing cloud, and why it is urgent for partners to transition now.
Data centers have previously seen integrated, or converged, platforms, which package hardware from multiple vendors into a unified bundle. With hyper-convergence, however, a vendor combines server, storage, networking and virtualization components into a single appliance and provides the software tools for managing it all. Some vendors market a software-only hyper-converged option, letting customers or their channel partners supply the hardware.
Regardless of the technical approach, hyper-converged technology is shaking up data center economics, according to industry executives. Hyper-converged systems let customers start small with a single unit and scale out with additional clusters as demand for capacity increases. This modularity keeps up-front acquisition costs in check since buyers avoid the pitfall of overprovisioning hardware. The hyper-converged architecture also cuts ongoing operations costs. The technology's everything-in-one-box aspect simplifies management and reduces the expense of maintaining hardware. The smaller footprint of tightly integrated systems can also shrink a data center's power and cooling bills, according to vendors.
Hyper-converged technology "helps address both Capex and Opex in a way that a lot of other solutions haven't in the past," said Eric Sheppard, a research director in the storage program at IDC.
The market is responding. Sheppard pointed to 116% year-over-year growth, noting that IDC expects the worldwide market for hyper-convergence to grow from $372 million in 2014 to $806.8 million this year. In 2016, the market is forecast to hit $1.57 billion, Sheppard said. In contrast, the demand for conventional data center infrastructure "has not really grown all that much," he added.
How channel partners sell hyper-converged systems
Channel partners find themselves in the middle of the hyper-convergence trend. Most vendors target resellers and integrators as a sales and marketing outlet, maintaining partner programs and, in some cases, relying entirely on the channel to move their products. Nutanix, Scale Computing, SimpliVity, Stratoscale and VMware are among the hyper-convergence vendors engaging channel partners.
Partners, meanwhile, see plenty of potential in hyper-converged architecture, although their marketing tactics vary from company to company. Solutions4ebiz, a consulting firm based in central Indiana, leads with virtualization rather than hyper-convergence when it speaks with prospective customers. Solutions4ebiz began working with hyper-convergence vendor Scale Computing earlier this year.
"Virtualization is something people are pretty familiar with these days," said Michael Sheward, CTO at Solutions4ebiz. "If that's something they are doing today or have an interest in doing … the step to hyper-convergence is pretty easy."
Sheward said companies acquainted with virtualization have at least some idea of the hardware requirements -- the servers, storage devices, switches and routers. Explaining hyper-convergence as a technology that combines all those elements into one cluster really clicks with those organizations, he noted.
The sales process, however, is more of a struggle when the customer isn't pursuing virtualization. For such a customer, the sales education task becomes an uphill endeavor, Sheward said.
Mark Campbell, research principal and director of Innovation Research at Trace3 Inc., a partner that focuses on data center, big data and cloud technologies, suggested that the sales approach varies with customer sophistication. For traditional companies, which may have a couple of mainframes around, it's better to focus the sales conversation on virtualization, according to Campbell. The pitch to customers: hyper-convergence technology aligns with their virtualization plans.
"If you are making a physical-to-virtual conversion, let me show you something that … cuts down on administration and the footprint you are going to have to put in," Campbell said, summarizing the conversation.
On the other hand, a customer that includes hyper-convergence in its vocabulary is ready to listen to a pitch with no relabeling needed.
Campbell said Trace3 has found large enterprises receptive to hyper-convergence, particularly enclaves within those organizations that pursue the cutting edge of innovation. He said such groups are prime candidates for technologies such as hyper-convergence.
Scott Perry, manager in the Collaboration and Data Center Practice at Force 3, a network security and data center technology company based in Crofton, Md., said customers' business issues sometimes drive the need for hyper-convergence -- and thus the sales approach.
"The customer has a problem it is trying to solve and it might just happen that a hyper-convergence solution meets the requirements to fulfill that," he said. "I don't know if we would … go out and lead with, 'Hey, do you need a hyper-convergence solutions set?'"
However, Irwin Teodoro, senior director of data center transformation at Datalink, a data center services provider based in Minneapolis, said more and more of his customers are asking about hyper-convergence.
"It's definitely a lead for us," he said.
Where to find opportunities in hyper-converged architecture
Sales messages honed and at the ready, channel partners say they find an audience for the hyper-convergence story among a number of customer types.
Jack Wilson, president and CEO of Solutions4ebiz, said he views small and medium-sized businesses (SMBs) as a key market for hyper-convergence offerings. He said vendor partner Scale Computing identifies organizations with as many as five IT people as a core constituency and affirms that a plethora of businesses occupy that particular bracket.
"We are finding that a really good target space," he said.
The economics of hyper-converged products appeals to small companies: buy one box versus separate server and storage units. But for some customers, cost isn't the only driver or even the primary consideration. The low-maintenance simplicity of products in this category also resonates with buyers with limited IT personnel.
"In a couple of cases, the focus was more on the ease of use than cost effectiveness," Solutions4ebiz's Sheward said.
Large enterprises are also interested in hyper-converged technology. To wit, companies that must maintain computing and storage gear in remote sites with limited IT staff may opt for the technology, Perry said. The remote branches resemble the SMB buyers in that they place a premium on ease of management when IT resources are scarce.
Typical use cases for hyper-converged systems include virtual desktop infrastructure (VDI), data analytics and software development and testing environments.
"It definitely plays nicely into niche areas," Perry said of hyper-convergence.
If the product is doing its job right, it should be plug-and-play.

Mark Campbellresearch principal and director of innovation research, Trace3
Perry said a customer can use hyper-converged technology to launch a VDI pilot, without having to make a large upfront investment in a full-blown data center hardware set. Instead, the customer could install a hyper-converged system to handle the initial number of users and then add boxes as the user population grows.
The situation is similar with data analytics: As an organization grows its data sets and finds more ways to manipulate them, the need for IT resources expands over time.
"These solutions are perfect for that; we know there is going to be a need or increased compute and storage," Perry noted.
As for the test/dev use case, developers can obtain data-center-in-a-box capabilities without placing demands on an organization's core IT infrastructure, industry executives noted. But in some cases, hyper-converged technology is becoming the core infrastructure.
Chris Morgan, vice president of Americas Channel and Distribution at Nutanix, noted that end customers are using the company's products to run enterprise applications, not just workloads such as VDI. Indeed, Morgan noted that workloads such as VDI, once the bulk of the applications running on Nutanix, now represent less than 30% of the applications resident on the company's technology. Nutanix sells exclusively through channel partners.
"It's a pretty dramatic drop-off as other workloads have come up. More of our workloads are the classic … things you see in a traditional, three-tier architecture," Morgan said, citing Oracle and SAP applications as examples.
Trace3's Campbell said hyper-convergence follows the same adoption path as many other technologies he has encountered: Customers start with a proof of concept, move on to development and test uses, deploy the technology in a production-staging environment and, finally, roll out the technology in the production setting.
Teodoro said the market is moving decisively into production. He noted the example of a Datalink retail customer currently transitioning its point-of-sale system to a hyper-converged architecture. The retailer plans to complete the rollout of the technology to its 4,000 outlets by 2016, he noted.
Hyper-convergence also plays a role as customers begin exploring the software-defined data center, Campbell noted.
"As they get into the software-defined data center … as a strategic direction, hyper-converged systems seem to be a piece of the puzzle that fits very nicely," he added.
Technology options: Hyper-converged appliance or software
Hyper-converged offerings fall into two primary categories: appliances and software-only products.
With the hyper-converged appliance option, the server, storage, networking and software components are all housed in the same box. Companies such as Nutanix, Pivot3, Scale Computing and SimpliVity are examples of vendors offering hyper-convergence appliances. Appliances are sometimes referred to as nodes, blocks or clusters. A customer may purchase one or more such units and then add appliances as its compute and storage demands increase.
The software-only option decouples the software element from the hyper-converged technology stack and lets customers use their existing hardware to build a system. In some cases, partners supply the hardware and build systems for customers. VMware and startup Stratoscale are examples of vendors offering this style of hyper-convergence. VMware provides its EVO:RAIL software bundle and gives its partners specific instructions for building hyper-converged appliances, according to the company. Additionally, VMware works with hardware OEMs to provide preconfigured, hyper-converged Virtual SAN Ready Nodes and also gives partners a build-it-yourself option. Stratoscale, meanwhile, provides software that it says converts standard x86 servers into hyper-converged infrastructure. Stratoscale is readying a channel partner program.
IDC's Sheppard said software-only vendors often provide a reference architecture or compatibility matrix to guide hardware selection.
Campbell said the software-only approach lets customers leverage the hardware they already own, rather than replacing existing equipment with new appliances. This method also lets large enterprises take advantage of the product discounts they may have in place with their top hardware vendors.
Perry said customers with a well-established data center may be more willing to introduce hyper-converged technology on an a la carte basis, while introducing an entirely new vendor may prove more of a challenge. But customers lacking a strong hardware relationship may find appliances the way to go.
"If a customer doesn't have a data center footprint already and isn't down the road with a certain server technology, the all-encompassing product is probably a good choice," Perry said.
Wrapping services around hyper-converged products
Channel partners can offer a range of services around a hyper-converged architecture. At the front end of a deal, partners may provide education, cost modeling and product selection services. And since customers are putting many IT eggs in one basket with hyper-convergence, disaster recovery consulting becomes another potential consulting gig for a partner.
Sheward of Solutions4ebiz noted that his firm offers hosting as an additional service for the company's hyper-convergence customers. He said customers with power or connectivity issues may prefer to have their clusters hosted off-site.
Some traditional channel partner services, however, may become less important in this emerging infrastructure market, particularly in the case of a hyper-converged appliance sale. Services such as integration and performance tuning tend to go away, Campbell said.
"If the product is doing its job right, it should be plug-and-play," he said.
Dig Deeper on Hyperconverged infrastructure implementation