Scope the network topology
Learn how to scope a network's topology to troubleshooting IP connectivity problems involving Cisco Express Forwarding. A sample physical topology is included to illustrate the discussion.
It is nearly impossible to troubleshoot any type of CEF issue or network connectivity issue without a network diagram that depicts IP addresses, IP routes, devices such as firewalls and switches, and so on. Troubleshooting IP connectivity problems without the aid of a visual topology is nearly impossible unless you can localize the issue to a specific router or switch. In large IP routing scenarios, a network topology is required to troubleshoot connectivity problems. Generally, both logical and physical topologies aid in troubleshooting. Figure 4-1 illustrates a sample physical topology.
Figure 4-1 Sample Network Topology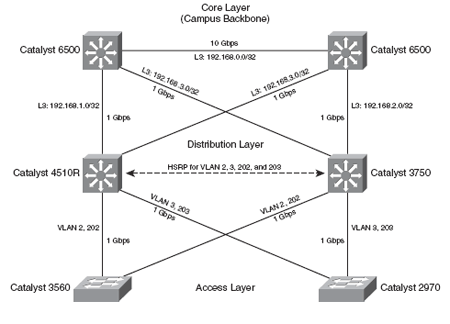 Learn how to troubleshoot Cisco's Express Forwarding network switching technology in "Basic IP Connectivity and CEF Troubleshooting," Chapter 4 from the book Cisco Express Forwarding by Nakia Stringfield, Russ White and Stacia McKee.

Basic IP Connectivity and CEF Troubleshooting

Introduction
Accurately describe the problem
Scope the network topology
Review the OSI model for troubleshooting
Verify the ARP table
Verify the IP routing table
Verify the CEF FIB table
Verify the adjacency table
Conduct hardware-specific troubleshooting

Reproduced from the book Cisco Express Forwarding. Copyright 2007, Cisco Systems, Inc. Reproduced by permission of Pearson Education, Inc., 800 East 96th Street, Indianapolis, IN 46240. Written permission from Pearson Education, Inc. is required for all other uses.
Dig Deeper on Campus area networks and services