SSD firmware, performance measurements for Windows 7
When moving clients from conventional hard drives to solid-state drives, it's vital to have the latest SSD firmware version and to compare performance before and after implementation.
Solutions providers should make sure they pay attention to the SSD firmware in their customers' Windows 7 environments, because if it's not up to date, your customers may not be getting their money's worth.
This FAQ with Windows 7 expert Ed Tittel provides information on reporting tools, such as CrystalDiskInfo, that you can use to track important solid-state drive features. Take a look at the tools necessary to properly implement SSD firmware update files, including the Hewlett-Packard USB Disk Storage Format tool. You will also learn the steps to take for checking the work you've done during a conversion from a conventional hard drive to an SSD on Windows 7.
Listen to Tittel answer other frequently asked questions about Windows 7 SSD optimization tools and benefits.

•Why is SSD firmware so important?
•What's the best way to compare performance after switching from a conventional hard drive to an SSD on a Windows 7 system?
•More resources on SSD firmware
•About the expert

1. Why is solid-state drive firmware so important?
Firmware is the operating program that drives the behavior of a hardware device and defines its speed and capabilities. Unless you check the SSD vendor website to confirm that your firmware version is the newest and best available, your customers may not get the SSD performance they're paying for. Be prepared to build a bootable CD, DVD or USB flash drive to load and run firmware update software for the SSD. Most vendors provide ready access to the necessary firmware update files, but you may also need tools to embed the files into bootable devices or media.
For embedding, the HP USB Disk Storage Format Tool is absolutely invaluable. And although you'll want to set the Serial Advanced Technology Attachment (SATA) mode to Advanced Hardware Controller Interface or Redundant Array of Inexpensive Disks when using an SSD, you must frequently reset the target machine's BIOS to IDE Emulation mode to get a vendor's firmware upgrade tool to run properly.

2. What's the best way to compare performance after switching from a conventional hard drive to an SSD on a Windows 7 system?
To make sure you've done your homework properly, compare performance before and after you've replaced a conventional hard disk with an SSD. By making screen captures for disk performance running various tools, you can shed light on how fast the PC runs before and after an SSD is present. Just don't try to compare results across tools. For example, results from the same tool for before and after SSD implementation will show speed changes, but don't try to read significance into differences from one tool to another. Tools such as HD Tach, SiSoftware Sandra and ATTO Disk Benchmark v2.36 should suffice, though there are plenty of others to choose from. You'll also want to grab CrystalDiskInfo because it's one of the few tools available that can report on the presence or absence of key SSD features, such as Native Command Queuing (NCQ) and TRIM as shown in the following screenshot.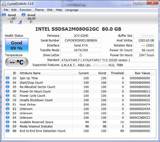 Note that NCQ and the all-important TRIM, which allows an SSD to reclaim previously deleted file space for reuse, are supported for this Intel X25-M SSD. These tools give solutions providers the ability to check and report on their work and can prove to customers that the job is properly done.

More resources on SSD firmware
SATA SSD firmware update tool
OCZ, Indilinx firmware makes SSDs faster
Intel SSD firmware returns TRIM support
Intel releases SSD firmware and SSD Toolbox (Trim) for Windows 7
Intel SATA SSD firmware update tool FAQ

About the expert
Ed Tittel is a full-time freelancer who's written and contributed to more than 100 computing books, including MCSE Windows XP Professional Exam Cram 2 (Exam Cram 70-270), and he writes and blogs regularly for numerous websites. Tittel's most recent projects have focused on Windows 7 as that OS has gone into commercial production.
Dig Deeper on Desktop management, sales and installation